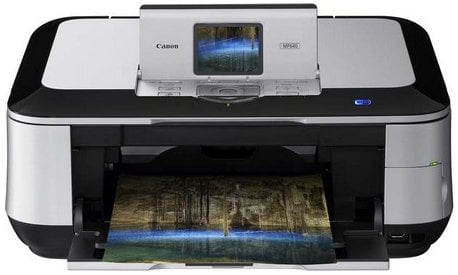 To be honest, I haven't been following printers' technology much and the last thing I knew/noticed was that a printer can scan, fax, print photos in high quality, and do some degree of photocopying. I am not aware though that there are already wireless printers out there in the market (through Wi-Fi!). Since my desktop space is quite limited, I only plug my printer into my computer's USB when I want to print something. A wireless printer like the Canon PIXMA MP640 is probably what I need to buy in the future!
Canon PIXMA MP640 features:
Premium Wi-Fi All-In-One
ISO speed 9.2/8.1ipm mono/colour ESAT
9600dpi 1pl; 10x15cm photo in 20sec
5 Single Inks
4800dpi scanner
7.5cm TFT display & Easy-Scroll Wheel
Auto duplex, DVD/CD print
ChromaLife100+
Kinda nifty, right?
There's also another issue that got me thinking about the ink cartridges. I know this may sound funny, but sometimes it's cheaper to get a new printer than to buy an ink cartridge (depends on what printer you are buying, of course). Some then buy non-genuine ink cartridges for a cheaper solution but end up damaging the printer somehow (my friend made this mistake).
Since one of Craving Tech's advertiser, Oyyy.co.uk, actually sells genuine ink cartridges, I had a look at their website and found that it's not really too bad to buy genuine ink cartridges when you have a high class printer such as the PIXMA MP640. For example on their site, Canon PIXMA MP640 is being sold for £115.50 where as a complete replacement of genuine Canon ink cartridges are being sold for £20.15.
Although technically, if you ever need to replace the cartridges 5 times, you might as well buy a new printer :(
I wish there is a time where genuine ink cartridges are going to be so cheap that we always choose to print our documents and photos at the highest quality possible. In a few years, perhaps?