Astell&Kern ACRO BE100 Hi-Fi Wireless Speaker Review – Most audiophiles would probably frown at the idea of the term "wireless/Bluetooth" to be used along with "high audio quality". And while a lot still swear by listening with wired headphones & audiophile amp like the Blue Ella or Blue Sadie, many have also starting to embrace the wireless audio for its convenience.
With a built-in, customised 32-bit Hi-Fi DAC (Digital-to-Analog Converter) and 55W class-D amplifier, this speaker from Astell&Kern supports the latest 24-bit hi-res quality wireless streaming codecs like aptX HD and LDAC.
So, Astell&Kern ACRO BE100 looks like the Bluetooth speaker of choice if you are looking for convenience through wireless connectivity and still want to get that high-quality audio.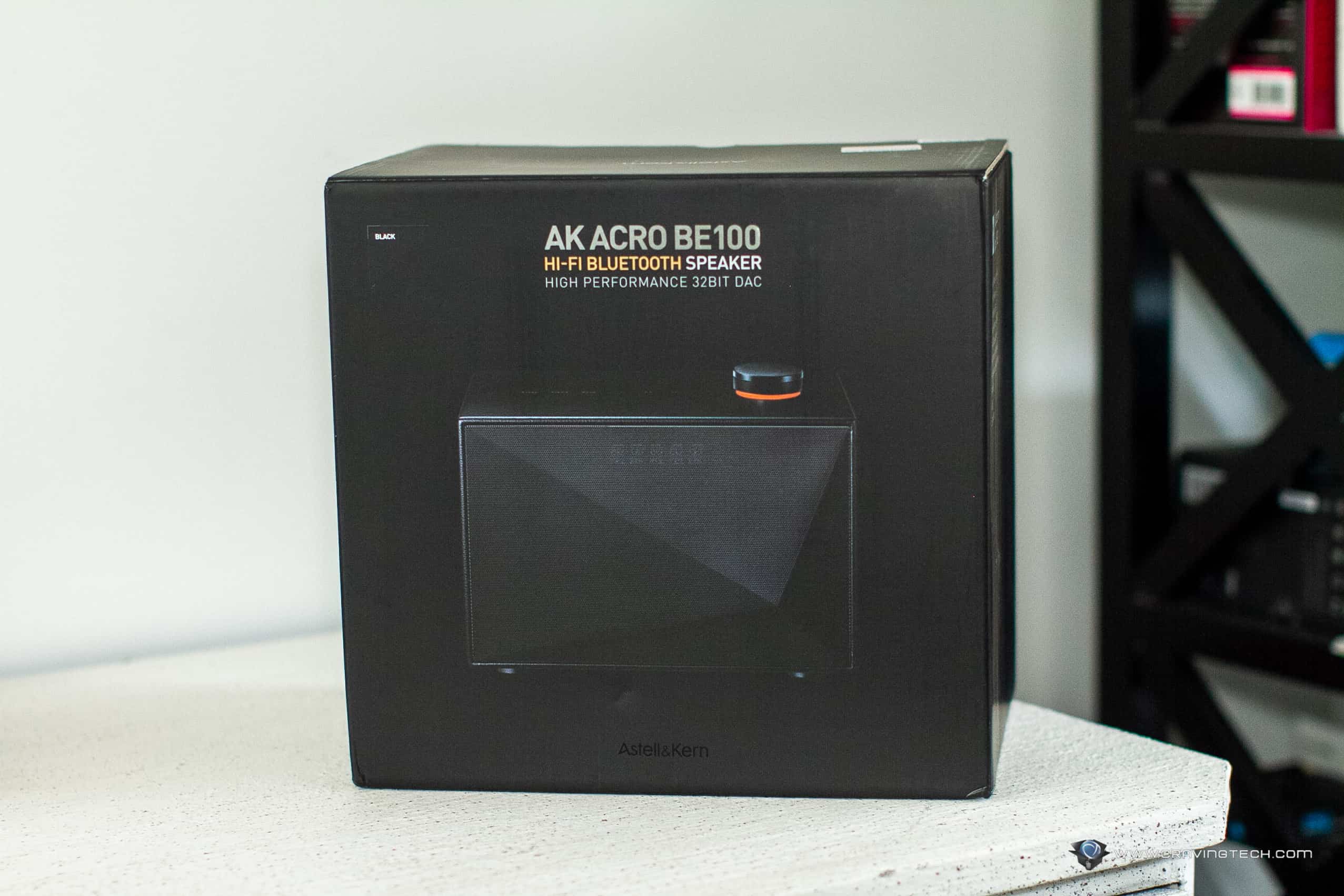 And Astell&Kern is not a new player in this area. They have produced many high quality headphones and other audio devices. They even design and make a Dual DAC cable to upgrade your smartphones audio to a better quality (check my review on the Astell&Kern PEE51 USB-C Dual DAC Cable here).
So, I have high expectations that they'll deliver here too. But first, let's talk about the speaker design.
It has a rectangular-box design with triangular shapes on the front metal-grille mesh for that unique look from the front. The whole unit is enveloped with a premium faux leather finish. It fits well into most modern homes and there are also two colour options to choose from: Black, and White.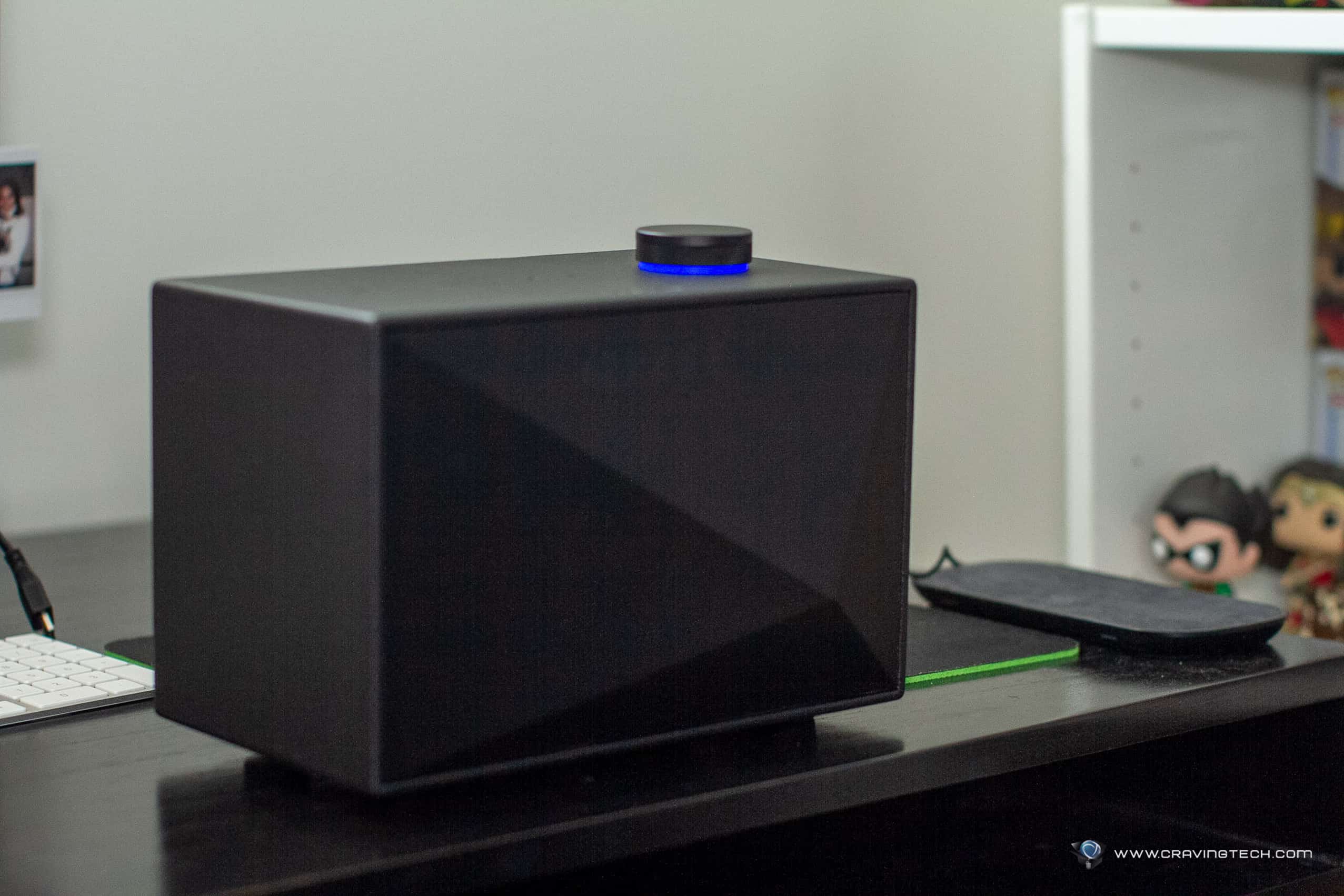 A volume dial with a subtle underlighting is located at the top, making it easy to adjust the volume in an instant. Media controls and settings can also be done directly on the unit.
There is a small display on the front metal-grille mesh that changes as you play around with the settings and controls such as the media source (i.e BT for Bluetooth), Treble & Bass intensity (BASS4, etc), volume (0 to 100), etc.
It adds a sleek and modern touch to the premium speaker, without adding unnecessary distractions as this info will disappear after a while so you can focus on your music.
With the size, weight, and the fact that it has to be plugged into power at all times mean that this is nowhere portable. It's definitely designed to sit still at the corner of your house, on a shelf, or side table. You can technically carry it around your house or even to a party somewhere else, but it weighs about 3.2kg so you may not want to do it that often.
The weight is not for nothing though. This is because the speaker houses a 4-inch Kevlar woofer and 2x 1.5-inch Silk Dome Tweeter with 55W amplifier output.
If you have a high quality audio device, Astell&Kern ACRO BE100 also supports 3.5mm connection so you can get the best out of it.
For Bluetooth connectivity, the speaker supports 24-bit aptX HD and LDAC codecs, so you can experience those high-res audio without problems but definitely double check whether your smartphones and devices do support these (if I'm not mistaken, iPhones do not). For compatibility, it also supports SBC and AAC codecs which are pretty standard for all Bluetooth devices.
Tested with Apple Music on my Google Pixel 6, the speaker shows "LDAC" when I play my favourite tunes, so that's awesome to see.
As expected, the sound output is amazing, loud, and clear. And oh, how you can hear all the tiny details in a certain music genre, like the sound of the drum brushes sweeping across the snare drum – it's exciting when you're able to point these out merely from a Bluetooth speaker (you normally notice little details like these only when wearing high-quality headphones).
Astell&Kern ACRO BE100 Review – Conclusion
There are times when you want audio quality and also the convenience of having a wireless speaker where you can just play your favourite tunes from your smartphone. Astell&Kern ACRO BE100 comes with aptX HD and LDAC codecs support via Bluetooth and that alone should make it on top of your list if you care about sound quality and wireless convenience.
And when you feel that you really want to maximise its potential, you can always plug your high-quality audio devices through its 3.5mm AUX port.
The speaker itself has a minimalist, yet modern design that will fit right into any modern homes and has easy-to-reach controls – both settings and media controls.
The fact that it has to be plugged to power at all times means that you can't carry this around easily but the internals definitely need to be powered to make your ears dancing with joy. And sure, there is no direct Wi-Fi support like Sonos speakers or AirPlay, but Bluetooth is kind of universal and plus, the support for 24-bit aptX HD (48khz) and LDAC (96khz) codecs offers the best possible wireless sound quality.
Astell&Kern ACRO BE100 retails for A$549 and available now for purchase.
Disclosure: Astell&Kern ACRO BE100 review sample was supplied for reviewing
Astell&Kern ACRO BE100 Review
Summary
With 24-bit aptX HD (48khz) and LDAC (96khz) codecs support, this is the Bluetooth speaker of choice for music enthusiasts who want both the convenience of wireless and also audio quality