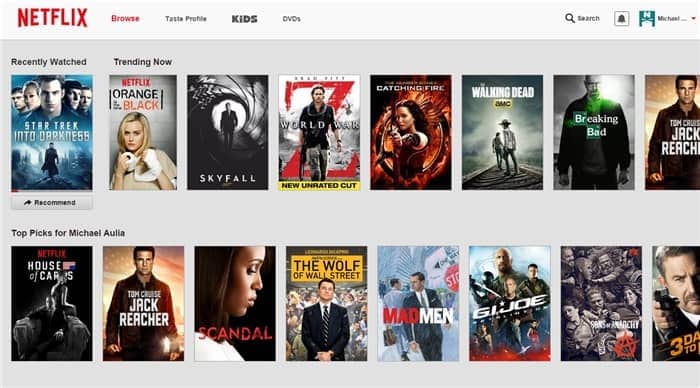 Note: This is a guest post written by Cassie Phillips.
Although Netflix is a fantastic service for viewing some of your favorite movies and television shows, there are a few drawbacks with it that may frustrate users.
You might feel as if it's too expensive, or you might find that the show you want to watch isn't available for streaming. Whatever your reasons are for looking for different platforms to watch shows from, know that you do, in fact, have options.
Here are our five favorite alternatives to Netflix:
Hulu
One easy alternative to Netflix is to use Hulu. Netflix and Hulu+ (the paid version of Hulu) cost the same and offer similar titles, but you'll often find that things that aren't available on Netflix are available on Hulu+, and the number of free titles readily available to stream on Hulu is pretty impressive.
Unfortunately, because of copyright restrictions, you can only technically stream Hulu from the United States, but don't let that stop you. If you use a VPN, you can hide your real IP address so that Hulu doesn't realize that you're actually located outside the US!
CloudLoad
CloudLoad has an impressive selection of titles, and the base-level subscription costs nearly half of what Netflix costs, so it's perfect for those who want to watch videos on a budget.
It pulls videos that have been uploaded all over the internet and consolidates them in one easy-to-access place, and unlike many other streaming services, it's available for users all around the world, without geo-restrictions. So if it's out there, you'll be able to find it and watch it.
You can also use it to store your own media, such as pictures or music that you wouldn't want to lose should something happen to your computer.
Amazon
You have two different options if you choose Amazon over Netflix. If you have an Amazon Prime account (and students, know that you have a six-month free trial period and then can get 50 percent off the normal cost for Prime!), you have access to many different titles, plus all the other perks that come along with Prime membership, such as free second-day shipping.
Amazon Instant Video, on the other hand, will allow you to buy or rent movies for streaming, either for permanent inclusion in your cloud account or for as little as a two-day period.
They've got a lot of great titles to choose from, and especially if you're looking for less popular movies or shows, you may find you're more likely to find them for rent on Amazon than Netflix Instant Watch.
iTunes
iTunes' streaming selection is growing larger all the time, and if you have a Mac computer, iPad, or iPhone, you'll find that it's incredibly easy to find shows or movies that you want to watch and save them on your device for offline viewing.
This puts it head and shoulders above Netflix, where you can only stream as long as you're currently connected to the internet. And as with Amazon's Instant Video service, you can pick and choose the titles that you want to pay for, rather than paying a flat monthly fee. Although for those who watch a lot of videos in a month, this may not be the best plan.
GooglePlay
Of course, Google has a share in nearly every internet service available, and streaming videos is part of that. Their GooglePlay service offers movies, apps, books, music, and more, and it's a great option especially if you have an Android device rather than an Apple device.
It hasn't got as many titles as other items on this list (yet!), but it's definitely got a decent selection. As with Amazon, you can purchase movies or rent them, and rentals can be started at any time within a 30-day period, meaning you don't have to watch them as soon as you purchase them and instead can order a selection of movies to watch when you actually want to watch them, as long as you finish within a 24-hour period of starting the playback.
Although Netflix is undoubtedly the forerunner of video streaming services, there are a lot of alternatives out there these days that do the same or similar things. You might find that for your lifestyle—either because of your budget or because of the way you watch shows—one of the other streaming services might suit you better.
Take a look at your options, rather than simply hopping on the bandwagon with Netflix!