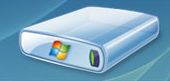 Microsoft Windows Live SkyDrive has just got 4 more Gigabytes instead of 1 Gb. If you do the math, that means a total of 5 Gb space is available for you.
Nothing else has changed yet so far since August 2007.
Windows Live SkyDrive is one of the FREE Windows Live services that gives you your own "hard drive space" on the web. You can create folders, upload your files to the folders, and share it to your WLM/MSN friends or anyone on the world.

SkyDrive main window

You can even play a bouncing ball game while waiting for your upload

Once you've uploaded a file, you can decide whether you want to keep it private, or share it on the web. Each file will have its own unique identification, and unfortunately, this is included in the shared URL: http://cid-0000x0000xx0000x.skydrive.live.com/self.aspx/YOUR FOLDER/YOUR FILE
Unless your friends keeps the shared URL that you've given them, there's no way that they can remember it.
If you just want to share documents (and doing some collaborations), read my impression on Microsoft Office Workspace here.