Note: This is a guest post written by Andrew Tipp
It's hard to keep up with tech and pop culture. It all moves so fast, and what was getting everyone wired last week is now tired. Or even expired. To make things a little easier, here's a handy list of the most awesome games, apps, movies and tunes to get your digital hands on right now…
Games
The new Iron Man sequel is blowing up the Box Office like one of Stark Industries' super destructive missiles. The official Iron Man 3 game is proving similarly popular, partly because it breaks with movie-to-game tie-in tradition and is actually pretty good; you get to fight baddies from the comics like Living Laser and Ezekiel Stane, work on different versions of Tony's suit and even fly around Malibu and New York.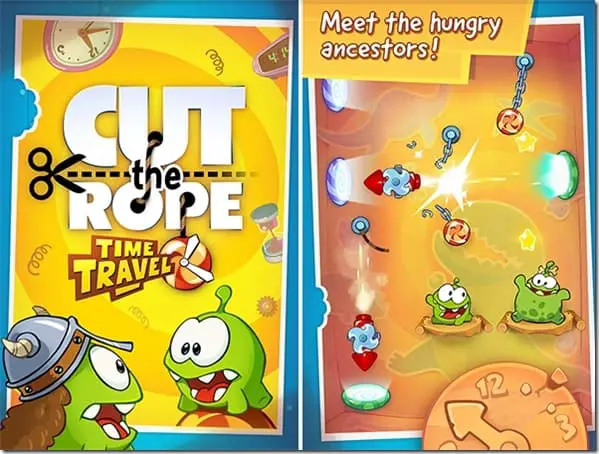 The latest Cut the Rope release sees developer ZeptoLab freshen up the adventures of Om Nom by setting the game at different points in history. There's also a new twist of having two critters to feed in each level. But while it's not exactly double the fun, the new game will appeal to existing fans, and maybe hook a few newbies.
Remember Draw Something? The original game was a blockbuster, racking up over 100 million downloads with its combo of simple finger-painting fun with addictive game dynamics. Can lightning strike twice for Zynga on this title? Maybe. The new game includes more tools, as well as a newsfeed – so you can see what your friends have been drawing. The additional social networking elements could make this a winner.
There's been a lot of buzz around this game, and it could be a huge seller. The gameplay incorporates the kind of strategic campaign-building and troop-management similar to the classic Command and Conquer series. Does it work? While initial reviews suggest it's a bit fiddly and, well, basically quite hard, it could gain fans. Quickly.
Lifestyle & Culture
While most people are scrambling to cash in on the DC/Marvel pop culture explosion, this new app is more for newspaper readers. GoComics archives lots of the iconic three-to-four-panel paper cartoons and comic strips that have graced broadsheet pages over the years. Want to know what Dilbert, Garfield and the Peanuts gang were up to in 1997? This is your app.
The Guardian is seriously getting into the crowdsourced and 'citizen journalism' stuff with this slick and engaging platform. The basic idea is that the app is a tool for uploading video and images to add context and texture to news stories. While this isn't a revolutionary idea, The Guardian has come up with a very user-friendly design with a colourful, clear interface.
With the overwhelming number of news stories about hacking and viruses recently, some people might think downloading antivirus software is pointless. Not true. This latest product from one of the industry's leading providers comes in two formats; there's a free version that seeks out and stops malware and virus threats, plus a paid version that includes a whole load of protection goodies.
Weather apps have never been particularly sexy. Until now. Yahoo has cut through a plethora of same-y weather predictors with this beautiful new app, and now forecasting from a phone will never be the same again. It fulfils its primary function of telling you whether the rain will ruin your camping trip this weekend, but it does so while an aesthetically gorgeous design. Seriously, it looks great.
TV & Movies
The concept of a group of nerds hanging out and not doing much doesn't sound like compelling TV, yet the Big Bang gang are now onto their sixth season – and still going strong. This show's endearing ability to tell razor-sharp jokes both for geeks and about them has made it a winning series. Download some of the latest episodes if you've missed the current run.
Ang Lee took a gamble on bringing Yann Martel's 'unfilmable' novel to the big screen. While it may not look like a tech-heavy effort, the CGI and skillful 'practical magic' required to create the movie was super difficult. But it was all worth it. The results are totally stunning, and the film has basically been acclaimed by, well, pretty much everyone.
The Hobbit: An Unexpected Journey
Did you see The Hobbit in 2D? 3D? 3D at 48FPS? The nerd debate surrounding the best way to watch Peter Jackson's adaptation of Tolkien's fantasy adventure classic was furious. Now it's out to download, you should check out the other formats the film was released in.
Music
Electro popsters Phoenix are back with their new collection of 80s-influenced indie anthems. With summer just around the corner, 'Bankrupt!' is awesome music to soundtrack a road trip, barbeque or, you know, just sitting around in your bedroom. Lead single and album opener 'Entertainment' will give new listeners an idea of what to expect from the record.
Dream pop twiddlers Young Galaxy have quietly been growing admirers over the last few years. Following their first two guitar-based records, the Canadian band's last album 'Shapeshifting' took on a more electronic sound. Their newest collection is arguably their best yet, plenty of tunes, heart and a healthy dose of synthy glitchiness.
Pop pixie Victoria Hesketh blew everyone away with her debut 'Hands' in 2008, toured the festival circuit and then went quiet. But now, finally, she's released a follow-up. It's more of a grower than her previous record, without immediately obviously stand-out anthems like 'New in Town' and 'Earthquake'. But there enough hooks in the meat of this collection to satisfy her fans – and possibly recruit some new followers.
Note: This guest post was written by Andrew Tipp. He is a writer, blogger and editor. He blogs about technology and culture, and is interested in geek news, internet trends, film nerdiness, science fiction and graphic novels. He's been published across a range of websites and magazines, and has a background in youth media, travel and volunteering.