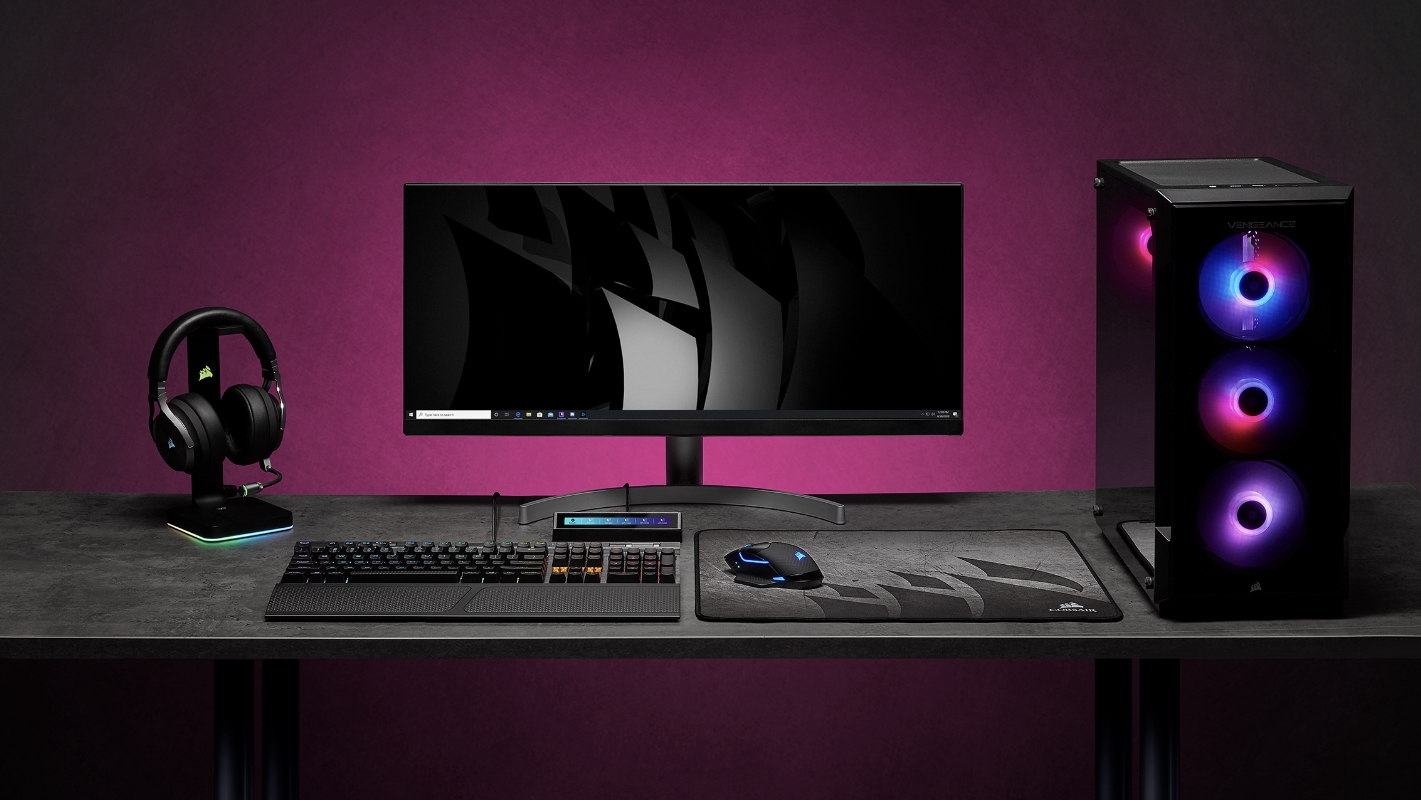 CORSAIR iCUE NEXUS Review – I made it clear that this is CORSAIR peripherals' best companion, because this little but cool gadget will only shine at its best if you have CORSAIR devices set up in your machine. So if you've invested heavily in Razer or SteelSeries gaming ecosystem for example, then you'll not be able to use it the way it intended to be.
So if you have CORSAIR peripherals (headset, mouse, keyboard) or hardware components like the CORSAIR H115i RGB PRO XT cooler, you are in for a big treat. If not, you can still use the iCUE NEXUS for other purposes but it may not worth the extra money you have to shell out.
CORSAIR iCUE NEXUS Companion Touch Screen is a unique and powerful desktop display and interface powered by iCUE which enables personalisation control of your iCUE-compatible devices at your fingertips.
The iCUE NEXUS can be installed in different ways. If you have either a CORSAIR K70 RGB MK.2 (like mine here) or K95 RGB Platinum Series keyboard, you can attach the iCUE NEXUS directly with the included keyboard mounting brackets with 3M stickers. When done this way, it definitely looks really cool and as if it's an integral part of the keyboard.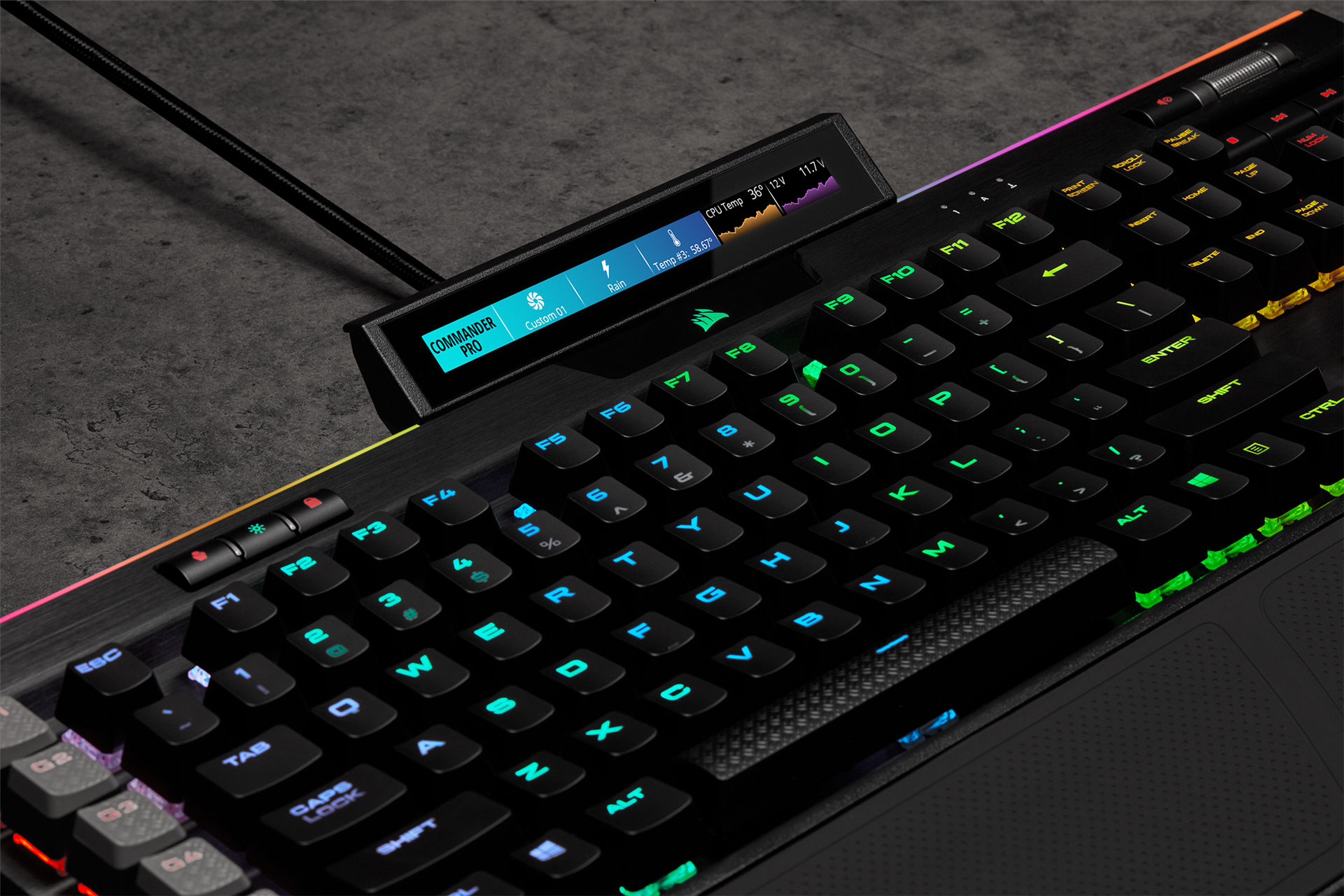 But if you have another keyboard like the CORSAIR K70 RGB RAPIDFIRE or a keyboard from another brand, you can use the included standalone base to mount the iCUE NEXUS. You pretty much can plug the iCUE NEXUS on any USB slot on your PC so you don't have to have a CORSAIR keyboard.
For review practicality purposes, I'm using it on the standalone base, plugged to my K70 RGB MK.2 USB slot.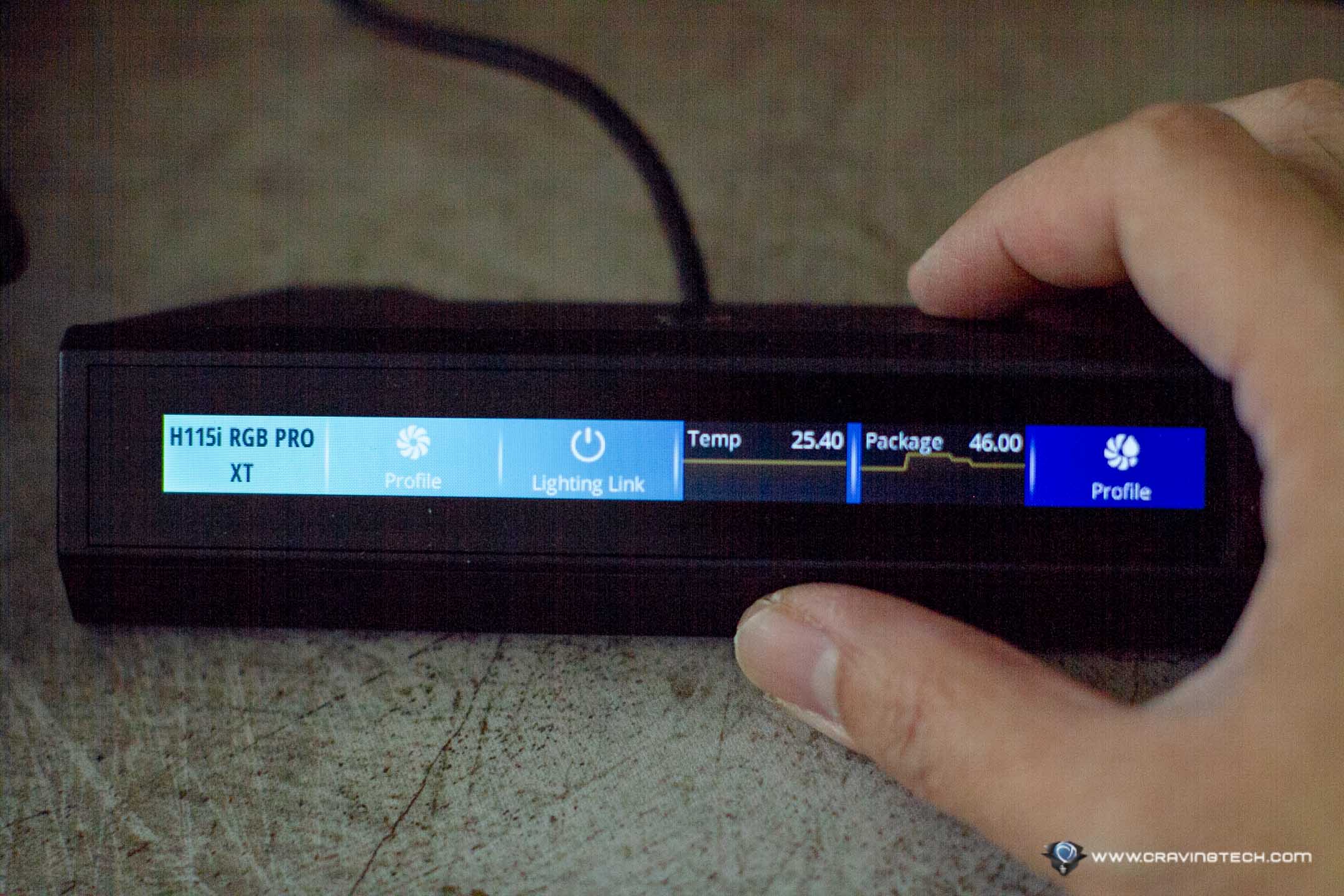 You can control your CORSAIR setups (profiles, stats, lighting, etc) on the display of the iCUE NEXUS directly using your fingertip. For example, I can change my H115i RGB PRO XT cooler profile from "Quiet" to "Extreme" when I need the extra fan boost. But it's not limited to just these.
You can add shortcut buttons like media controls, macros, app launcher (e.g I tried adding Overwatch and Steam app shortcut successfully), and so on through the iCUE NEXUS. You can even personalise the graphic buttons, backgrounds, etc. If your keyboards don't have dedicated macro keys, this is a great way to actually execute your macros. If you are playing CS:GO, you can create a set of key commands to buy certain weapons or equipment through the iCUE NEXUS.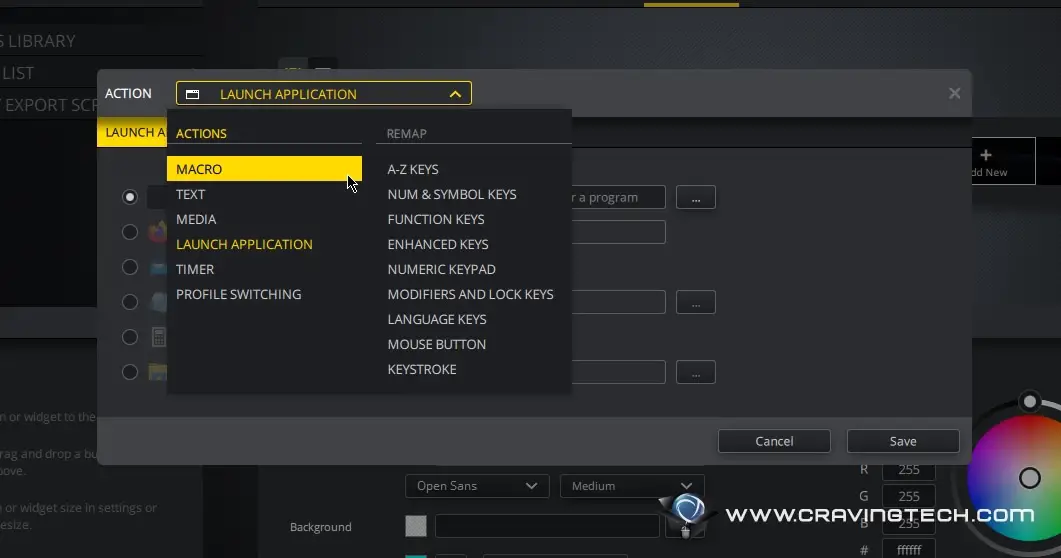 If you are the type who like to see real-time stats of your CPU such as its temperature, you will be in heaven here. While you can use a cool desktop changer like Rainmeter, it is cooler to see them on the iCUE NEXUS screen. With just a swipe from left to right, you can browse through a number of widgets and button shortcuts that you have set up through iCUE software. You can always swap and change them anytime too.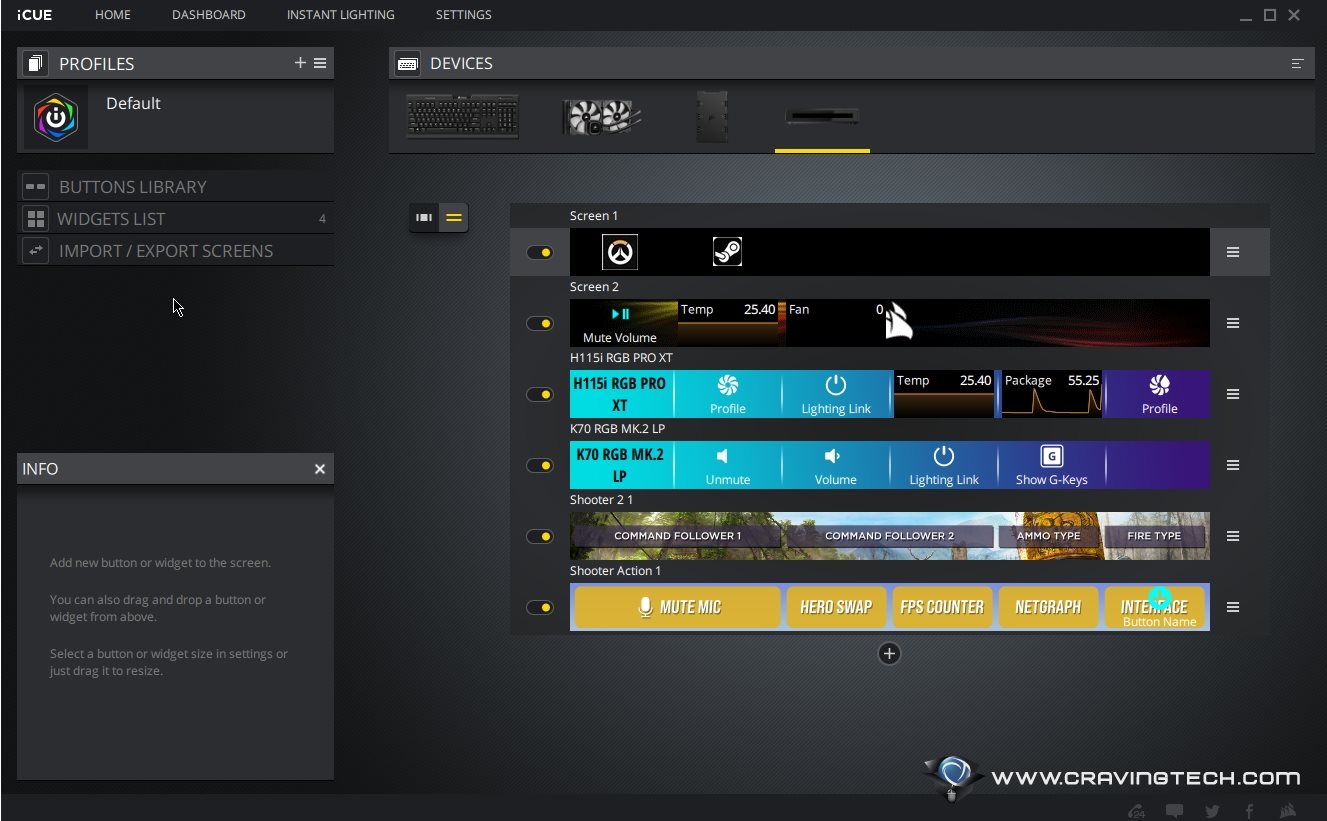 It'd take some time to create your shortcuts and widgets through iCUE though, assuming you really want to fully customise the colour, background, and icons properly. However, you are less likely changing these frequently anyway. At the moment, it also seems that we can only create a one-row-multiple-columns, but not two-rows in one column. For example, if I select displaying on the CPU temperature, it'll occupy just half of the row and I wish I can add another below it.
CORSAIR did mention that they will release more custom screens for specific games to start with, which is great because it is quite challenging to create your perfect setup with pretty background pictures and icons. Yes, you can import and export screens so hopefully once the community thrives, we can share each other's creation.
CORSAIR iCUE NEXUS Review Conclusion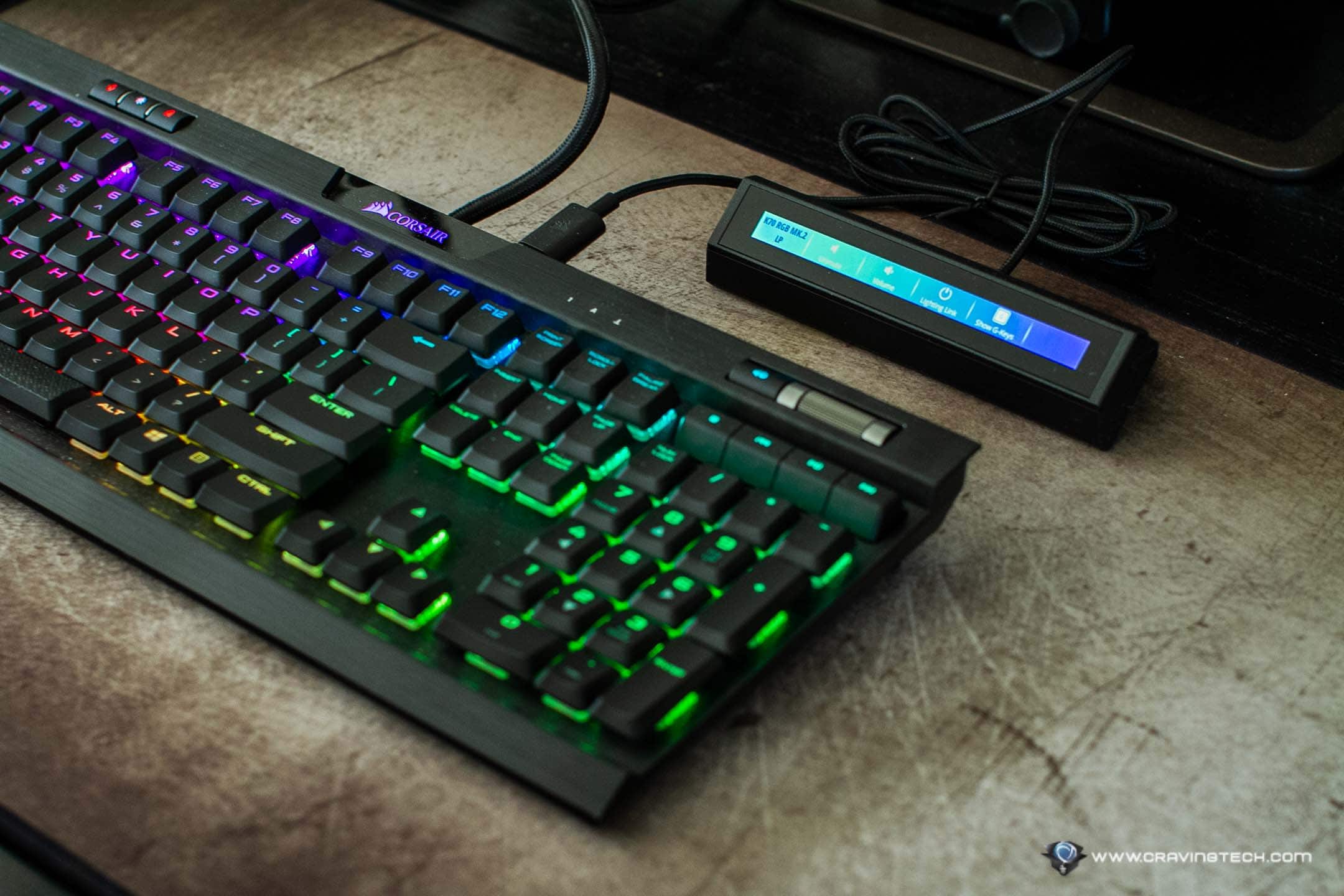 Is CORSAIR iCUE NEXUS essential? Probably not to some people, but heck it's a really cool way to see your system and peripheral stats, plus you can control many things with just a single tap anytime. In a ranked or competitive game, you probably can't afford of alt-tabbing to change a setting on the iCUE and risk crashing the game. In a way, there is nothing that you cannot do already through iCUE but this is a cooler and more efficient way to control without opening iCUE and browsing through the different menus and options.
You can view your current CPU/GPU temperature, control your CORSAIR AIO cooler, create macros on specific games to unleash a set of actions or skills, change your CORSAIR's headset from Gaming to Movie profile with extra Bass Boost, and so much more. I have a friend who has just finished building his new PC with all CORSAIR peripherals, and I know for sure that he will be stoked to hear about the iCUE NEXUS.
Love typing "ggwp", "too easy", or some thrash talks at the end of each game? Assign the texts to the iCUE NEXUS and it's always available at your fingertip, ahem.
CORSAIR iCUE NEXUS is available now at many retailers around Australia for around AU$160.
Disclosure: CORSAIR iCUE NEXUS review sample was supplied for reviewing but all opinions are mine and not paid
CORSAIR iCUE NEXUS Review
Summary
View and control your CORSAIR peripherals and hardware components with just a touch of your fingertip. It's something that you didn't actually need, but you might get it anyway
Pros
Gimmicky cool
Can be used as a standalone base or attach to some CORSAIR keyboards
A full on customisation options, can be used for macros, app launchers, etc
Touch screen
Cons
Only for true CORSAIR fans. The more CORSAIR devices you have, the better this device becomes
Viewing angle is not the greatest unless it's directly in front of you
Customisation interface feels clunky, but at least we can import others' creation