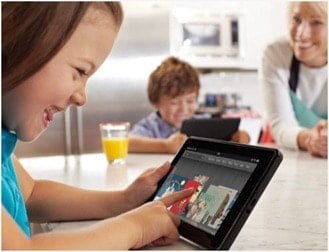 Kindle Fire Review by guest poster, Ted Summs – The Amazon Kindle Fire has launched to mixed reviews from technology review websites. However, the original iPad received somewhat skeptical reviews also.
There are a number of killer reasons why the Kindle Fire will succeed, and I'm going to take you through them in this article.
Kindle Fire Review – What is the Kindle Fire?
The Kindle Fire is Amazon's first attempt at a full-on consumer tablet PC. They've offered the Kindle, a dedicated e-reader with e-Ink screen, for a number of years but this is the first time they've launched a 7-inch tablet with a colour capacitive screen. This screen is bright and delivers vivid colours; it's great for watching video or web browsing.
You navigate the Kindle Fire by tapping and swiping on the screen. This works really well as the screen is highly responsive to touch. There are occasions where you need to tap twice for the tablet to react but these are rare and given this tablet is at the very low cost of $199, it's pretty impressive that it has this high quality screen.
Outside of the screen the Kindle Fire is quick. It moves effortlessly between apps and your content. Web surfing is quick thanks to a unique browser that supports caching of websites on Amazon's servers in the Cloud.
One final critical element of a tablet is the battery life as this provides the mobility to use the tablet when you're away from a power source. The Kindle Fire provides a decent battery life and that means a good 7-8 hours of continuous intensive use before it will run out of juice. In reality it's unlikely you'd be using it continuously for this long though. I've been using my Kindle Fire on and off for the last 3 days and the battery is still going strong.
Kindle Fire Review – Why will the Kindle Fire sell like hot cakes?
The Kindle Fire has a very simplified user interface and this means that a user is channelled into the core functions of this tablet. When you turn it on you're greeted with the options of "Newsstand", "Books", "Music", "Video", "Docs", "Apps" and "Web". These options are all self explanatory.
As soon as you tap on any of these you have the option to access your own media or browse Amazon's huge store of content to buy and download Kindle Apps. The only other options you have from the home screen are to access your recently viewed content or your favourites.
On first glance this may seem limiting for someone who is familiar with technology and wants to be able to fiddle and tweak a tablet to their own unique requirements. However, for the average consumer, this makes this tablet very easy to use straight out of the box and opens the huge digital media library that Amazon offers.
In comparison stock Android on other tablets offers a multitude of customisation options which are great for those that are used to playing with gadgets but are overwhelming to most consumers. There's no obvious place to know where to start when you turn on a tablet running the stock Android interface, a user can learn over time but it's just not as intuitive and lacks polish.
In the tablet world, it's all about the surrounding eco-system. Amazon's range of books, magazines, video and apps gives the Kindle Fire a fantastic base to grow. These offerings are optimised for Amazon's range of Kindles and that means the user experience is ensured. Amazon also curates the App Store to ensure the apps offered are of decent quality.
Amazon make it easy to find and buy content such as apps, music, video and books. They're particularly good at knowing what you like and understanding what that means they should sell to you. The impact of all of this is that using the tablet to find new things is effortless, and somewhat addictive. Amazon are reported to be selling their latest range of Kindle's at a loss as they know they will make substantial profits from selling more content to users. This is in contrast to the Android Market used on most other Android tablets – it offers a great range of apps but doesn't do a fantastic job at helping you find them.
Kindle Fire Review – What are the Kindle Fire's weaknesses?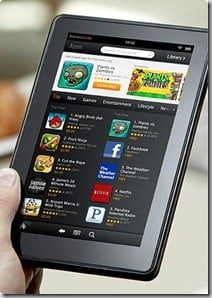 The internal storage memory is limited to 8GB in a Kindle Fire. Amazon is touting their Cloud storage facility as a means to supplement this so you can save all your music, video and other content online. However, you will only be able to access this if you are connected to a Wi-Fi signal. This is fine when you're at home but means you have to download content to the tablet when you're travelling and don't have a Wi-Fi network. 8GB of internal memory is restrictive, especially if you're downloading a lot of video.
The Kindle Fire also doesn't have a 3G option so you can't use the 3G data network to access online services when you aren't in range of a Wi-Fi signal.
It would be great if the Kindle Fire offered a microphone and webcam for video chat applications. It's not a critical element for users but it would allow another function for this tablet.
Kindle Fire Review – Round-Up
The Amazon Kindle Fire is very good value tablet PC. If you're considering buying one, you should look at it as a means of accessing the full range of Amazon's digital content. It's not as versatile as other Android tablets, but it is a lot more usable. You also need to judge it in comparison to similar tablets, as it definitely isn't comparable to an iPad or premium Android tablet. But, at $199 it's pretty impressive in its own right.
Note: This guest post was written by Ted Summs, a writer for whattabletpc.com. Here you will find out more about this tablet and watch Kindle Fire video reviews. If you're looking for more tablet PC comparisons, you can also find straight forward reviews without the jargon at whattabletpc.com.