SanDisk Extreme 500 Portable SSD Review – Most of you probably have an external hard drive (HDD) lying around, ready to backup your important data and media files. Some have them plugged daily and work directly with the files within.
While it's all cool, times are wasted mostly to wait for the files to finish transferring or photos to finish processing. And it's a pain.
SanDisk Extreme 500 Portable SSD is here for that. Yes, it's an SSD (Solid State Drive) and yes, it's portable too. Most SSDs live inside your computer case (or a laptop) and hooked to a motherboard. They provide faster read/write speed (compared to a traditional hard drive), among other things. For example, the SanDisk Extreme PRO that I reviewed before gave a huge boost of speed, which was twice as fast as my older hard drive.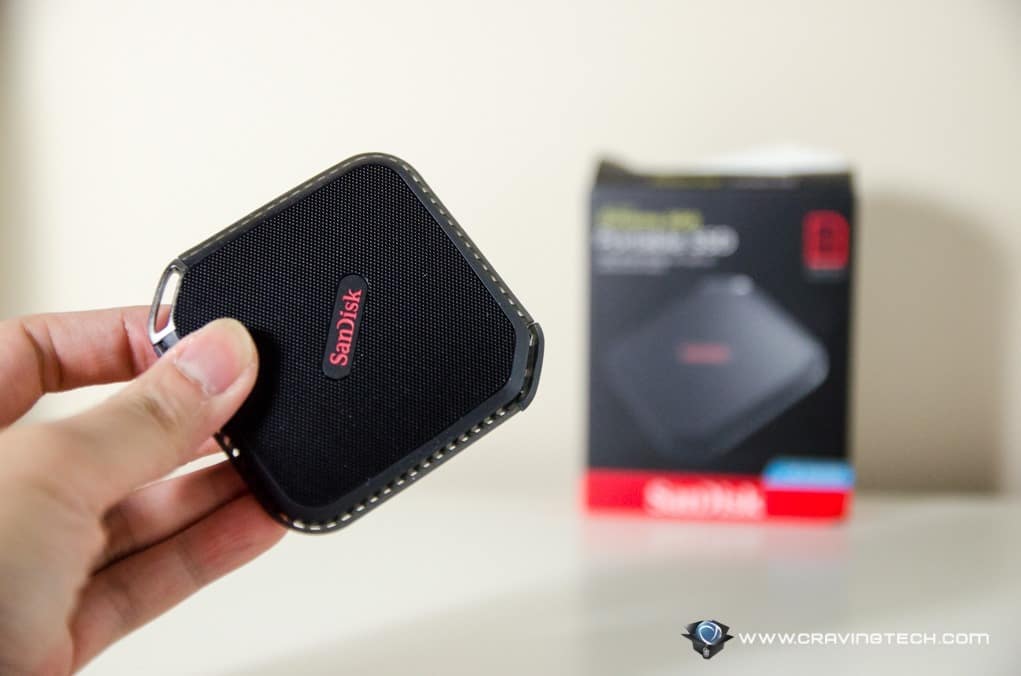 Now, the Extreme 500 offers a similar speed, but it can also be carried around easily and plugged/unplugged as needed. It is thin, considering it as an external drive (and not a mere USB flash drive with lower speed and smaller data capacity). It weighs less than 80 grams and only 1 cm in thickness. If you carry an Ultrabook on a slim bag you'll be happy to know that the drive will perfectly fit within your slim bag. You can also place it in your pocket, unlike a traditional hard disk drive.
It also has a rugged design that is shock-proof and able to withstand extreme temperatures ranging from -20°C to 70°C! I don't really know anyone who works while in that temperature but good to know that the drive can withstand such torture, hey?
In a way, you can hook it into a carabiner or your backpack while you are skiing or climbing a mountain (I'd just put it inside my bag, but hey, it might be packed already).
In writing, the Extreme 500 Portable SSD has a 415MB/s read speed and 340MB/s write speed (Seq). As for my own test using the popular CrystalDiskMark benchmarking software, I couldn't get the same speed they claim (I got around 303MB/s & 197MB/s Seq) but it still is a fast beast. This is most probably because I'm using a few-years-old-PC (AMD AM3 Phenom II X4 955BE) vs the one they used to test internally – which according to my reviewers guide, is a beast system of i7-5930K with USB 3.1 (I'm still on a USB 3.0 + older motherboard, which would give a lower data throughput).
Using CrystalDiskMark 5.0.3 x64: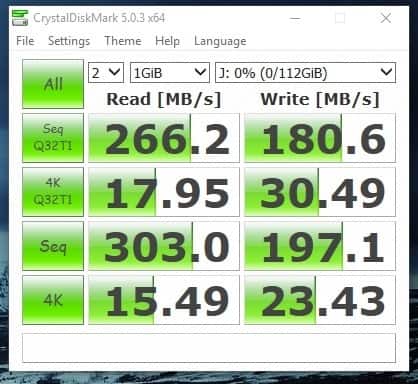 My WD My Passport Ultra external hard drive, in comparison, only has a 114MB/s read speed and 113MB/s write speed (tested on the same USB 3.0 connection).
For photographers and videographers who have to work with hundreds of Gigabytes of data daily, having a portable drive with lighting speed is godsend. Saving video project files from Adobe Premiere or making changes to each photo in Adobe Lightroom is much quicker than using a traditional external HDD (even with USB 3.0 support).
When we had to compile and work on our full movie project a few years ago, we spent lots of time just waiting for the files to finish transferring and processing (we copied it to our PC to work on them, and transfer a backup back at the end of the day). Imagine how much time we could save and spend it on doing more editing instead. Transferring 25-30GB of files in and out of the drive only takes a few minutes in average (again, depends on your configurations – such as whether you are transferring from an internal SSD or HDD, your system, etc).
The drive also supports 128-bit AES encryption if you want to secure your files from prying eyes using SanDisk Secure Access software (provided inside the drive and also downloadable on the net). This means that the SanDisk Extreme 500 Portable SSD is also great as backup drives. You can have a few of them as daily or weekly backups [if you have the money], and bring them off-site easily in your pocket (don't forget that you can also secure the drive with encryption).
SanDisk Extreme 500 is available in 120GB and 240GB size.
SanDisk Extreme 500 Review Conclusion
For videographers and photographers who like to store their work inside an external drive, the SanDisk Extreme 500 is definitely a must-have. The speed, the portability, the reliability of an SSD, and the ruggedness of the design are second to none. You'll thank SanDisk on how much time you've saved while you work on your files, or transfer them across. As a general use, it is also excellent (you don't have to be a photographer or videographer) but you can probably save more money if you don't need to work on large, many files constantly.
The only cons I can think of are the flimsy rubber that covers the connection port and that the USB cable may be too short for some (though makes it easier to carry with).
Disclosure: Sample was sponsored for reviewing, but all opinions are mine
[AMAZONPRODUCTS asin="B00ZTRY532″]