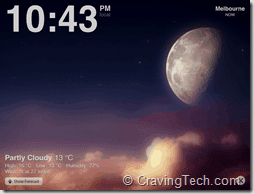 Weather HD is the most beautiful weather forecast application for the iPad. All the forecast weather information are represented by stunning high definition videos (about 125 MB in total).
A good example is the screenshot I took with my iPad on the left to show a "Partly Cloudy" weather condition.
All of the High Definition videos is stunning and cover every single weather condition possible. One weather condition has multiple videos so you'll see the video changes after a certain period of time. This keeps the Weather HD far from boring even if you've already seen the video numerous times.
Screenshots can't show how great looking the animations are, so it's best to watch the Weather HD video trailer here:
Some screenshots that I took on my iPad: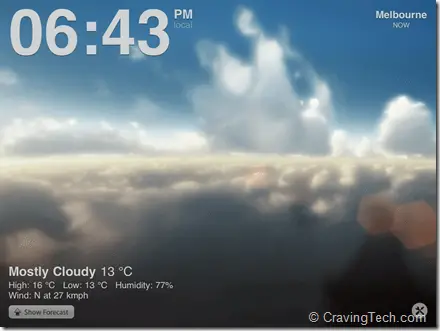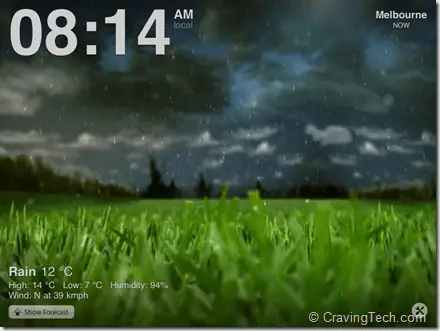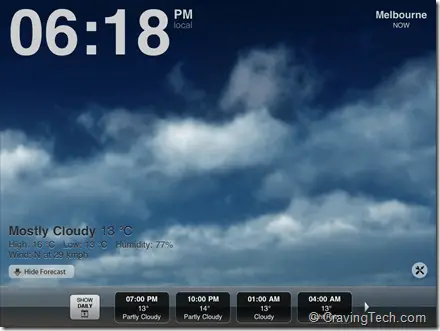 Although the Weather HD is all about wonderful looking weather animation, it doesn't limit itself in just that. Setting the area to grab the weather info from is easy, simply search for your city and add it in: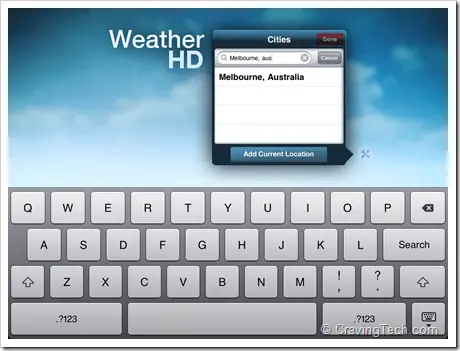 You can add multiple cities on the Weather HD so you can flick through different cities easily later on.
Other display settings include:
Setting the unit to Celsius or Fahrenheit
Clock display?
Size of the Clock
Show local time (if set, you'll see the local time on the current city)
Clock format (24 hour or 12-hour)
Night mode (if enabled, you can double tap to dim the screen. Useful if you leave the app while you sleep on your iPad stand)
On the weather information display, you can see the current weather condition, temperature, High/Low, Humidity, and the Wind speed. These are just what I need – to know which jacket I should wear for the day (based on the current and low/high prediction) and whether I should be bothered carrying my umbrella if it rains (based on the wind speed).
You can also check out the 7-day forecast and 3-hourly by pressing the "Show Forecast" button on the bottom left.
The Weather HD also supports both Portrait and Landscape orientation:
in Portrait: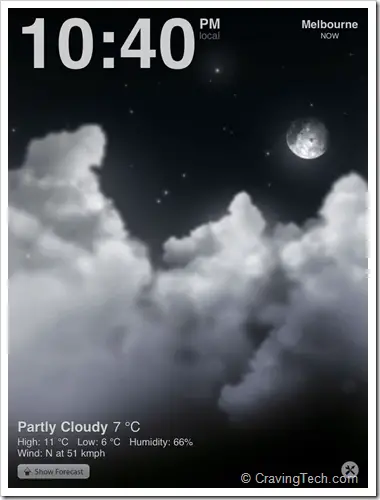 and Landscape: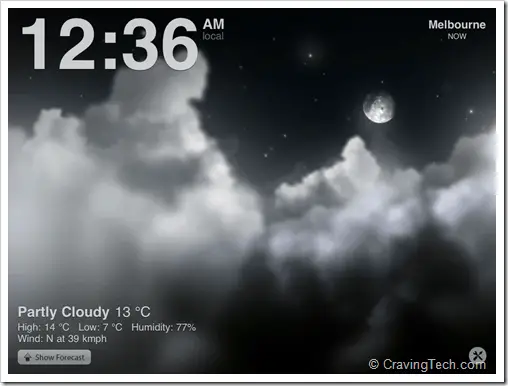 Thanks to the clock included on the previous version update, Weather HD is perfect to be displayed on an iPad stand when you are not using your iPad. Of course, don't forget to plug the cable to charge the iPad while you turn this on as the battery will drain quickly before you know it. I think if the developer adds a simple alarm system in the next version, this app can be the ultimate app for the iPad on the stand! The question still remains though; will it reduce the life of an iPad screen if you leave the screen on non-stop..?
NOTE: Weather HD review license was provided by vimov