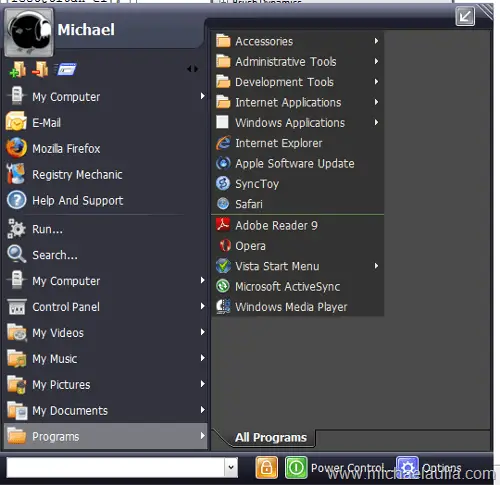 This is not a review about the default Windows Vista start menu but "Vista Start Menu" is the name of an application that is designed as an enhanced version of the default Windows start functionality.
Ever love the new Vista search on the Start menu and wish that you can have it on Windows XP? Vista Start Menu can achieve that and can be installed on Windows Vista, Windows XP, and other modern Windows platforms. Not just that though, the application also has a few more interesting quirks.
Vista Start Menu is developed by OrdinarySoft and designed with human cognitive abilities to memorize locations and images. This way, you can remember your application shortcuts on the Start menu much better and quicker, rather than going alphabetically.
As you can see on my screenshot above, I usually organize my installed program folders on several categories (Games, Windows Applications, Internet Applications, etc). It's probably the only way to keep them organized on Windows XP.
Well, with Vista Start Menu installed, I don't need to worry about it anymore. I can either use the search field to find the program quickly (just like in Windows Vista) or I can still go to the specific program folder like before, but better (Please refer to the Vista Start Menu Flash demo to find out why)
You can also assign TABs (a list of your favorite programs/shortcuts) and keyboard shortcuts with the software. Some of these features are not available for free though, so you may have to go PRO if you want them.
Conclusion
Vista Start Menu is a good Windows XP Start menu replacement. If you want Windows Vista start menu search in Windows XP, then you should give the free version a try. Even if you don't fancy the search capabilities, you will benefit much with the way your installed programs organized, especially if you are an unorganized person.
The only drawback is you'll probably going to miss having the most recently opened programs on your Start menu.
Vista Start Menu doesn't really slow down my system when I have it installed and running, although it takes around 41 MB of my RAM. So if you are really low on memory, then you might want to reconsider not having another program clobbering your RAM.
To find out about the complete features of this program, head off to Vista Start Menu official site.