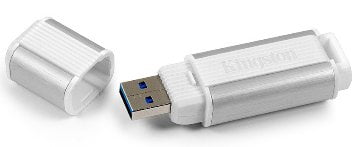 Okay, this is probably old news to some of you but to those who are not following technology news anywhere else, Kingston has recently launched its first USB 3.0 Flash Drive, named the Kingston DataTraveler Ultimate 3.0, and available in 16 GB, 32 GB, and 64 GB capacities.
Check out the official press release below.
Sydney, Australia: September 27, 2010 — Kingston Digital, Inc., the Flash memory affiliate of Kingston Technology Company, Inc., the independent world leader in memory products, today announced it is shipping its first USB 3.0 Flash drive. The Kingston DataTraveler Ultimate 3.0 Flash drive takes advantage of the faster USB 3.0 specification that has up to ten times the data transfer rates of the current USB 2.0 specification.
The DataTraveler Ultimate 3.0 has a read speed of 80MB/sec. and a write speed of 60MB/sec. It is available in 16GB, 32GB and 64GB capacities. The combination of speed and size makes it ideal for data backup or fast transferring of large files including music, photos and videos. To ensure backwards compatibility, Kingston is also including a Y cable as some USB 2.0 ports require it to initialize USB 3.0 drives.
"USB 3.0 is the next major milestone in Flash memory for USB products and Kingston wants to have a solution in the marketplace for early adopters," said Nathan Su, Flash Memory Sales Director, APAC Region, Kingston. "The DataTraveler Ultimate 3.0 is our first USB 3.0 Flash drive offering and is designed for enthusiasts who like to embrace new technology before it goes mainstream."
During internal testing, a 1 hour 44 minute movie (3.9GB) was written to the drive in 1 minute 13 seconds. Similarly, a 2 hour 23 minute DVD (4.4GB) transferred to the drive at a fast 1 minute 23 seconds†.
The Kingston DataTraveler Ultimate 3.0 USB Flash drive is backed by a five-year warranty, free tech support and legendary Kingston reliability. For more information visit www.kingston.com/asia/.
Kingston DataTraveler Ultimate 3.0 Features and Specifications:
•    Capacities*: 16GB, 32GB, 64GB
•    Requirements: system with USB 3.0 port
•    Backwards compatible**: with USB 2.0
•    Speed***: data transfer rates for USB 3.0 up to 80MB/sec. read and 60MB/sec. write;
•    USB 2.0: approximately 30MB/sec. read and 30MB/sec. write
•    Dimensions: 2.90″ x 0.87″ x 0.63″ (73.70 mm x 22.20 mm x 16.10 mm)
•    Operating Temperature: 32° to 140° F (0° to 60° C)
•    Storage Temperature: -4° to 185° F (-20° to 85° C)
•    Practical: durable casing with a solid lanyard loop
•    Warranty: 5 Years

† Test system: Gigabyte P55A-UD4P motherboard; Intel Core i5 670 processor; 8GB HyperX (KHX1600C9D3K2/4G) system memory; SSDNow V+ (SNVP325-S2/128GB); Windows 7 Professional x64
* Some of the listed capacity is used for formatting and other functions and thus is not available for data storage. For more information, please consult Kingston's Flash Memory Guide at kingston.com/Flash_Memory_Guide.
** Includes USB 2.0 Y cable. Some USB 2.0 ports may require the Y-cable to initialize the drive.
Pricing and Availability
AU$
DTU30/16GB  $119
DTU30/32GB  $179
DTU30/64GB  $349
NZ$
DTU30/16GB  $159
DTU30/32GB  $235
DTU30/64GB  $459