Tineco FLOOR ONE S7 PRO Review – Everyone in my household (well, okay, it's just me and my wife) loves the Tineco FLOOR ONE S5 PRO (make sure to check my review out). Not only can it vacuum the floor, but it can also mop it at the same time. It's not a new concept but Tineco uses a motorised brush which means it mops the floor really clean! And another thing that I really like is that it has an automatic cleaning function that gives the brush a good clean while simultaneously charging the device at the same time. It's really special.
And now, Tineco has released an updated model, the FLOOR ONE S7 PRO which as you can expect, is better than the FLOOR ONE S5 PRO. It has longer running time, better cleaning performance, illumination, and better manoeuvrability.
Tineco FLOOR ONE S7 PRO Review – Packaging Contents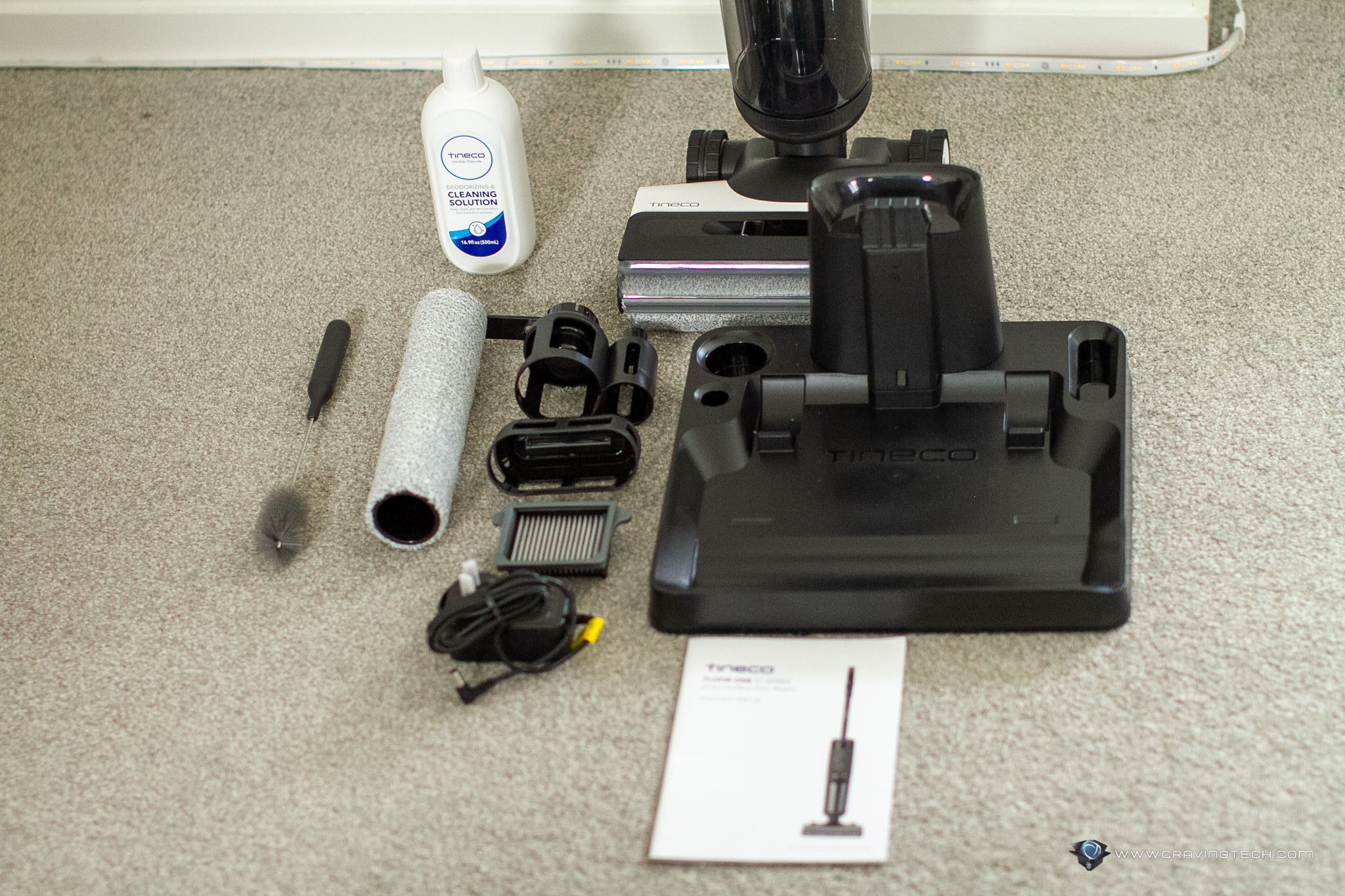 Tineco FLOOR ONE S7 PRO vs S5 PRO
For those who want to know what the differences between the two models are:
S7 PRO has a slightly larger dirty tank than the S5 PRO
S7 PRO runs for a bit longer than the S5 PRO
S7 PRO has bigger LCD display
S7 PRO has a bit more button controls
S7 PRO has an extra Ultra cleaning mode
S7 PRO has an extra option for longer auto-cleaning time and air drying
S7 PRO has Dual Edge cleaning, compared to S5 PRO's Single Edge
S7 PRO has bi-directional self-propulsion system (it helps when you push or pull the machine). The S5 PRO only helps when you are pushing the machine forward.
S7 PRO has a floating scraper that scrapes the brush continuously to help getting those dirty water and dirt off the brush
S7 PRO has a headlit brush (for illumination)
S7 PRO is a little bit heavier than the S5 PRO
Tineco FLOOR ONE S7 PRO Review – Design and Features
At a glance, the Tineo FLOOR ONE S7 PRO is pretty identical to the S5 PRO and that is fine. I guess you shouldn't change what works and is liked, right? It fits right inside any modern homes, and is designed for those with tiles or wooden floors. This is because the machine can both vacuum and mop at the same time, cutting your cleaning chores in half. Sure, you can change one of the modes to Suction only – but if you only have carpets at your home (like an apartment), it's better for you to just get a vacuum cleaner.
What makes Tineco FLOOR ONE S7 PRO (and the previous model, S5 PRO) is the fact that you can vacuum and mop at the same time, and the machine does its job marvellously. You first insert water (tap water) into the Clean Water Tank, along with a cap-full of Tineco's solution. You can then start the machine to start cleaning, as simple as that.
If you set the machine to Auto, it will automatically detect whether it needs to release more suction power and water while mopping more troubled areas. There are four different modes on the Tineco FLOOR ONE S7 PRO: Auto, Max, Ultra, and Suction.
I always find that picking Auto never disappoints so I always leave it as is. Ultra mode is a new mode and according to Tineco, it transforms tap water into electrolyzed water which is an all-natural cleaning solution for deep cleaning hard floors. I really wish there is more info about this on Tineco's official website as I'd love to go into the technicalities and find out if this mode is worth a try. Suction mode can be used if you want to clean carpeted areas or when you need to dry your floors up quicker.
The built-in 3.6″ display is huge, bright, vibrant, and contains all the information you need to change some important settings, or while you are cleaning the floors. It will display the current battery and water level remaining in real time. I really like the new interface and animation on the S7 PRO compared to the S5 PRO.
For cleaning harder-to-reach areas like edge cleaning, the new S7 PRO is dual so you can do it on either side, and thanks to the new headlit brush (that's quite bright, actually), you can see all the dirt in darker areas.
While the S7 PRO is a few hundred grams heavier, you won't feel it when cleaning your floors with it. Thanks to the bi-directional self-propulsion system, the machine now helps you when you are pushing and pulling the machine. With the S5 PRO, it only helps to propel the machine forward but not backwards. This makes it even easier to use the S7 PRO, even if you are skinny like me and it doesn't make you tired after cleaning the whole house.
I do feel like the S7 PRO uses more water than the S5 PRO or it might just be my imagination? No matter though, because refilling the water tank is easy and if this means you have cleaner floors or more efficiency in cleaning, so be it. And also, I feel like the floor is wetter compared to the S5 PRO but thankfully doesn't have water streaks when it dries.
The filtration and hair trapper trap everything else like human and pet hair, and the dirty water tank offers a gross but satisfying result of the machine's cleaning performance.
Once you've finished cleaning the floors, you can put the machine on the included charging stand. The machine would detect this and offers you to start its self-cleaning program (either a Quick self-cleaning or Super self-cleaning one that takes longer). This deep-cleans the brush roller and tube, and then uses centrifugal drying to remove water from the brush. I actually had high expectations on this and got slightly disappointed. I was expecting the brush to be completely dry but it's not. In the end, just like the S5 PRO, I'd still have to take the brush out and leave it out to dry completely.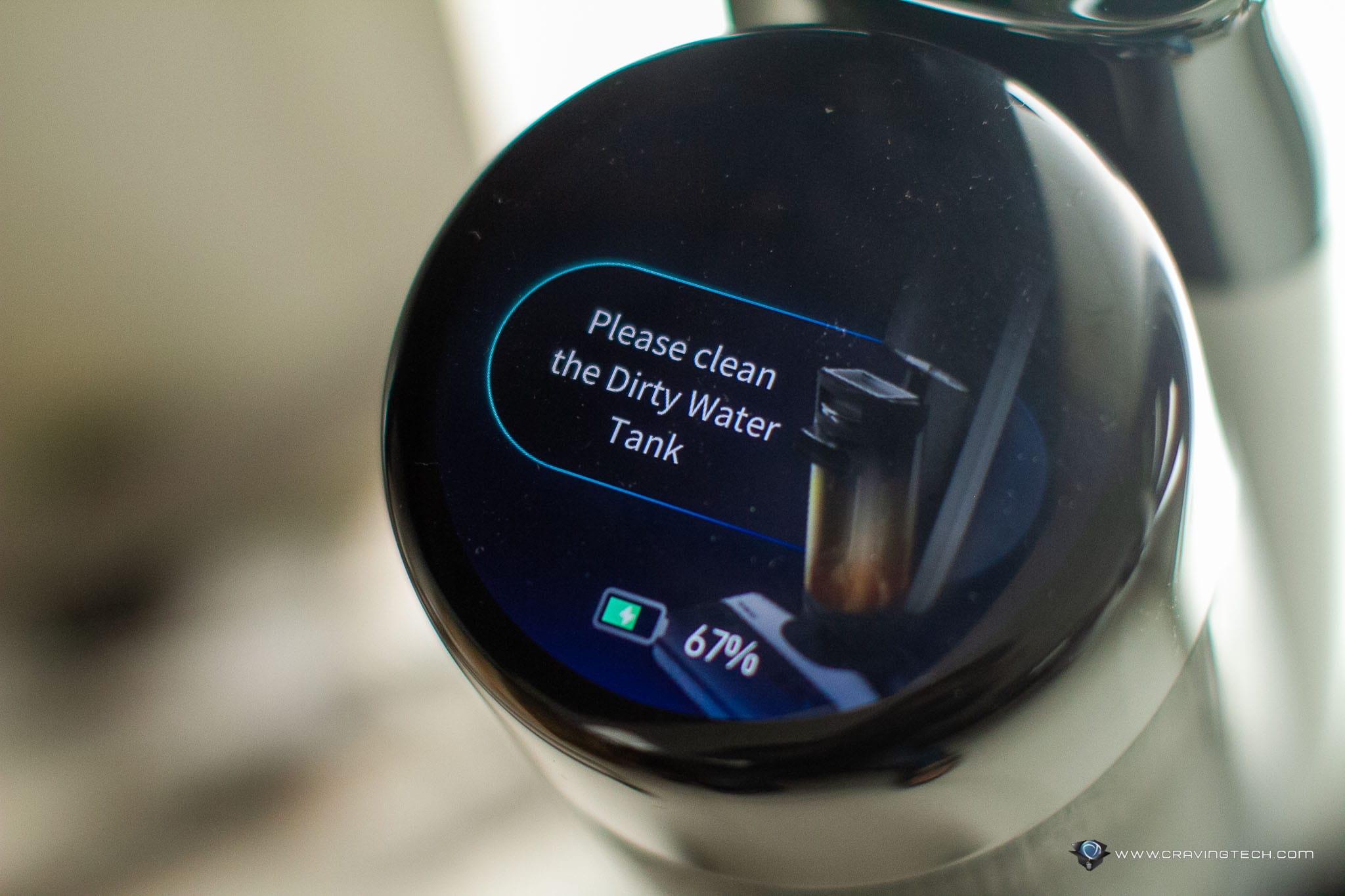 Tineco FLOOR ONE S7 PRO Review Conclusion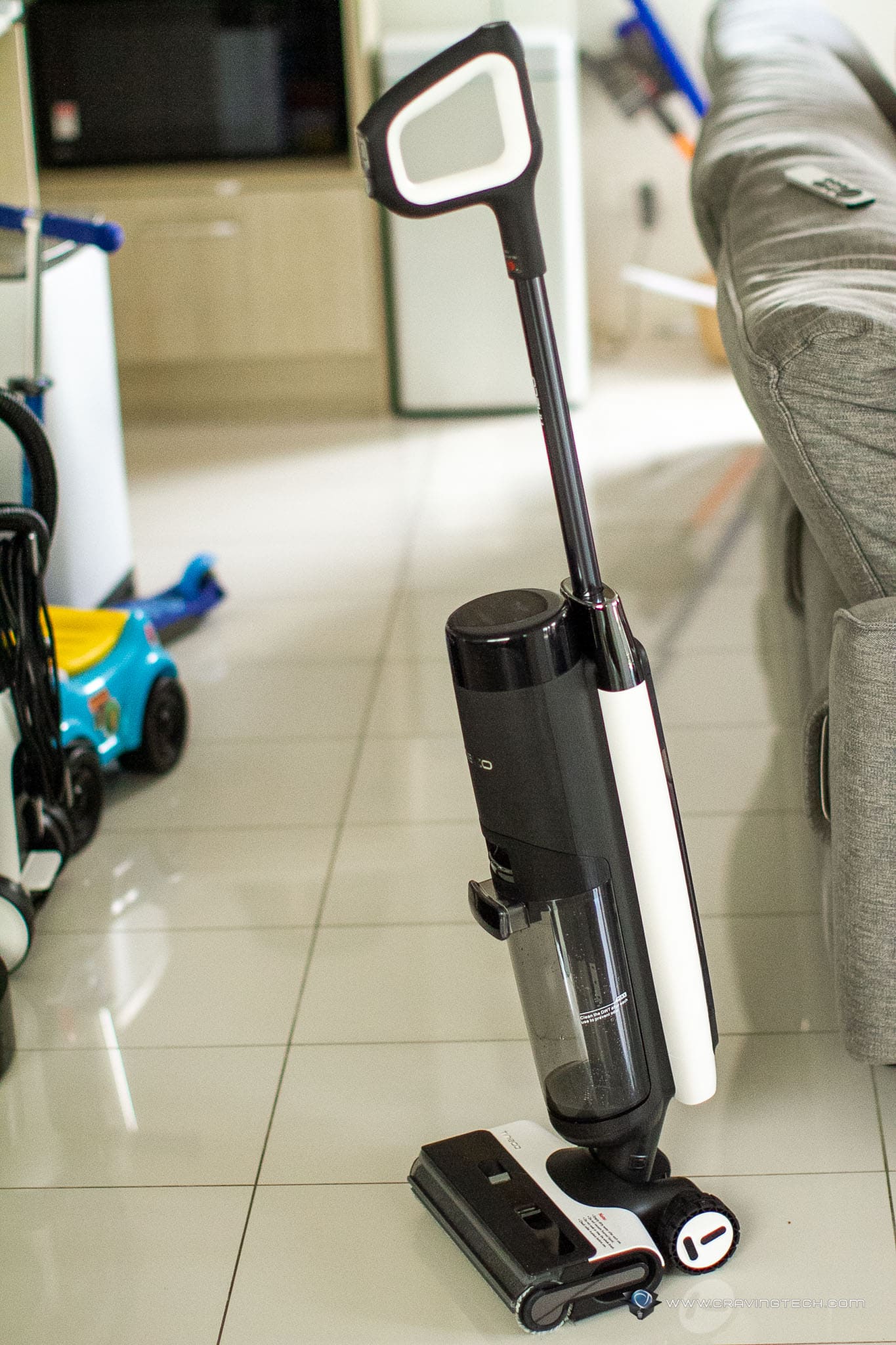 Tineco FLOOR ONE S7 PRO is an excellent floor washer, all thanks to its MHCBS technology that makes sure the brush stays clean and that only clean water comes out on your floor. At 450 revolutions per minute, the brush roller continuously washes with clean water as the unique floating scraper squeezes the roller each revolution. This gets rid of the dirty water from the brush and it gets sucked instantly into the dirty water tank.
The new bi-directional self-propulsion system, Dual-Edge cleaning, and headlit brush work in tandem to make it easier to manoeuvre the machine and to clean those harder-to-reach places a breeze.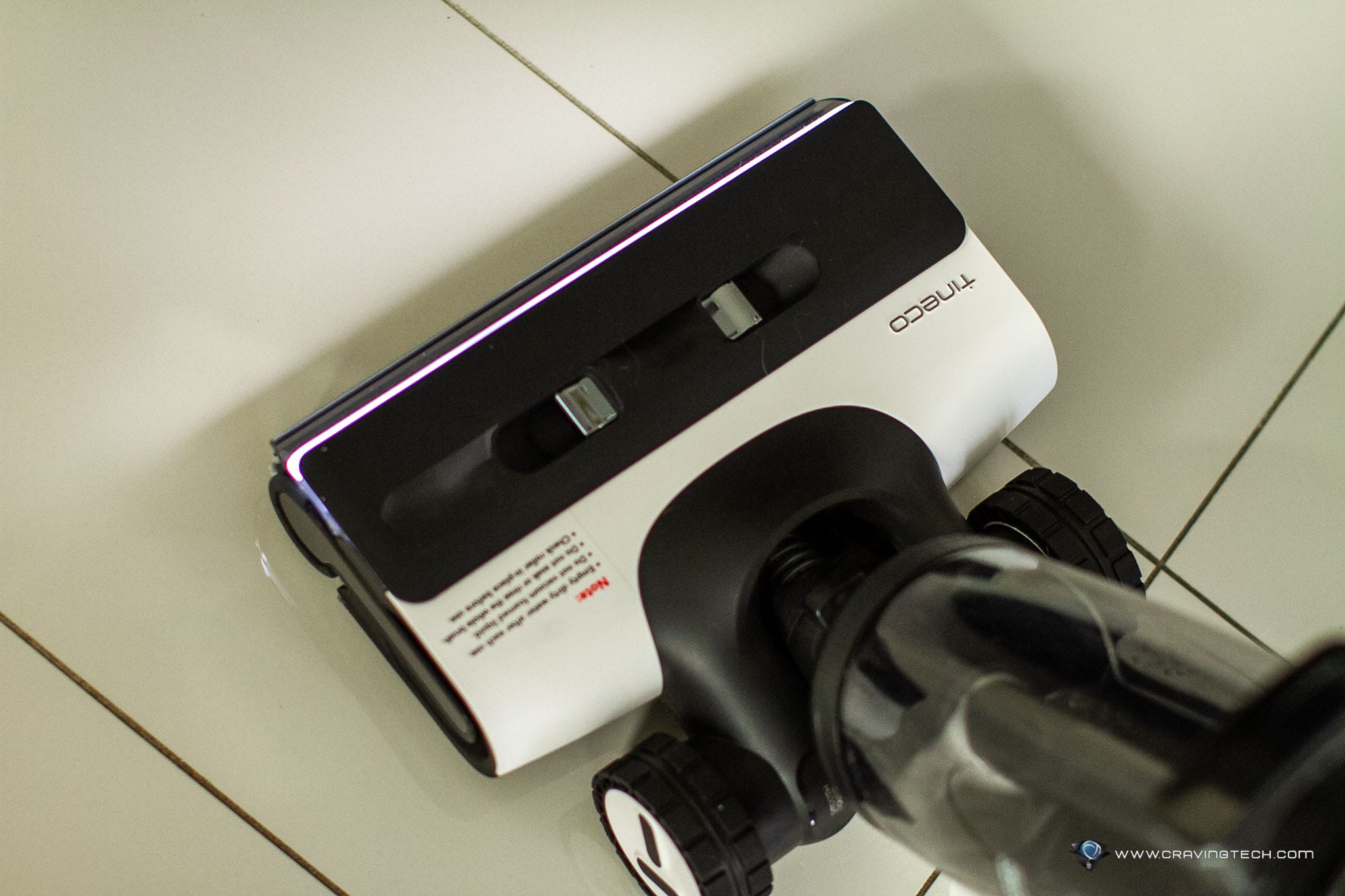 And lastly, the machine can auto-clean itself, leaving everything just like new, and it is also fun to watch.
The excellent, cleaning experience starts as soon as you press that Start button, throughout the cleaning process, and even right after everything ends. This is Tineco FLOOR ONE S7 PRO.
Is it a worthy upgrade from the S5 PRO? It's a tough choice. If you do have the money and want to have the latest and greatest, then certainly go for it. But if you want to save some cash, I'd say the S5 PRO is already good enough to do the job and you probably aren't going to miss much without the upgrade. This is because even the S5 PRO is already an excellent machine.
Tineco FLOOR ONE S7 PRO is available now at Godfreys Australia and retails for A$1,299. If you are not in Australia, it's available at Amazon.com.
Disclosure: Tineco FLOOR ONE S7 PRO review sample was supplied for reviewing
Tineco FLOOR ONE S7 PRO Review
Summary
Tineco FLOOR ONE S7 PRO offers excellent cleaning experience from the beginning to the end
Pros
Efficient and high performing cleaning
Easy to manoeuvre, easy to push and pull with bi-directional self-propulsion system
Bright, big, vibrant, informative LCD display
Can auto clean while charging at the same time
Include additional brush and filter while leaving the others to dry
Cons
Can't go low enough (to clean under the sofa, for example)
Air drying doesn't leave the brush completely dry