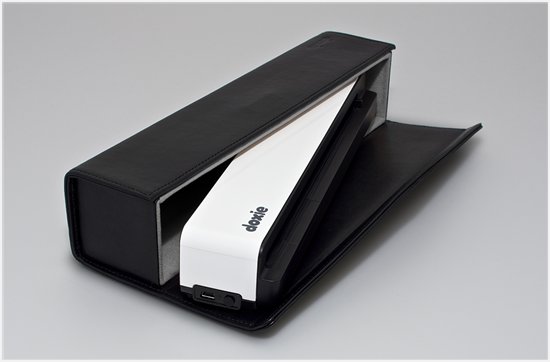 Doxie Go is a wireless portable scanner I reviewed some time ago, featuring compact, easy to use, wireless, powerful scanner that you can take a long with you to scan any documents (or photos), anywhere. You can then share, upload to Cloud services, or automatically convert them into PDF files.
One of my negatives was the somewhat cheap pouch compared to the previous original Doxie. To tackle this problem, the company has now decided to add an optional sexy case as an accessory should you not happy with one includes in the packaging.
If that is not enough, the team has also made these improvements to Doxie Go scanner:
Doxie Go can now scan up to 15″ (38cm) paper for U.S legal documents, long receipts, business cards, photos, and more.
Doxie Go now integrates with Dropbox.
Doxie Go now integrates with Basecamp.
Doxie Go can provide digital signatures and send faxes with HelloFax integration.
Doxie Go can now scan directly to Android smartphones.
Doxie Go now has new optional accessories: Doxie A4 Case with padded interior and magnetic clasp and a new Worldwide Power Adapter.
Source: Doxie Go press release