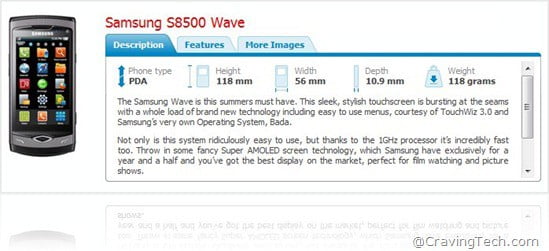 The Samsung Wave is the first Samsung smartphone to use the Samsung homegrown operating system. This might seem to be a brave move on the part of Samsung, especially considering the enormous success of the Google inspired Android operating system (which is in fact is installed on the Samsung Galaxy S), so what does Bada bring to the table and how good is it at what it does?
Bada is a Korean word meaning Ocean and is designed to be a highly cost effective solution for smartphones at the lower end of the price spectrum. When Samsung developed it, the intention was not to compete with the other operating systems, but rather to increase the general accessibility of smartphones.
Bada's ancestry dates back to over a decade ago when Samsung first launched its proprietary operating system. An earlier version was also used on the Samsung Star, of which over ten million units were sold.
In order to make this software usable for smartphones a number of new features were required. These included multipoint-touch screen support, 3D graphics, a remodeled user interface, and the ability to download and run applications. Bada includes support for Adobe Flash and support for a range of sensors. These include motion sensing, vibration control, acceleration sensing, along with magnetic, tilt, GPS, and proximity sensors.
The technology is based on a four layer architecture. The kernel is Linux or RTOS, depending on the hardware being used. Next there is the device layer which includes system management, security, graphics, the window system, data management protocols, audio-visual and multimedia, along with telephony. Next, the service layer deals with service-centric functions based on applications and web services. Finally the framework layer provides an open application framework.
So does Bada really do the trick? It seems that it does it very well.
The Wave can compete favorably with the top end smartphones and Samsung has encouraged developers to produce many apps of which there are already over a quarter of a million. The fact that Bada is based on proven technology means that it is fundamentally reliable and secure. It also seems capable of doing just about everything that Android can do, so overall it has been a success.