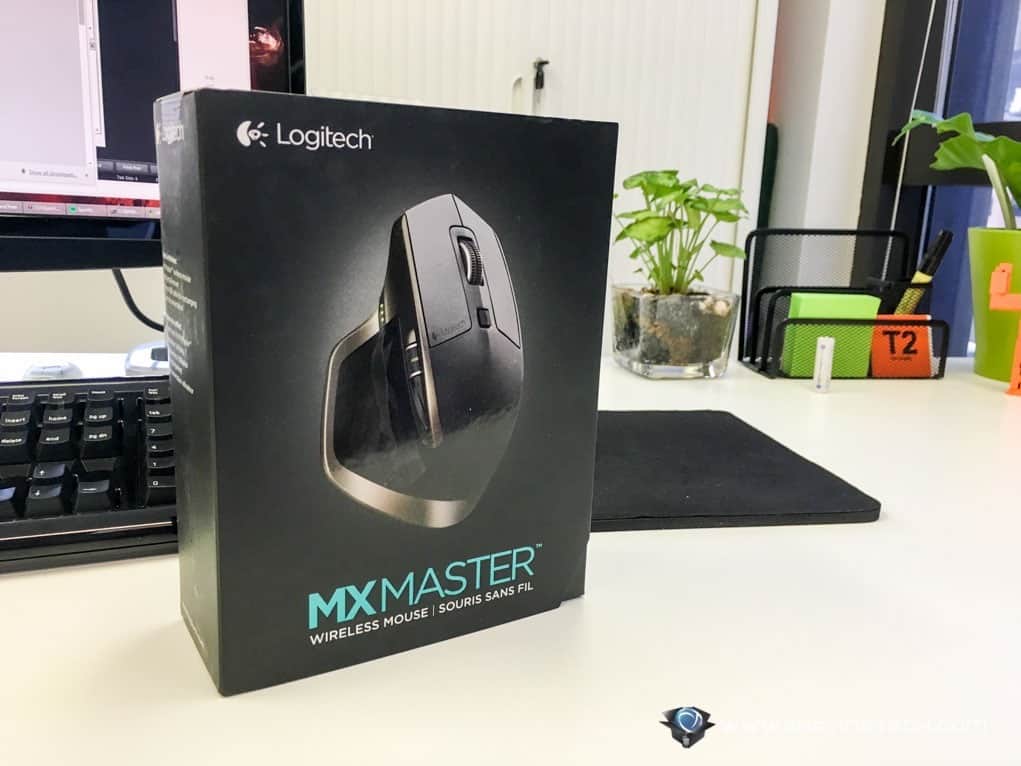 With plenty of wireless mouse in the market, Logitech may have a tough time to convince consumers to shell out $149.95 for one. After all, you can grab a different Logitech wireless mouse product for just $20-$30.
However, as I use the Logitech MX Master daily to work at the office (from 9am to 5:30pm), I'm convinced that this is definitely one of the best wireless mouse ever created by any peripheral manufacturer. Productivity wise, it's superb.
Logitech MX Master Review – Design & Features
At first glance, the MX Master looks huge compared to many other mouse I've reviewed before. Having small hands with a claw or fingertip grip style, I wasn't sure at first that the mouse will sit comfortably well within my hands. However, as soon as my hands first touch it, I'm completely sold. I would call it love at the first grip. The mouse is really comfortable to hold, thanks to the contour that seems to envelop my palm and fingers well.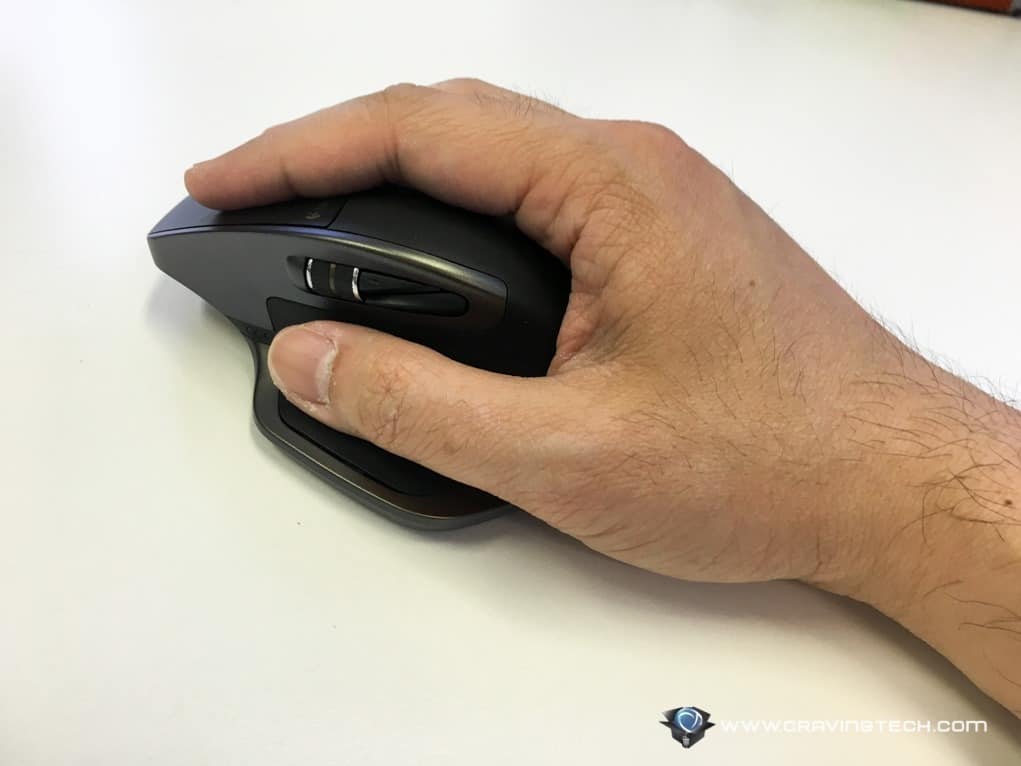 However, the MX Master is not the slimmest and lightest mouse around, so you do need some space in your bag if you want to take it along with you while you travel. This is quite a small price to pay, compared to all the goodies that come with the mouse. Besides, if you are not planning to carry it around too much, then you'll have no portability problems whatsoever.
I love the thumb rest area. It's spacious and should fit any size of thumb you may have (large or small). The area has these funny, wavy textures that somewhat makes it easier to grip and feels solid.
It's also the only mouse that I know so far where you can press down onto the thumb rest area like a button. It is indeed an extra button that you can further customise. You can even do gesture actions (such as pressing it down and swiping the mouse up to maximise a window, for example). Pretty cool stuff.
The side buttons design is also different. Some may like it, and some may not. They are smaller than usual and placed in a vertical position (rather than side-by-side/horizontally). They are easy to differentiate though with just a feel of the thumb so you won't accidentally press the wrong one.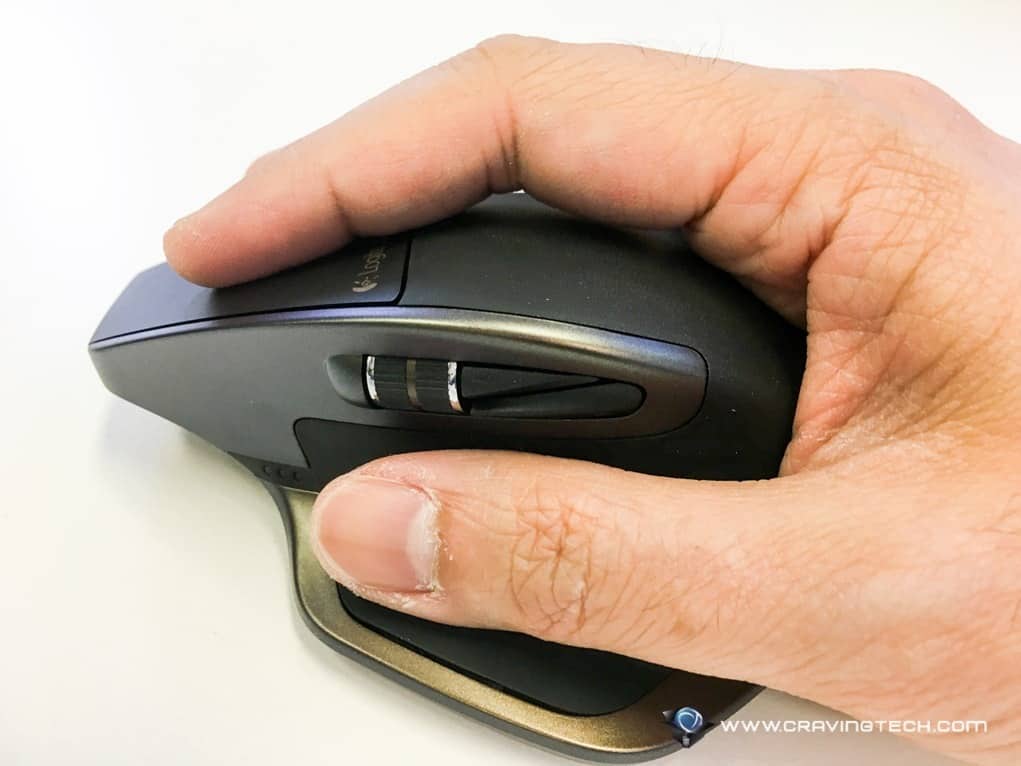 The horizontal scrolling wheel is awesome. I honestly didn't think that I'd use it ever, but apart from being able to horizontally scroll web pages, you can also assign it to something else such as a volume control. As I work, I often have to lower and raise my music volume to my headphones – or even mute it. I have now set these controls to the mouse's thumb rest surface and side scroll through the Logitech software. Scrolling up will raise the volume and scrolling down will lover it. It's awesome. The customisation options on this mouse is very generous.
Just when you think you have enough buttons to cover them all, Logitech throws in another below the middle mouse button. By default, it's there as a "Mode Shift" button where you can switch between scrolling with audible steps, or a super smooth scroll. I assign it as an extra middle click because I find that the middle button is a bit stiff to my liking (requires a little bit more force to press). As I often close my web browser tabs with a middle click, having an easier-to-press button works better for my need.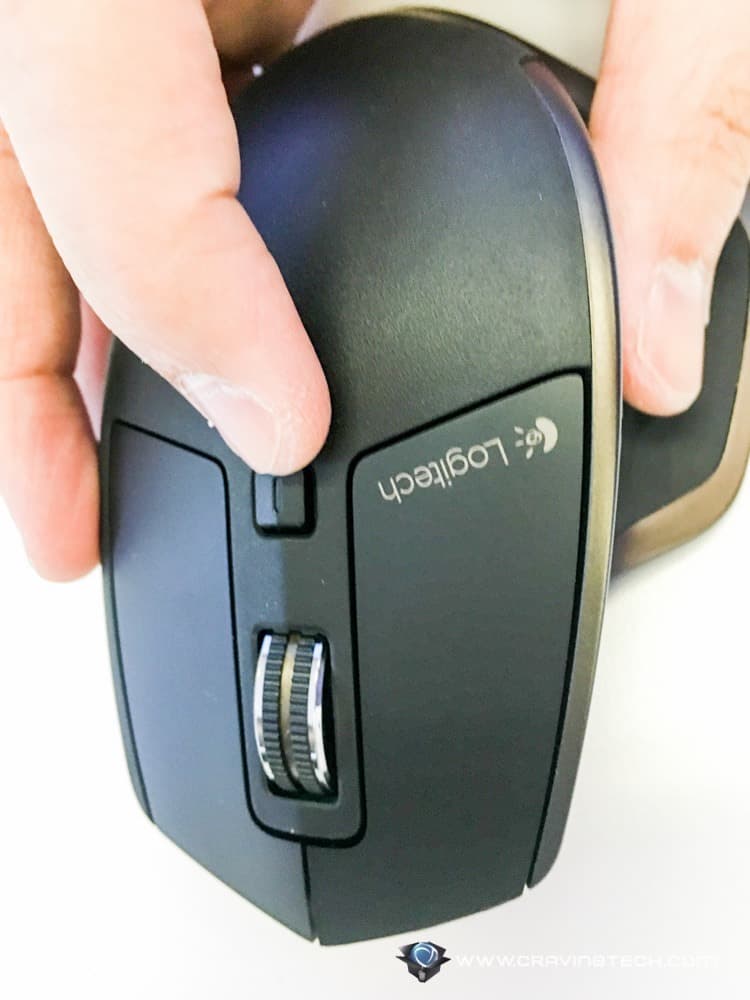 The adaptive scroll works automatically by detecting how far and fast you scroll down/up the pages, based on how "aggressive" you scroll. Again, I'm amazed at how useful this is, and never thought that it's a good to have.
Setup is pretty much painless. All you have to do, like the other Logitech wireless peripherals, is to just plug the unifying receiver USB into a USB port on your desktop OR connect it via Bluetooth so you can free up a port on your laptop for something else. This dual connectivity makes the mouse quite versatile.
And with just a touch of a button (located underneath the mouse), you can switch between devices (up to 3 paired devices) instantly. So for example, you may be working with a desktop and a laptop on your desk. With the Logitech MX Master, it's quite seamless to switch between one and the other with a simple press of a button.
A wireless mouse will suck if it doesn't last long. The MX Master doesn't just last a day, but weeks! A full charge will last around a month (40 days with 6 hour daily office use, according to Logitech's fine print) and you can charge 4 minutes to get around a full day of usage. You can set it to get a notification should your battery goes low (once you have the software installed) or you can also have a peek at the LEDs when you wake the mouse up from its sleep.
Logitech MX Master will also work while being charged with the microUSB cable included in the packaging (there is no cool charging dock, but that's okay).
Logitech MX Master vs Performance MX (M950T)
In my opinion, it's worth upgrading from Performance Mouse MX to the MX Master. It has longer battery life, even more comfortable to hold, side-scroll wheel, and more responsive middle mouse button. Of course, there are more like the extra buttons and customisations.
Logitech MX Master Review Conclusion
The Logitech MX Master has it all in a wireless mouse – it feels natural to hold and comfortable to use for hours, has an elegant design that fits nicely on the desktop, configurable buttons that can do more than simulating clicks or opening programs, weeks of battery life in a single charge, easy and seamless connectivity with the support to switch instantly to other paired devices, and can even be used on glass surfaces.
Logitech MX Master has all the things you want, and more, even when you don't think the features will matter much to you. They will. It's not surprising to see why this mouse has glowing reviews all over the net.
You can purchase it at Logitech Store Australia if you are in Australia, or at Amazon.
Disclosure: Sample was sponsored for the review but all opinions are mine
[AMAZONPRODUCTS asin="B00TZR3WRM"]