Amazon Kindle Oasis 2019 Review – The new Kindle Oasis (2019) offers a waterproof and lightweight Kindle with different colour temperature of the display adjustments. For heavy-e-book-readers, this is a pretty big change.
There were many Kindle models before the new Oasis obviously, and each iteration has always been better than the previous. Can the new Kindle top them all?
Amazon Kindle Oasis 2019 Review – Packaging
It doesn't come with a cover so if you are the type that takes good care of their gadget, you might want to prepare before making a purchase of the new Kindle.
A microUSB cable is included to charge the Kindle. And yes, unfortunately it's not USB Type-C, even though it's already 2019.
Amazon Kindle Oasis 2019 Review – Design & Features
I personally was shocked to see how slim and lightweight the Kindle is. It was delivered in an envelope-type package and I was intrigued because I wasn't waiting for any important documents. To my surprise, it was the slim, Kindle Oasis 2019!
According to the official specifications, it weighs around 188 grams with the dimensions of 159 x 141 x 3.4-8.3 mm. It is so tiny and slim that I definitely fall in love with the design. I could already imagine how fun and easy it would be to carry this around everywhere.
To be honest, this is my first Amazon Kindle (I own an iPad) so forgive me for being too excited and ecstatic.
The Kindle Oasis (2019 model) has a 7-inch 300ppi display with latest e-ink technology and an ergonomic design that let you hold it comfortably with just one hand. The screen will auto rotate if you change hands, i.e you can it with either your right hand or left hand and the screen will automatically rotate accordingly. Neat.
It has two physical buttons for turning pages, though you can also tap the edge of the screen to do the same thing (but this is a two-handed operation). Tap the top of the screen to pop the toolbar to access other things like Settings, Home, etc.
The main highlight of the new 2019 model is the colour temperature adjustment. You can adjust the shade of the screen to warm yellow for night reading, so not to strain your eyes. You can also schedule it to change automatically at a certain time (like after sunset). As for the brigthness, the Kindle Oasis can adjust automatically based on the lighting conditions in the room.
To be clear, there is no auto adjustment for the colour temperature from a sensor (apart from scheduling it), just the screen brightness.
If you are the type who likes reading on the bed when the lights are off, or when your partner already asleeps, your eyes will thank you for grabbing this new Kindle.
With an IPX8 rating, Kindle Oasis 2019 can be immersed in up to two metres of fresh water for up to 60 minutes – just in case you are sitting next to the pool and gets an unwanted incident. And I guess even when it's raining hard outside, you can still continue reading your favourite book in the middle of the rain.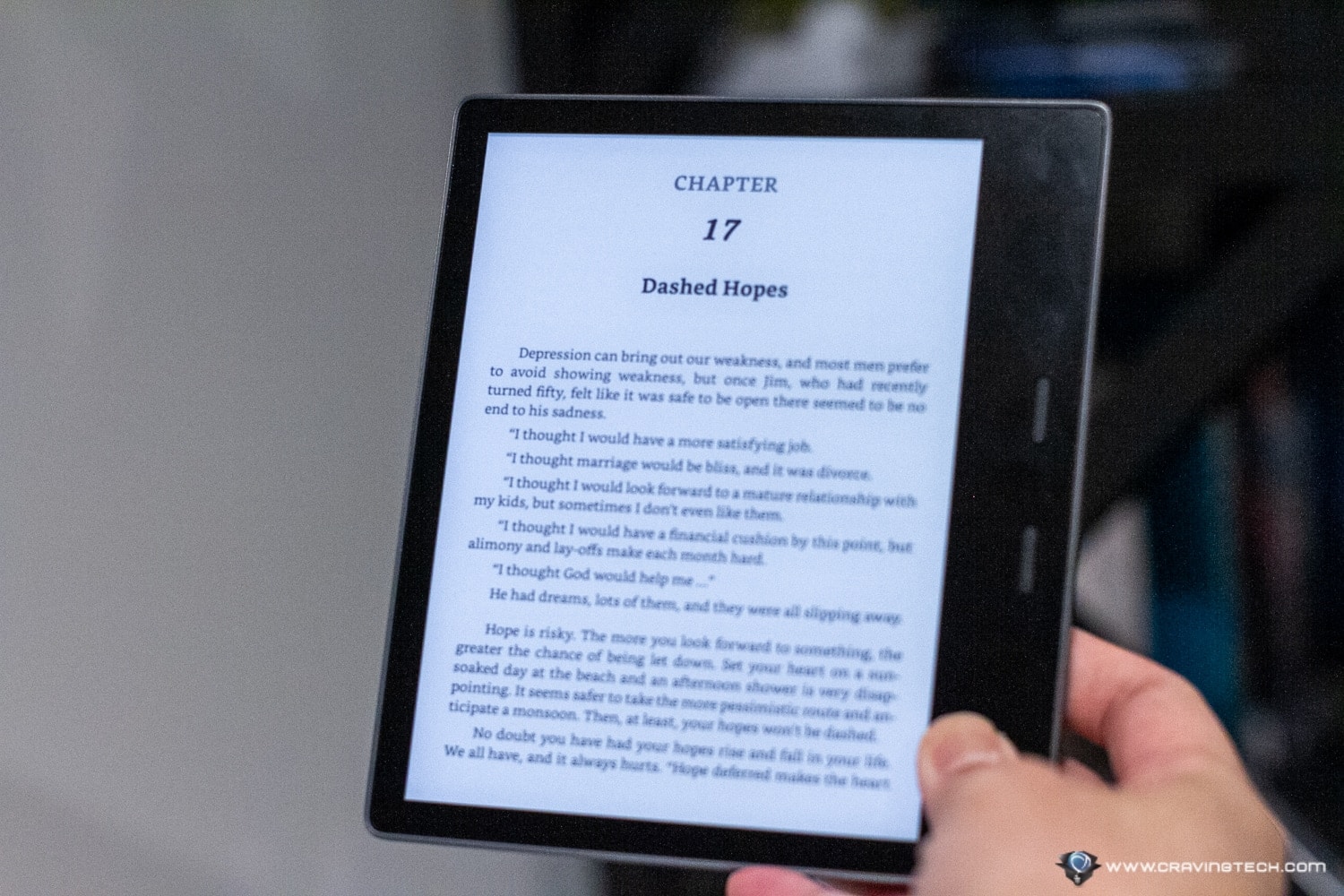 Apart from this, well, a Kindle is a Kindle. If you have not had one yet and like to read books (e-books), a Kindle is the best choice just because of its E-ink display technology. Reading on a Kindle is much clearer and kinder to your eyes, plus it has anawesome battery life.
Kindle Oasis 2019 can go for weeks of battery life depending on usage and the settings of your device. It's definitely far better than having a tablet to read your e-books, but of course, tablets can do much more.
Kindle Oasis 2019 Review – Conclusion
Amaon Kindle Oasis 2019 is a slim, lightweight Kindle with glare-free, high resolution screen. The screen is bright and responsive. The brightness and even the colour temperature can be adjusted easily with a couple of taps, depending on when and where you are reading.
With an ergonomic design, reading e-books with just one hand is never tiring so far and I can also switch hands as needed. The screen will auto rotate following my hand movement, which is pretty neat. Hard buttons to turn pages over can be accessed with the thumb so you can keep reading with just one hand while standing on the train.
There are lots of books available cheaply at Amazon and I've also tried emailing PDF books and documents to my Kindle directly, which allows me to read them on the Kindle.
If you have not had a Kindle before, I'd highly recommend grabbing the new Kindle Oasis 2019 model. However, if you already have the previous model, you may not need an upgrade unless you really want that "yellower" or "warmer" screen feature.
Amazon Kindle Oasis 2019 model is available to purchase at Amazon (Australia | U.S) for AU$399.
Disclosure: Amazon Kindle Oasis review sample was supplied for reviewing but all opinions are mine and not paid
Amazon Kindle Oasis 2019 Review