Swann Wi-Fi 1080p Outdoor Security Camera Review – Swann's offering the latest security camera specifically designed for outdoor to protect the perimeter of your home, and it comes with 1080p video recording quality.
Unlike the Swann Indoor security camera which is obviously made for indoor use, the 1080p Swann Wi-Fi Outdoor security camera is made to be weatherproof, even with an extreme weather of -20 to 45 degree of Celsius.
Swann Wi-Fi 1080p Outdoor Security Camera Review – Packaging
The power extension cable is 18 metres long which allows me to run the cables through the boundaries of our alfresco and fence, and be better with the cable management. I also like how slim the adapter is on the extension part.
Swann Wi-Fi 1080p Outdoor Security Camera Review – Design & Features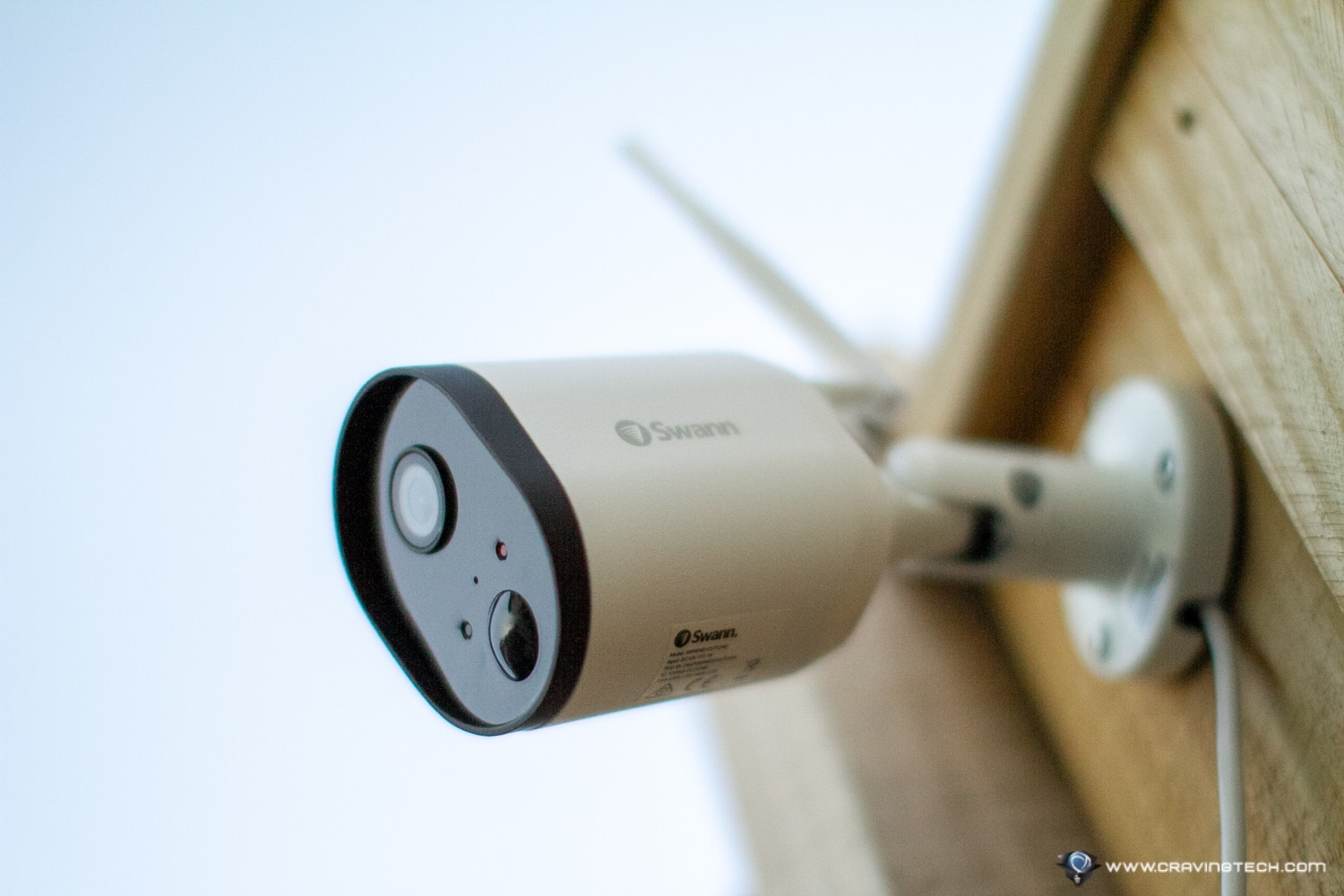 Swann Wi-Fi 1080p Outdoor Security Camera can be used wired or wireless, which option is quite rare to find in a security camera. If you have your home wired with Ethernet ports on walls, you can have it run wired for the most stable connection. Note that this camera is not a PoE (Power over Ethernet) camera, so you still have to plug the camera to a power socket even if you run it wired.
However, most of the time, people would probably use the camera in wireless mode, connected to their home Wi-Fi network (like mine) and that works too. The "bad" side of using it wireless is having some unused connectors dangling near the camera, but I'm sure most people can live with that.
The included antenna, which probably doesn't make the camera better hidden from view, means you can get a stronger signal compared to the other wireless security cameras. It's a great trade off, especially when the wireless signals need to penetrate through your thick house walls.
I've installed the camera at our backyard and so far have never lost any wireless signals or even have network dropped outs.
Using the Swann app, installation is pretty easy and you'll have the camera run in minutes. Due to the camera unit size, it's a bit tricky to drill so you need to use the included Drill Template and make a hole first before screwing the bolts in.
The unit can only be moved up and down when in place, so you need to be precise with where you want to mount it to. Thankfully, it has a wide viewing angle so its positioning can be forgiving.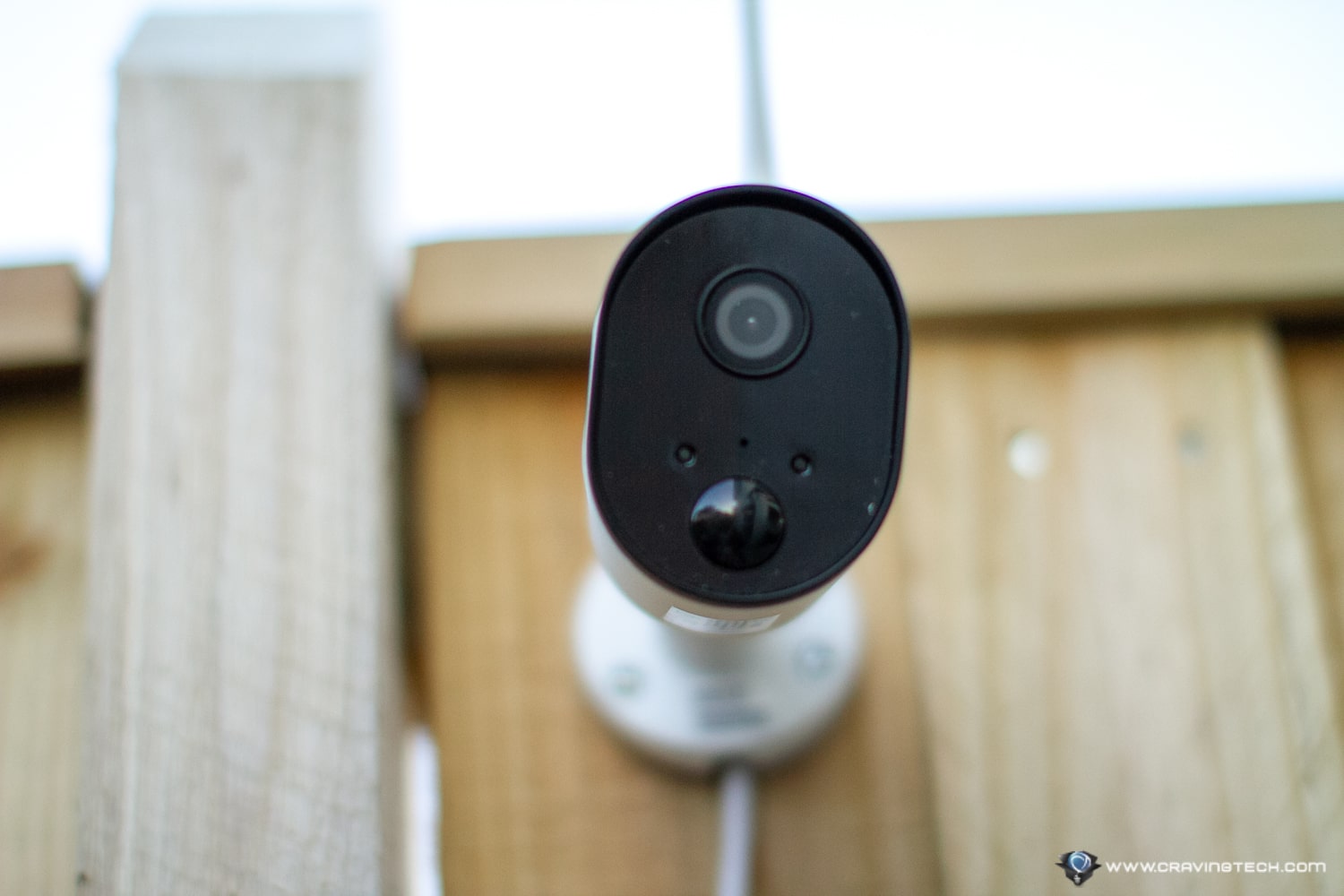 Once it's up and running, it's a pretty much a set it and forget it – but not quite. While you can set up and change whether your camera gets armed and disarmed with the app, you still have to do this manually (by tapping the Home or Away icon, for example). This is because there is no auto scheduling in the app (at least, yet).
So if you are installing the camera on a high traffic area, you might be getting more notifications that you'd want to if someone is home (unless you remember opening the app and tapping the Home mode/profile to disarm the camera).
The recording clip is clear and has excellent quality. Video has a less-warm colour profile compared to other cameras that I've reviewed from Ring and D-Link. Swann's outdoor camera also records sound but it doesn't have a built-in microphone so you can't talk back to scare intruders away.
Thanks to Swann's true detect heat & motion sensing, you should be getting less notifications from false alarms. I said 'should', because occasionally the camera sends me a notification of a detected motion but no one is there. This usually happens on sunny, windy days that made my table cover sway as you can see here below (most likely a combination of the heat from the sun & motion that trigger this).
This doesn't happen often thankfully but it'd be great if the app has motion zones filtering to remove certain parts of the scene to monitor. There is a motion sensitivity slider but that seems to adjust the distance of motion detection rather than the sensitivity itself.
In low light, the night vision kicks in and still produces great clip quality as the camera can see in the dark for up to 30 metres away.
All clips will be stored locally in its own memory storage (no microSD needed) for 7 days, and also in the cloud for 2 days (on a free account). This can be extended to 30 days with a monthly subscription plan.
Swann Wi-Fi 1080p Outdoor Security Camera Review – Conclusion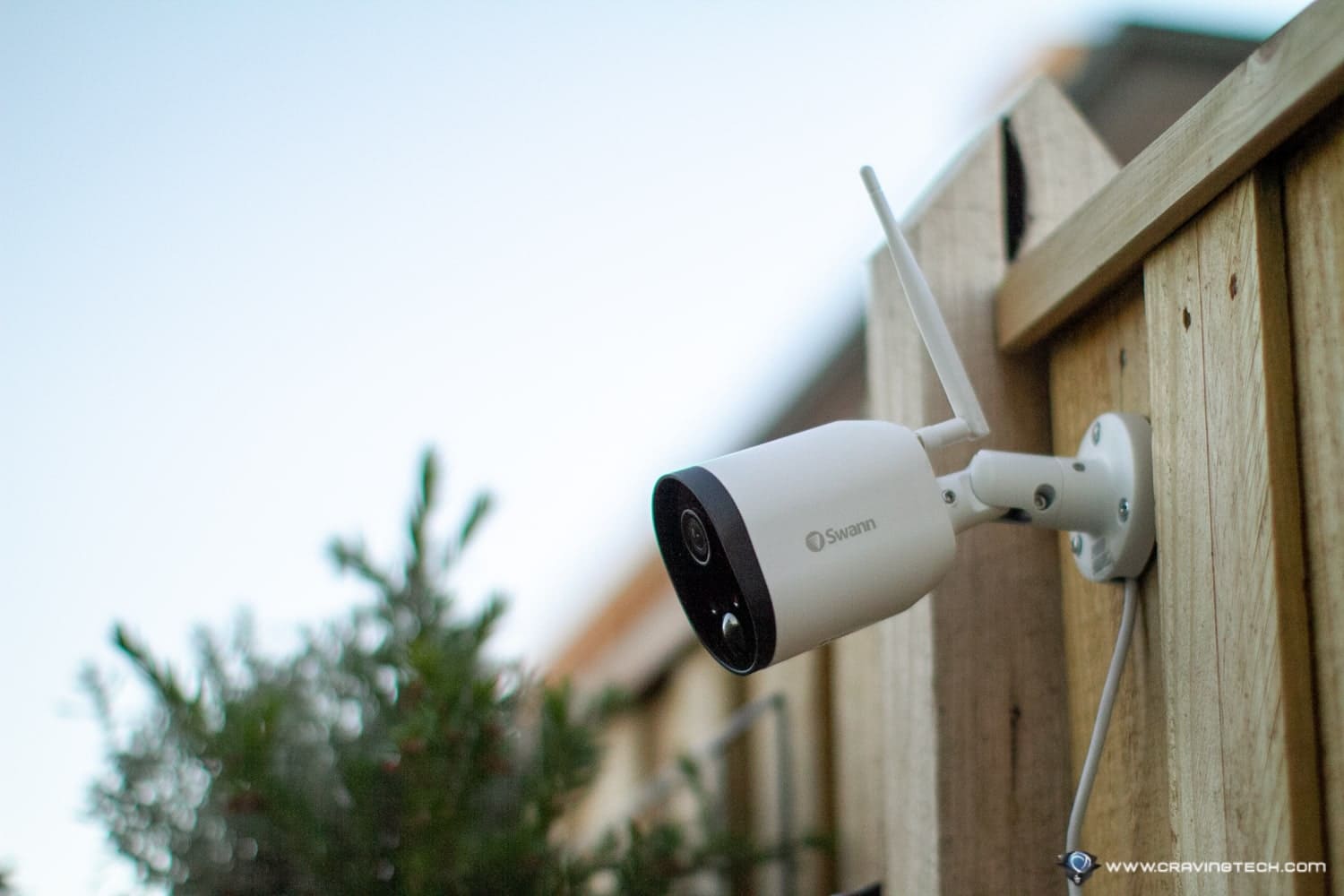 Swann Wi-Fi 1080p Outdoor Security Camera has a good wireless signal range, excellent video clip quality in 1080p Full HD with a wide angle, night vision, and heat sensing.
While it doesn't have auto scheduling based on days/time and the heat sensor may still trigger false alarms, at AU$199.95, it is a great price with what you've get. While other outdoor security cameras may be more advanced in some ways like the D-Link Full HD Outdoor Wi-Fi camera, you do have to pay a more premium price.
If what you need is a reliable outdoor security camera with motion detection day and night, and can record clips both locally and online, this new wireless camera from Swann definitely hits the spot.
Disclosure: Swann Wi-Fi 1080p Outdoor Security Camera review sample was supplied for reviewing but all opinions are mine and not paid.
Swann Wi-Fi 1080p Outdoor Security Camera Review