Sennheiser MOMENTUM 3 Wireless Review – This latest model is coming from Sennheiser's premium headphone range and with a quick glance, premium is definitely written all over it. From the way it looks, feels, and sounds, Sennheiser MOMENTUM 3 Wireless redefines the way you listen to your music and make calls.
While I've never used or reviewed their previous model, the third time looks to be the charm. Or is it?
Sennheiser MOMENTUM 3 Wireless Packaging
A soft travel pouch is included in the packaging, along with the charging cable and a 3.5mm but you need to grab an airplane adapter separately (which is sold quite cheaply) if you are planning to use the headphones on a plane one day.
Sennheiser MOMENTUM 3 Wireless Review – Design and Features
It is really easy to see how good looking the MOMENTUM 3 Wireless is. Even without looking at the actual product, the MOMENTUM 3 Wireless looks premium and luxurious – most likely thanks to the appealing leather and stainless steel combination. The headphones look really stylish and will certainly attract a bit of attention for good reasons.
Not only the headphones have nice aesthetic, it also looks really sturdy, all thanks to the stainless steel material as the frame that holds everything together. The wiring is also protected with a thick layer.
But in all honesty, the headphones do look a bit bulky and combined with the included case, it'd take some space on your backpack for sure. Thankfully, the sound quality and features aren't disappointing.
There are no touch controls on the MOMENTUM 3 Wireless which may disappoint some people. But if you are not a fan of touch controls, then you'd love the physical buttons located around the right ear cup. In my personal experience though, it is quite hard to locate which does what. For example, there are the 3 buttons for volume and media controls, but you can also find the ANC control and Voice Assistant on the same side, though farther apart.
Your fingers will get used to the location of the three buttons but most of the time, it requires my finger to do a "rub and locate" whenever I want to lower or raise the volume. A volume dial located at the bottom of the ear cup, for example, would be a better place to avoid pressing the wrong buttons.
The top button allows you to switch between ANC off, ANC on, and the Transparent Hearing. You can change the settings on these modes within the app. The Active Noise Cancelling has different levels and there is also an option to keep the music playing (or on pause) when you activate Transparent Hearing (to hear the ambient noise around you).
When I was queueing to get my Pfizer COVID-19 vaccination last week, the easily-accessible Transparent Hearing button allowed me to hear instructions from the staff without taking my headphones off (I was watching Netflix' Army of the Dead during the 3-hour queue). If you like to wear headphones and listen to music while commuting on the train, you'll love the feature during train announcements.
Sound wise, the MOMENTUM 3 Wireless definitely has that rich and detailed sound – this is Sennheiser we are talking about. I truly enjoy listening to music with the headphones while taking my dog for a walk, watching movies during that 3-hour-vaccination queue, and making calls with my study group. You do need to try out between different ANC levels to find that perfect spot you'd like between noise dampening and audio quality.
It will not completely eliminate all noise but most ambient noise are dampened and even during windy days, I've had no struggle listening to my music. You can still hear the whooshing sound of the wind a little bit at certain angle, but you might only notice that during the break between songs.
Thanks to Bluetooth 5.0 support, there is no audio latency while I'm watching movies. The headphones also support 3.5mm connection too, which is great if you want to plug it to an audio device or to the in-flight entertainment system.
As for the TILE integration, it works great. Adding the MOMENTUM 3 Wireless was really easy in the TILE app. Trying to find the headphones using TILE app will play a ringtone at the highest volume (so you'll hear it) and vibrate the headphones as well. This works even if you've turned the headphones off by folding them away, which is great.
Sennheiser MOMENTUM 3 Wireless Review Conclusion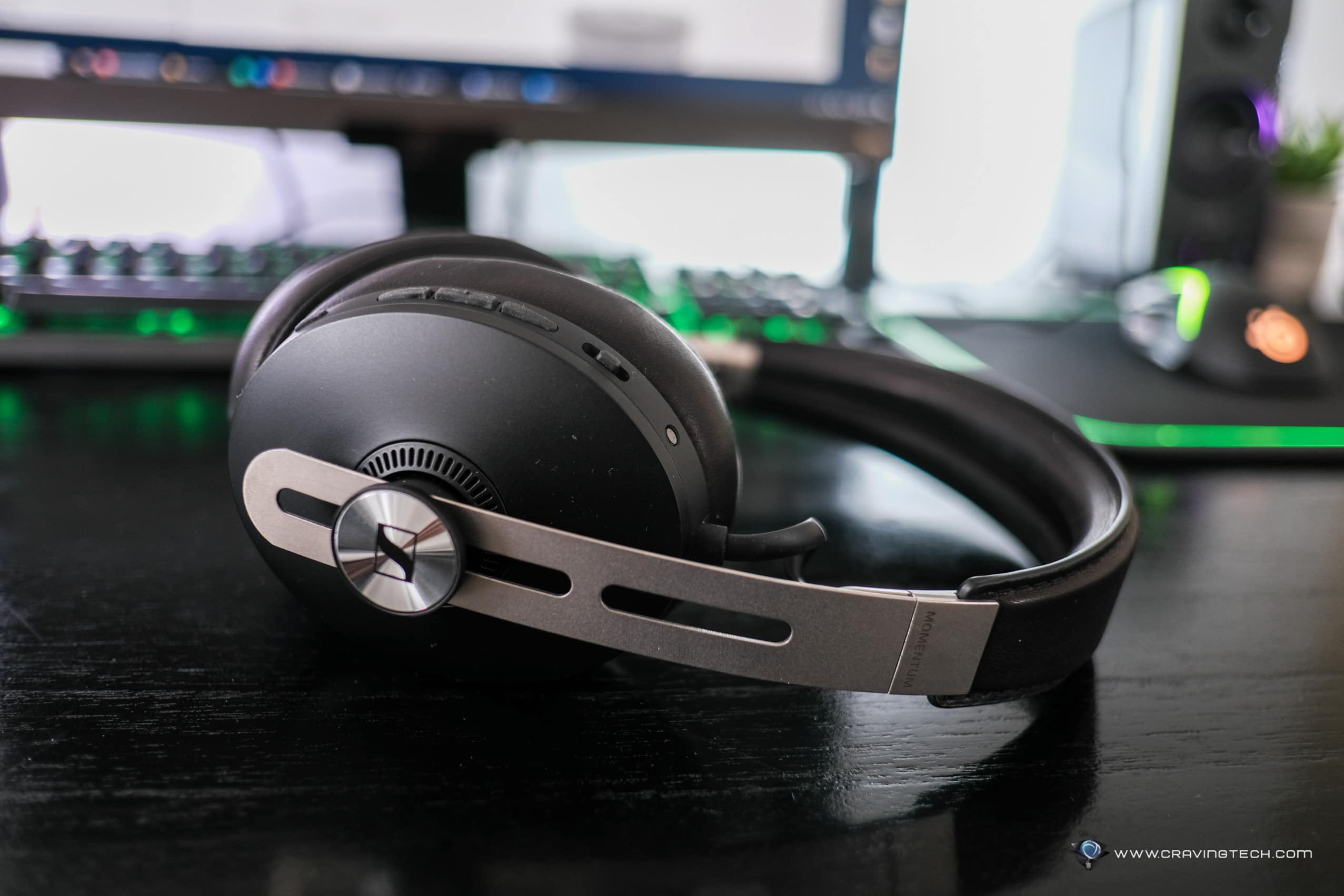 Sennheiser MOMENTUM 3 Wireless offers a stylish, fresh design to Active Noise Cancellation headphones with a leather and stainless steel combo. The headphones look great, sound great, and comfortable to wear.
While the headphones may look bulky, they are actually quite lightweight to wear and you don't feel that tight pressure around the ears. It has a good passive noise isolation though not as strong as my Blue Sadie audiophile headphones.
You can switch between the ANC on/off and also the Transparent Hearing with a finger flick that lets you hear your surroundings – perfect for that brief announcements while you listen to music or watch movies.
Battery wise, the MOMENTUM 3 Wireless can last up to 17 hours via Bluetooth with ANC enabled.
Sennheiser MOMENTUM 3 Wireless is available now for purchase and retails for A$499.95.
Disclosure: Sennheiser MOMENTUM 3 Wireless review sample was supplied for reviewing
Sennheiser MOMENTUM 3 Wireless Review
Summary
Stylish, Active Noise Cancelling headphones from Sennheiser with built-in TILE integration
Pros
Looks extremely stylish
Comfortable
Great sound quality
Useful, built-in TILE integration
ANC, Transparent Hearing
On-ear detection
USB-C charging
Can pair up to 8 devices via Bluetooth 5.0
Cons
Expensive
A bit bulky to carry
Battery life not as good as the competition (Bose, Jabra, Sony)