If you think that the Sonos Controller Apps on your Mac or PC can be better, then you thought right! A major overhaul to the interface and also some new features exist on the latest update, version 3.7 that was being launched today. Though it seems that a jump from version 3.6 to 3.7 does not sound much, you are wrong.
In my case, the sexier interface is more than enough but how about being able to search across all of your music from just a single search box? Thanks to this, searching is much quicker and simpler, especially if you just want to quickly add a few songs to your current playlist.
Make sure you check Craving Tech's SONOS PLAY:3 Review to find out more about SONOS products.
SONOS Controller before the update: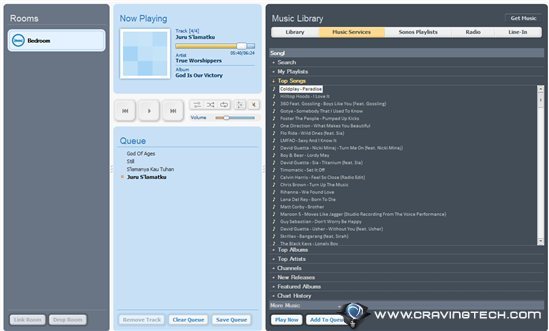 SONOS Controller after:
Other enhancements on Sonos Controller version 3.7 are:
There is now a mini controller to control your music while working in other apps
You can quickly add multiple songs by dragging and dropping (a great missing feature!)
There is a one touch mode called the "Party Mode" where you can raise the volume in all grouped rooms simultaneously for an instant party mode! (or an instant "Surprised! Happy Birthday!" moment)
The interface is much smoother and things also run quicker compared to before on my PC.
The update is available in all devices, including iOS and Android app on their respective app store. For Android users, you can now use the SonosNet wireless mesh network to connect to Sonos and the internet, an improved wireless experience.