Mophie Snap+ Wireless Vent Mount Review – Having the Apple MagSafe technology that snappily holds your iPhone in place is a breeze on the desk but it's even better in the car.
While there are many types of car vent mounts like the Belkin's that charges your phone wirelessly at the same time or even the Mophie's which is just a simple vent holder to grip your phone, this Mophie Snap+ Wireless Vent Mount has that snappy, magnetic tech so you can just place your iPhone 12 or 13 with ease – where others need some tinkering and pulling.
It offers fast charging of 15W to Android phones and 7.5W to iOS devices when plugged to your car's cigarette lighter through USB-C.
I mentioned Android phones because the packaging actually includes a snap adapter that you can attach to any phone to add "MagSafe" support. It's basically a magnetic adapter that you can either stick at the back of a phone or phone case. It's pretty cool if your family members are using both iOS and Android devices so you can use the Mophie Snap+ Wireless Vent Mount together and not reserved exclusively just for the iPhone users.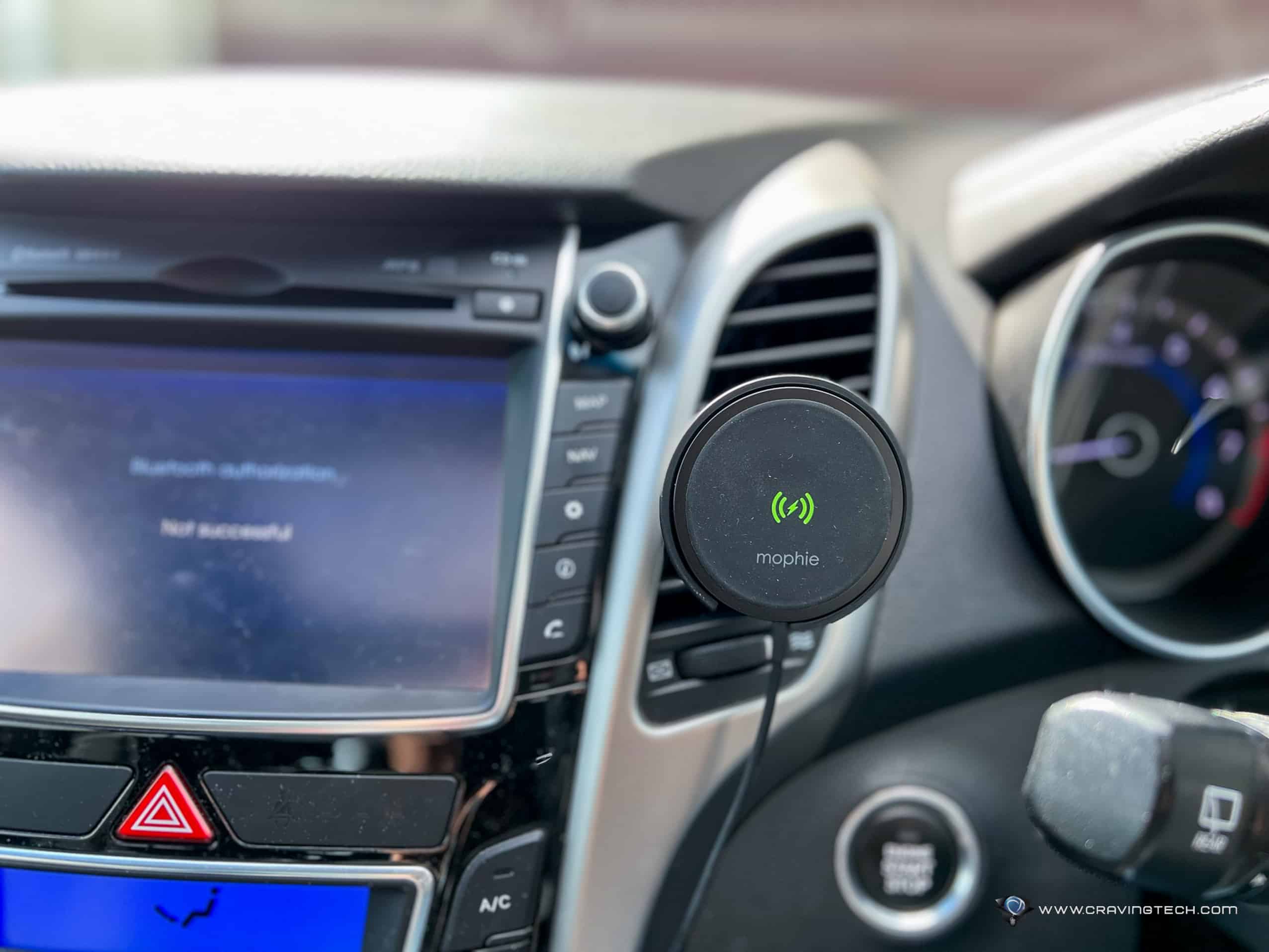 The charging puck can be installed securely on your car vents though I find that the included charging cable is not sufficiently long enough for a nice cable management if you have the cigarette lighter between the front seats (like on my Tesla Model X).
On my Hyundai i30 though (and most cars) where the cigarette lighter is located underneath the center console, the cable is at perfect length.
Interestingly, the charging puck can also be removed so you can use it as a wireless charging pad at home – if you don't have one yet. If you travel every day, I think it's just better to purchase an extra wireless charging pad instead and save the hassle.
To charge your phone, simply place your phone on the charging puck. I like that you can just use one hand to attach or detach your phone from it. So far it has been seamless and easy to do, and both my iPhone 12 Pro Max and iPhone 13 Pro stayed there even when I drove over speed bumps or steered around a sharp corner.
Among my all other phone vent mounts, Mophie Snap+ Wireless Vent Mount is definitely my favourite. It retails for A$89.95 and available now for purchase at retailers around Australia.
Disclosure: Mophie snap+ wireless vent mount review sample was supplied for reviewing