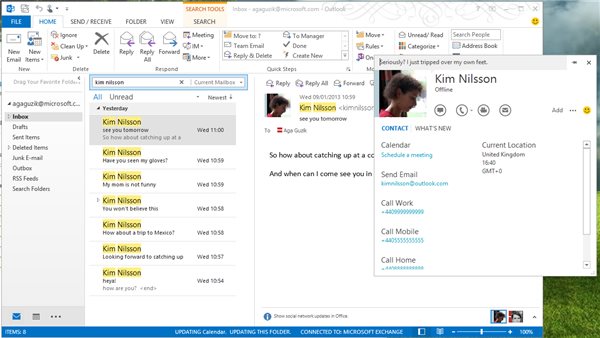 Skype 6.1 for Windows (the stand-alone desktop application) has just been released by the Skype team, which includes an integration to Outlook. You can now view a Contact in Outlook and at the same time, see his/her online status, contact information, and the mood message within Outlook itself.
You can also call the contact directly within Outlook through the integrated Skype functionalities. If the contact is not a Skype contact, you can still call through Skype (using Skype credit instead).
If the contact is a Skype contact of yours however, calls will be made through the internet connection. You can also send Skype message to the contact, all within Outlook itself.
This Outlook integration on Skype 6.1 feature only works in Microsoft Outlook 2010 version and above. There are also other small improvements over the new version such as an easier process to search and add contacts to your Skype, and more.
Note though that Skype 6.1 is a stand-alone desktop application and is different than the Windows 8 App that you can download over at Windows 8 Store.
Source: Skype blog post