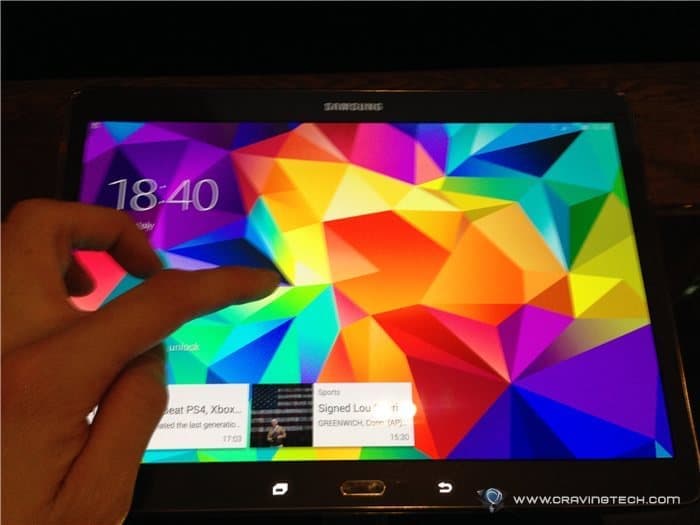 Samsung GALAXY Tab S – Officially launched in New York three weeks ago, Samsung Galaxy Tab S range along with its bells and whistles is now officially unveiled this week in Sydney, Australia — ready to disrupt the heating-up tablet market.
GALAXY Tab S boasts an impressive Super AMOLED display at 2560×1600 16:10 resolution, making it possibly the crispest screen in a tablet to date. However, what seems to be the main selling point for GALAXY Tab S is its sleek 6.6m profile and its lightweight design.
GALAXY Tab S comes in two sizes: the 10.5′ and 8.4′. Both are available in "dazzling white" and "titanium bronze" in a combination of 16GB (WiFi Only and WiFi + 4G) and 32GB (WiFi only) internal memory with microSD slot allowing up to 128GB of memory card.
The tablets are also supported by a slew of beautiful accessories. There is a Book Cover case that makes the tablet look even more premium. It comes with a lot of folding modes to protect and position the tablet in different angles.
The are also Simple cover for those who are looking something more streamlined. Both uses the never before seen "button snap" like mechanism to attach the case – makes it unique and secure.
There is also Bluetooth keyboard as a perfect companion for the 10.5′ version to make Tab S more suitable for work. It has its own battery (charged using micro USB) and comes with the same colours as the tablet.
The Samsung Galaxy Tab S 10.5′ 16GB WiFi will retail at $599 and the 8.4′ version at $479.
For the cases, the Book Cover case for 10.5′ and 8.4′ will retail at $79.95 and $69.95 respectively, with the Simple cover starting from $49.95. At the time of launch, we spotted white, brown, red, and green colours available of these cases.
Other price points are to be announced in due course.
Galaxy Tab S 10.5 WiFi is now available for pre-order at Samsung Experience Stores in Sydney and Melbourne, Samsung E-store, and selected outlets. They will be officially available in store on Monday 14th July 2014, with the rest of its family and accessories to come soon after.
The launch also showcased an upcoming Samsung headphone that is planned to be in the market later in the year. More details are to be announced.