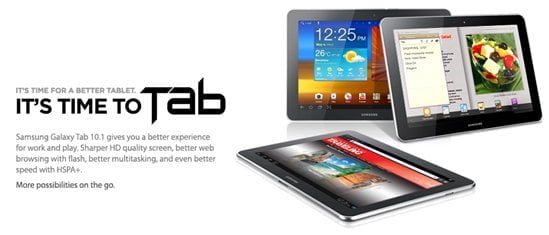 Samsung Galaxy Tab 10.1 unbanned in Australia – Good news to those in Australia who have been longing to get their hands on the Samsung GALAXY Tab 10.1, which was banned in Australia (and Germany) due to a lawsuit made by Apple some time ago.
Samsung released an official statement that the device has been unbanned, as a result from the court yesterday:
Samsung Electronics Australia is pleased with today's unanimous decision by the Federal Court to lift the preliminary injunction on sales of the Samsung GALAXY Tab 10.1.  We believe the ruling clearly affirms that Apple's legal claims lack merit.

We will make an announcement regarding the market availability of the GALAXY Tab 10.1 in Australia shortly.
I haven't seen any Australian shops offering the Samsung Galaxy Tab 10.1 just yet, though I'm sure we will be very shortly. Of course, some gadget lovers have actually bought the device online and imported from overseas.
From what I've heard though, Australians are getting the "Australian version" of Samsung GALAXY Tab 10.1 with a few things being changed due to Apple's lawsuit. Can anyone clarify this? Would love to know what the differences are between the Australian version and the original.
I was supposed to be getting a Samsung GALAXY Tab 10.1 from Samsung for video reviews and all that, but due to the ban, I was still waiting for the replacement device to be decided and sent. Hopefully it will be the Tab 10.1 again now that it's being unbanned? We'll see, I'm still waiting an update from them.