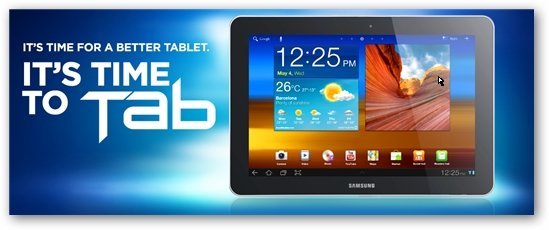 Note: This is a guest post written by Calvin Scott.
Samsung Galaxy Tab 10.1 – Samsung has brought a revolution in tablet technology by introducing the Samsung Galaxy Tab, which is undoubtedly a next generation gadget because it is not just a cell phone but a device featuring applications that offer easy computing solutions with unimaginable connectivity. This phenomenal device is very delicate and sleek but at the same time it has got all the features that one can desire for. It weighs about 20 ounces and is lighter than Apple iPad 2 but the thickness of both is the same. The size of the gadget is 10.1? (W) x 6.9? (H) x 0.34? (D). The Galaxy Tab 10.1 is actually a follow-up to the gadget named Galaxy Tab 7.0 that was released in the beginning of 2011. It is available in two colors i.e. white and gray and you can choose your favorite one.
Samsung

Galaxy Tab 10.1 Features
The Samsung Galaxy Tab 10.1 has installed Android 3.1 Honeycomb, 1 GB of RAM, a 1GHz dual-core NVidia Tegra 2 application processor and a 10.1-inch touchscreen display (1280×800). The current version of Samsung Galaxy Tab 10.1 only support Wi-Fi connectivity but it is said that soon a 3G version through AT&T will be launched in US. It has got a replaceable battery. Moreover, it also comes with tri-wing external screws. The back cover of Samsung Galaxy Tab 10.1 is fixed with a very strong adhesive tape and it bends very easily that gives it a very flimsy feel. It has 3MP rear camera and 2MP front camera.
Samsung

Galaxy Tab 10.1 Internal Hardware Components

The Samsung Galaxy Tab 10.1 has a very efficient and neat internal layout. It has got chips that are found in other tablets as well, like a 1 GB Samsung K4P8G304EC-FGC1 LPDDR2 chip just like HP TouchPad. You can also find a 16 GB SanDisk flash chip same like Samsung Galaxy Tab 7.0. Moreover, you can also find a touch screen controller similar to Motorola XOOM.
Samsung

Galaxy Tab shoot with Cat

Deeley
Samsung

Galaxy Tab 10.1 User's Complaints

Although you can find some amazing features in this tablet, you will still find some people who are not entirely happy with what they get for their money. Many Galaxy Tab users have several issues about its construction. They find it very fragile and a little carelessness in handling leads to severe damage to this gadget. So it should have been made in a way that would have ensured durability with style. By delving deeper into the details, you will find some other complaints regarding the tri-wing external screws that make it more flimsy. However, the fact of the matter is that though some users still want to see some updates, there is no doubt that its overall dainty look is very attractive and will force you to buy this amazing gadget because nowadays there is a trend to keep the sleek and stylish gadgets. 

Samsung Galaxy Tab is launching in the UK this month.