ROCCAT Ryos MK FX Review – The Ryos MK FX is a mechanical gaming keyboard from ROCCAT, a new member of the Ryos Series gaming keyboards line up.
The Ryos MK FX offers an all new 16.8 million color per-key RGB illumination, bringing colour and coolness to an already great gaming keyboard. ROCCAT offers some ready-to-select lighting presets but there is nothing preventing them from adding more in the future.
What Ryos MK FX offers is flexibility to see the colours fly through the whole keyboard in many different ways and though it may not make much difference in terms of gaming, you will love it.
ROCCAT Ryos MK FX Review – Packaging
The keyboard comes with a braided cable, which looks like it can withstand any pressure or friction from the edge of a desk. The ROCCAT Swarm driver for the keyboard should be downloaded from their website to ensure that you get the latest version.
ROCCAT Ryos MK FX Review – Design & Features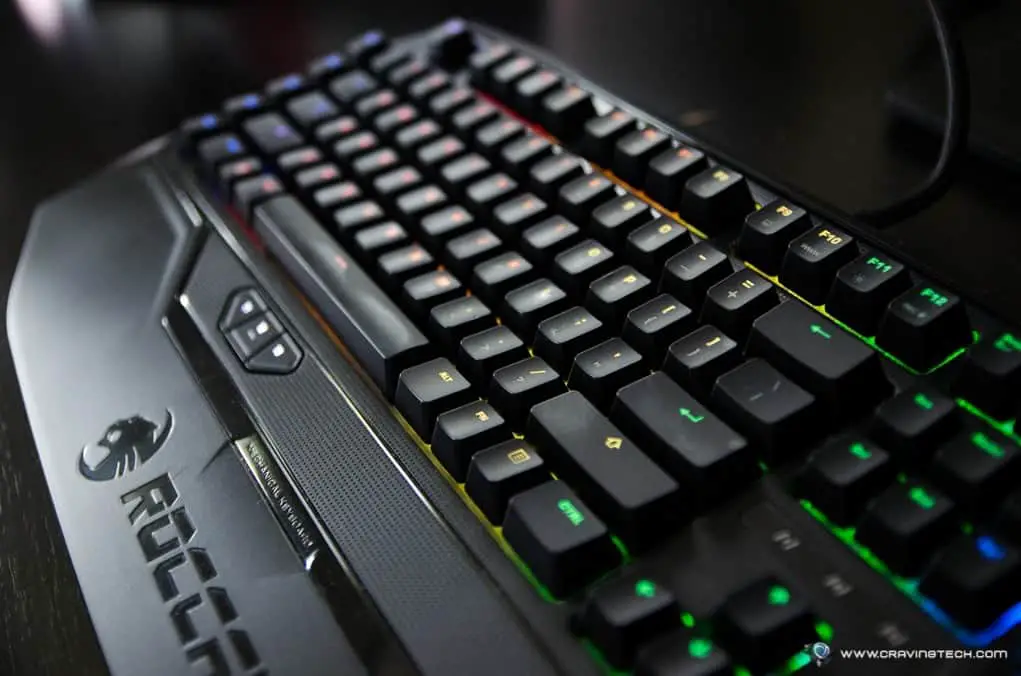 Keyboard look-and-feel
Design wise, ROCCAT Ryos MK FX has a big footprint on the desk, especially since the wrist rest is not removable. However, that is okay, assuming you are not planning to carry it around with you frequently. Most gamers game only on their desktop, so this shouldn't be a problem to most people. You may still need to check if you have the space on your desk though.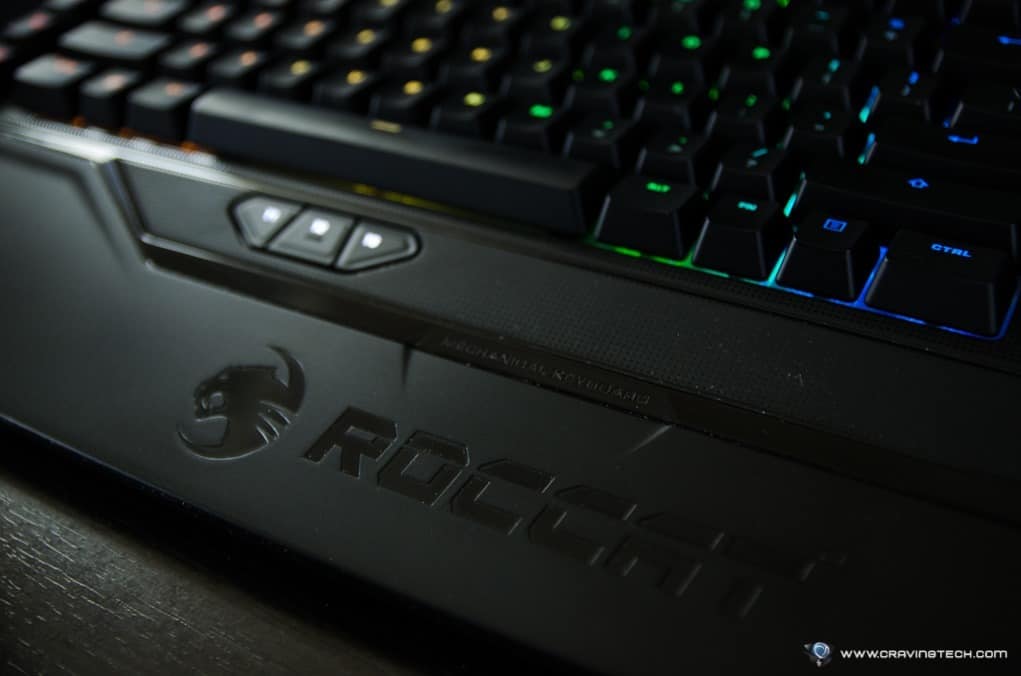 The keyboard looks really good on the desk. It has a mix of patterns and shapes combination (micro-dotted surface, matte material, etc) that doesn't make it look dull and boring. There is also not much glossy surface to be found, so the keyboard is pretty much smudge free.
There are audio and microphone jacks on Ryos MK FX but no USB through to be found.
16.8 million colours at your fingertips
ROCCAT Ryos MK FX is fully customisable through its free ROCCAT Swarm software. It has per-key RGB illumination and through ROCCAT presets, you can see flying colours on your keyboard to spice it up. ROCCAT gives a few presets such as "Breathing", "Wave", and more to start with. You can also go crazy and make your own lighting presets.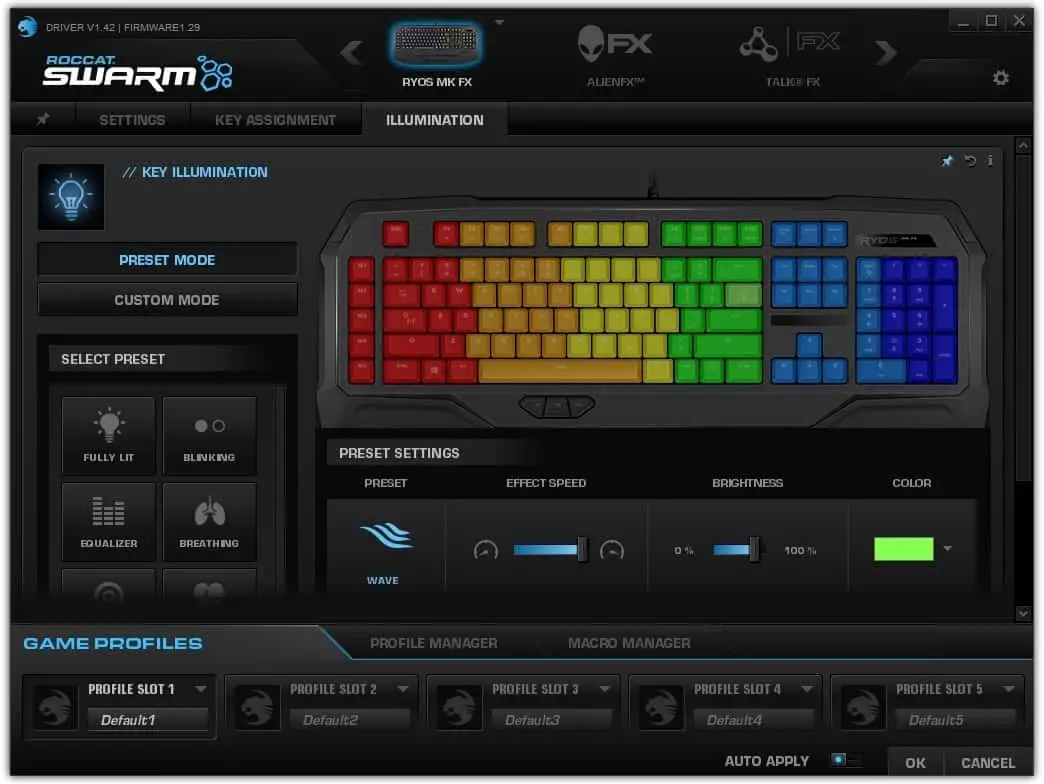 The Audio Equaliser is also an interesting one, which makes your keys dance while following the tune of your music:
Dancin with @ROCCAT Ryos MK FX audio equaliser #ROCCAT #gaming #keyboard pic.twitter.com/9PzdEnRT74

— Michael Aulia ?? (@michaelaulia) March 29, 2016
It's really cool to watch, though the synchronisation seems to be a bit off even after I've tried playing around with the settings. There is also ROCCAT Talk FX support, which will make the keyboard to light up based on what's happening on the desktop. For example, when you play a shooting game, some keys can lit up in red to show when you are being shot at, etc. It has endless possibilities and we can't wait to see the future here.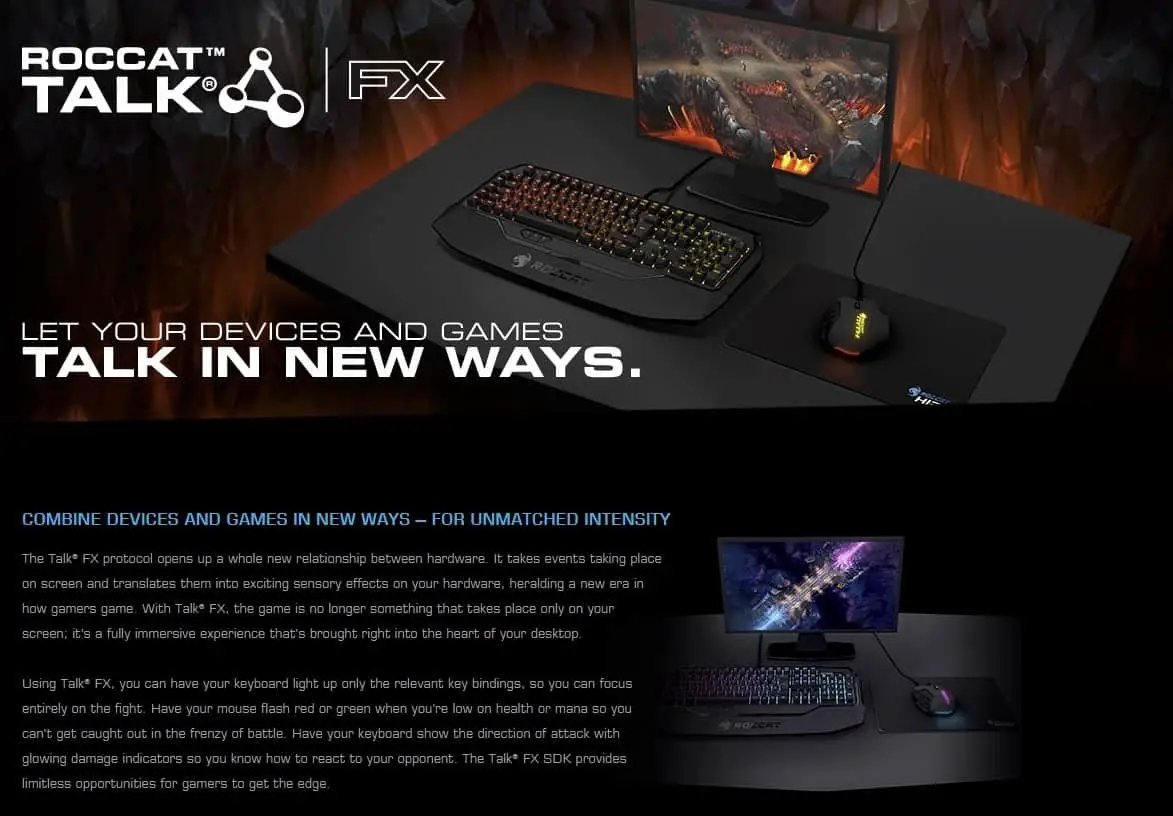 Unfortunately, this depends on the support from the game developers, but ROCCAT has offered the SDK for free so anyone can create something cool and share it to other Ryos MK FX users. At this stage, I have the Talk FX installed but it's not really clear from the page or Swarm, what games are supported at the moment and how to enable it. It seems that you need both supported mouse and keyboard to enable the feature, but again, it's unclear how to set it all up.
Macros
ROCCAT gives 5 dedicated macro keys on the left side of the keyboard, but it also offers the ability to program up to hundreds of macros. There are also 3 easy-to-access buttons below the space bar key (T1, T2, T3), though they are quite stiff to press – probably to prevent accidental presses.
ROCCAT's Easy Shift feature allows you to program 2 different functions to every key on the keyboard and customising the keys is made easy through ROCCAT Swarm software.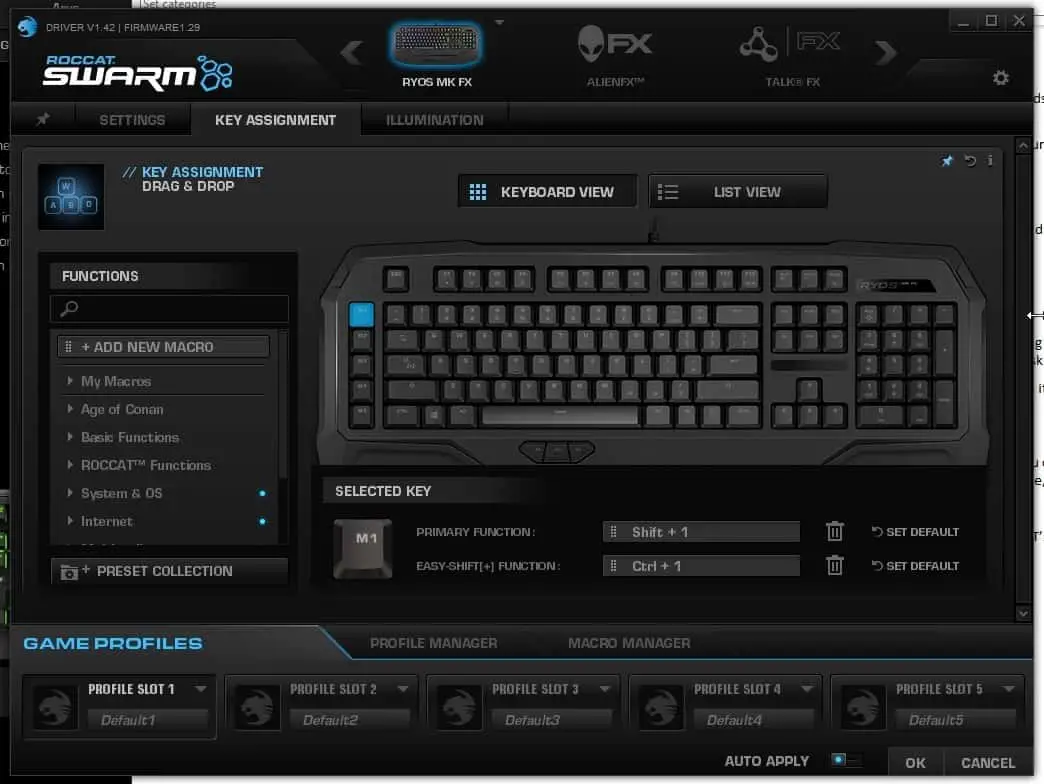 Typing Experience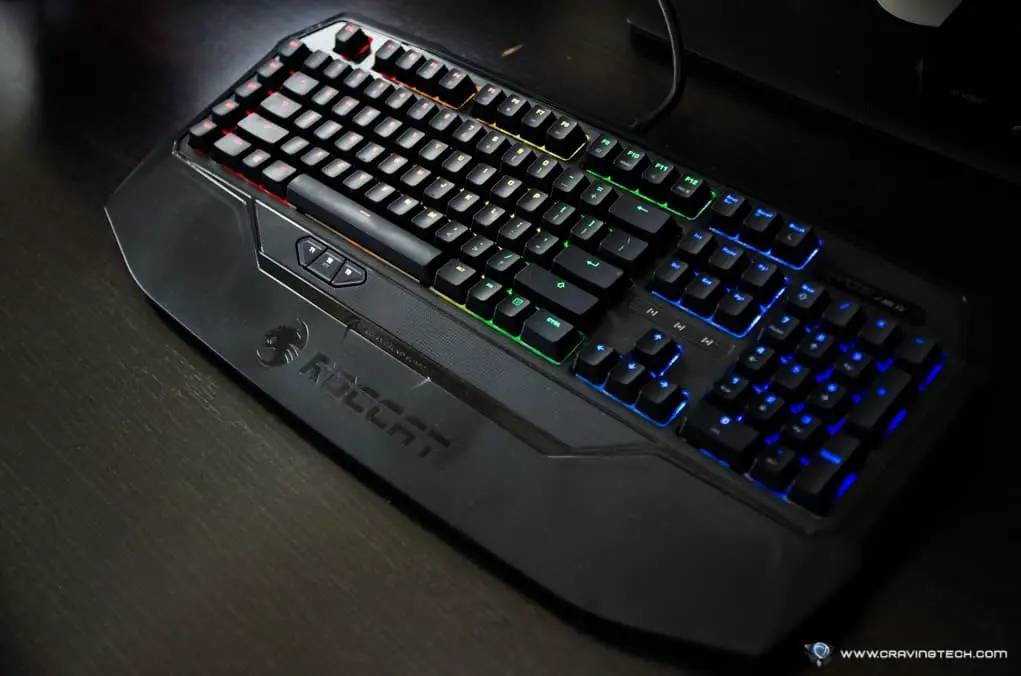 I really love typing in ROCCAT Ryos MK FX, thanks to the CherryMX Brown switches. They are not as loud as the Blue and better for typing than the Black. If you never use a mechanical keyboard before, I'm sure the Ryos MK FX will win you over. The wrist rest also helps in keeping me comfortable while typing and also gaming on the keyboard for hours.
The keys are well-spaced, and there was no adjustment time needed for my fingers – which I normally had every time I switched to a new keyboard to review. There are also function keys for multimedia controls and shortcuts to calculator, open your default web browser, and more. The lock keys are also lit up brightly, ensuring that you know when they are being turned on.
ROCCAT Ryos MK FX Review Conclusion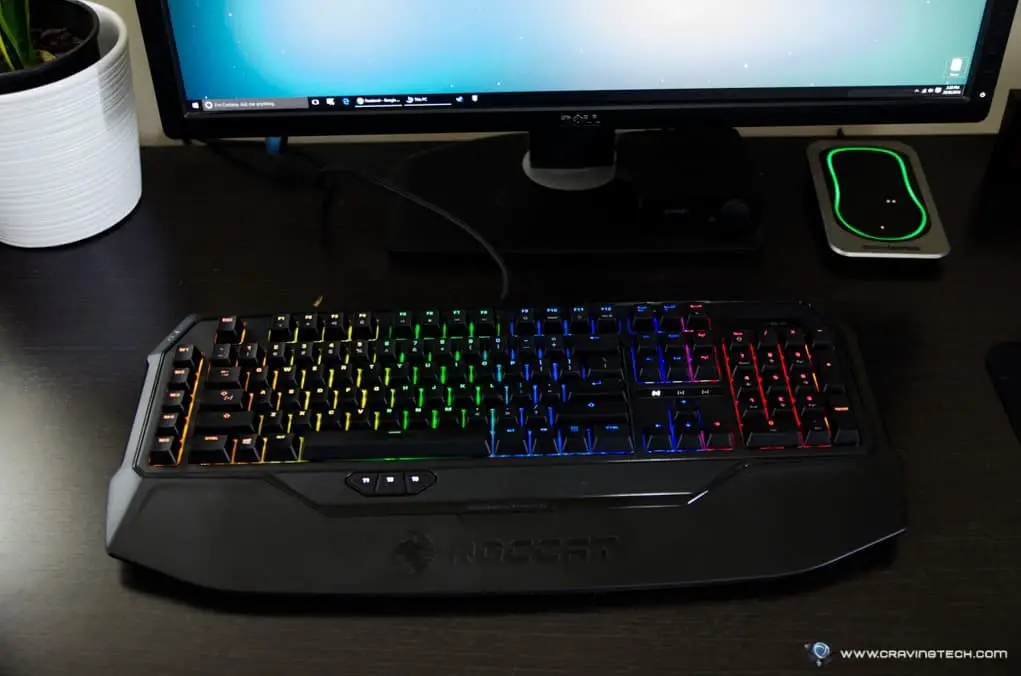 ROCCAT Ryos MK FX may not offer something that we've never heard before, but it offers lots of things that a gamer truly want – comfort, great design, cool-looking keyboard (with moving colours), great feel thanks to the CherryMX Brown switches, and full customisations made possible through ROCCAT Swarm.
The lighting presets are cool, but we want more. At the moment, there doesn't seem to be a community or a place where people upload their custom lighting profiles to be imported to the Ryos MK FX.
Overall, however, ROCCAT Ryos MK FX is a great all-around gaming keyboard with a lot of untapped potentials for the future.
ROCCAT Ryos MK FX is available for purchase now at JB Hi-Fi Australia.
Disclosure: Sample was supplied for reviewing but all opinions are mine
[AMAZONPRODUCTS asin="B01BFZL72I"]