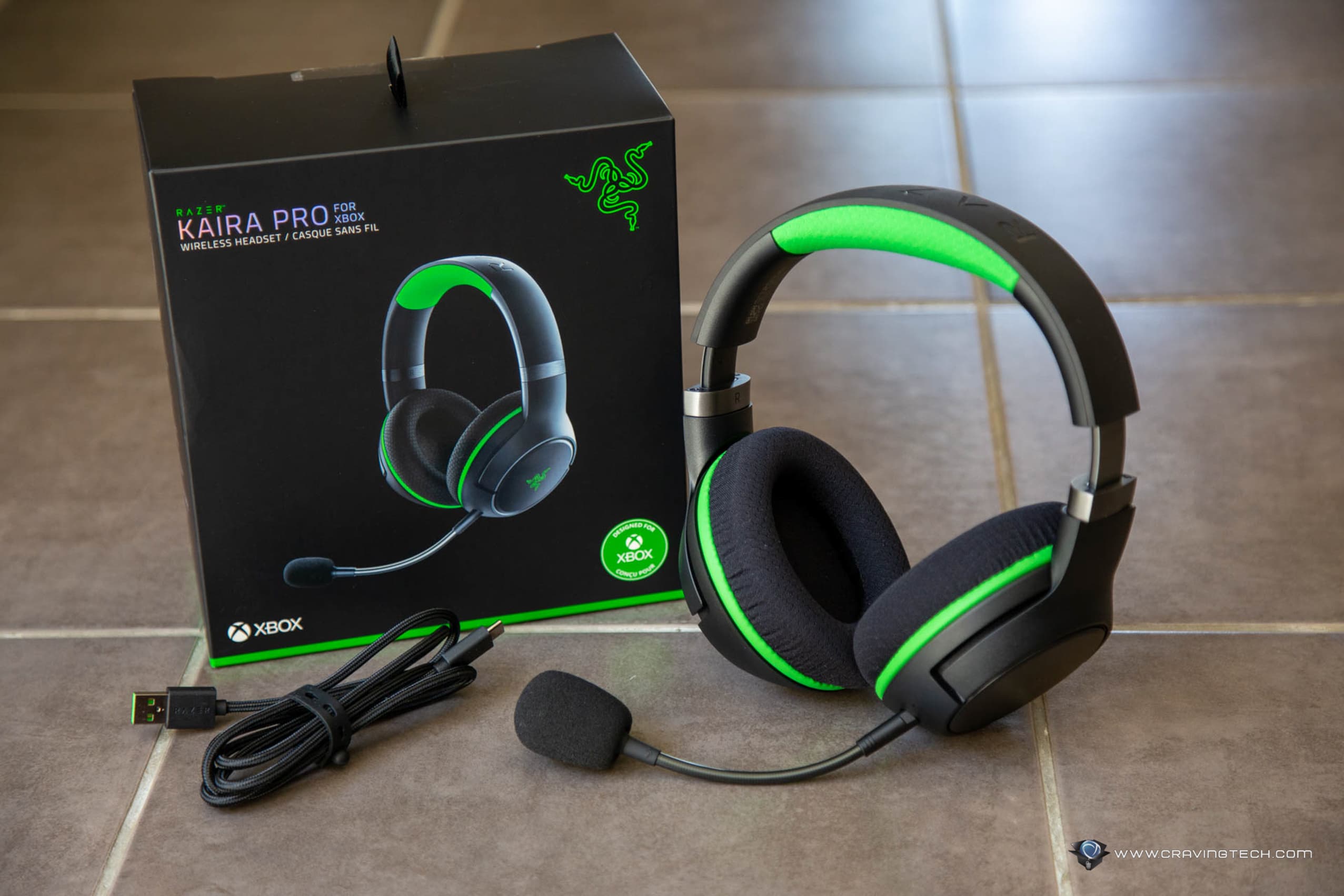 Razer Kaira Pro Review – Razer Kaira Pro is Razer's latest wireless headphone dedicated to the Xbox family (Xbox One and the new Series X / S).
And this is my seventh Razer product that I have so far (from Wolverine v1 & v2, Raiju Tournament, BlackWidow V3 Pro, Basilisk X, and Raion).
So, I certainly have high hopes for the Razer Kaira Pro wireless headphone! After two and half weeks of use, let's see if it's any good.
What are the main features?
Xbox Wireless and Bluetooth 5.0 for seamless, low-latency console and mobile gaming
Razer TriForce Titanium 50mm Drivers for high-end audio performance
Razer HyperClear Supercardioid Mic for ultra-clear voice quality
Dedicated mobile mic for convenient communication on the go
FlowKnit memory foam ear cushions for long-lasting comfort
And what do you get in the box?
Razer Kaira Pro Headphone
USB-C braided cable
Detachable mic
First impressions
When you first open the box, you'll be asked to update the firmware via the given URL on the label. You then just download the firmware update file and plug your headphones to your PC (via the provided USB-C cable) to begin the update. 
The whole process only took me less than 10 minutes. Once it's done, you can start pairing the headphones.
Is it easy to pair?
Yes, it's pretty straight forward. All you gotta do is press the pairing button on both Xbox and the headphone. Voila, it's paired!
You can also download the "Razer Headset Setup for Xbox" to customise the Chroma lighting and adjust the EQ sound settings.
Alternatively, should you want to pair to your PC via Bluetooth, just press and hold the Bluetooth button on the headphone, open the Bluetooth settings, then scan for nearby devices until it finds your headphone, then connect to it. That's it.
How's the comfort?
At first, it felt a little bit tight on my head, perhaps it's because my head is slightly bigger than most people.
Over time, it's started to feel comfortable to me. Thanks to the breathable memory foam cushions, it doesn't get too hot on the ears.
How's the battery?
So far, I've only fully charged it once during my two-week review. I believe it's living up to its factory-claimed figure of 20 hours (without the Chroma lighting).
How about sound quality?
I've been using the headphones whilst playing DBZ Kakarot on Xbox Series X and Cyberpunk 2077 on PC, both sound crisp and bassy enough.
The mid is superb too for my taste.
Too bad, it doesn't have active noise cancelling, but I reckon it doesn't matter because Razer's TriForce Titanium 50mm drivers are sound-proof enough.
What are the tech specs?
Connectivity: Xbox Wireless and Bluetooth 5.0
Frequency response: 20 Hz – 20 kHz
Impedance: 32 ? at 1 kHz
Sensitivity: 108 dB
Driver: Razer TriForce Titanium
Driver size (diameter): 50 mm
Driver type: Razer TriForce Titanium
Earcups: Breathable memory foam cushions
Inner ear cup diameter: 56 mm x 67 mm
Earpads material: FlowKnit memory foam ear cushions
Noise-cancelling: None
Connection type: Direct to Xbox / via Xbox Wireless Adapter for Windows 10
Wireless range: 10 m
Wireless frequency: 2.4 GHz / 5 GHz
Cable length: none
Weight: 330 grams
Microphone: Detachable Razer HyperClear Supercardioid Mic
Dedicated mobile mic
Pick-up pattern: Earcups Powered by Razer Chroma™ RGB
Virtual surround encoding: None
Microphone frequency response: 100 – 10,000 Hz
Volume control: Yes (VOL + and VOL – Wheel)
Other controls: On Earcup
Battery life: Up to 15 hours (with Chroma Lighting) / 20 hours (without Chroma Lighting)
Lighting: Razer Chroma™ RGB under-glow lighting
Compatibility: Xbox One / Xbox One S / Xbox One X / Xbox Series X|S and PC (Windows 10 or higher) *may require Xbox Wireless Adapter for Windows 10 (sold separately)
Supports: Windows Sonic
Microphone sensitivity: (@1KHZ)54 ± 3 dB
Warranty: 2 years
Razer Kaira Pro Review Conclusion – So should you get one?
Yes! I reckon it's the best wireless headphone for Xbox now so if you're in the market for one, you should get one.
You can buy the Razer Kaira Pro wireless headphone at Razer website and retailers around Australia for A$259.95 RRP at the time of writing. Plus there is no shipping fee for orders over $129 anywhere within Australia.
Disclosure: Razer Kaira Pro review sample was supplied for reviewing