The New Razer Blade Stealth (2017) Review – Earlier this year, I reviewed the second generation of Razer Blade Stealth. I was quite impressed with the overall package that Razer Blade Stealth offered: A thin and black, solid laptop offering long battery life and a superior 7th generation Intel Core i7 processor.
There were some criticisms about the screen bezel being too thick for 2017 though. Guess what, Razer responds to them and this time, does not disappoint the fans.
Without a question. Superior Build Quality
The new Razer Blade Stealth 2017 build overall is hardly changed, still maintaining the overall look of the previous Razer Blade Stealth. It still boasts the statement that Razer knows how to make premium and enticing laptop to the consumer market with a solid and rigid aluminium unibody construction.
Painted black, it is a laptop that attracts fingerprint. You get an illuminated Razer logo on the front panel which I quite like. Razer's signature 16.8 million color Chroma keyboard present on the keyboard, bringing unique customisation and personalisation.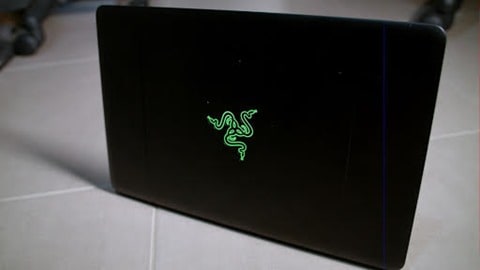 The subtle, but significant upgrade on the revised Razer Blade Stealth is its screen panel. The screen design moves to a thin bezel design approach and the screen panel itself is an upgrade (13.3" UHD+ 3200×1800 IGZO multi touch display) compared to the older Razer Blade Stealth's 12.5" QHD resolution 2560 x 1440.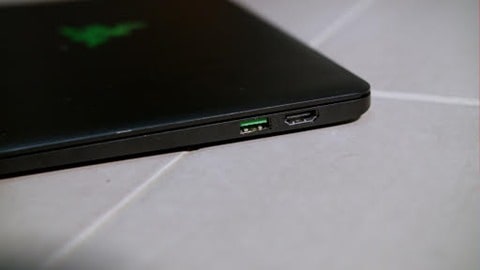 The screen is bright with beautiful colour reproduction and excellent viewing angle without colour shift. Razer Blade Stealth is perfect for media consumption. The screen reflects a lot of light since it has a glossy finish and also a fingerprint magnet if you touch it a lot. This may hinder the viewing experience, so make sure to carry a microfiber cloth around to wipe them off every now and then.
With a bigger screen and higher resolution, I still manage to get 7-8 hours of battery life on medium brightness, close to what Razer claims (9 hours battery life). The excellent battery life means I don't need to carry a laptop charger around knowing that the laptop will survive on a full day work, and I can charge at night time.
I've found something worth noting in this article that Razer now offers the Razer Power Bank as a separate accessory. And what this accessories does is add an extra 6 hours worth of battery life to the Razer Blade Stealth, thanks to its USB-C port support.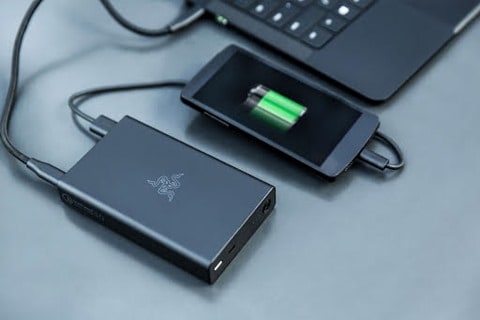 So practically, you can get up to 15 hours total of battery life with the Razer Blade Stealth QHD display accompanied with Razer Power Bank – without sacrificing too much mobility and worrying to find an AC power outlet. Furthermore, the Razer Power Bank can charge your smartphone on the go too.
4K display option exists but comes with a 12.5" and thicker bezel. I believe Razer will refresh this variant in the future.
Excellent Premium Laptop as Overall
The inside specs are hardly changed as well. The new Razer Blade Stealth still sports more-than-capable Kaby Lake Intel i7-7500U chip, 16GB RAM, a blazing fast PCIe storage starting from 256GB. It also has Windows 10 Home 64-bit with no bloatware installed.
Razer Blade Stealth keyboard is nice and easy to get used to with decent key travels. The glass trackpad comes with Windows precision driver, and it's fast and responsive. I notice Windows precision is getting better overtime and gives a pleasant experience with the new Razer Blade Stealth.


I/O does not change: 1 HDMI port, 1 USB-C with Thunderbolt 3, 2 USB 3.0 ports, Killer 802.11ac, Bluetooth, and a combined headphone + mic jack. No SD card slot to be seen here though. The audio speaker is loud, thanks to the speaker grill next to the keyboard.
The new Razer Blade Stealth 2017 costs $2,199 AUD (13.3" QHD+ and 256GB PCIe storage) which costs more than the previous Razer Blade Stealth.
If you're looking for a premium laptop, the new Razer Blade Stealth stands neck to neck with the Dell XPS 13. But in my opinion, the new Razer Blade Stealth does feel and look more premium than the Dell XPS 13.