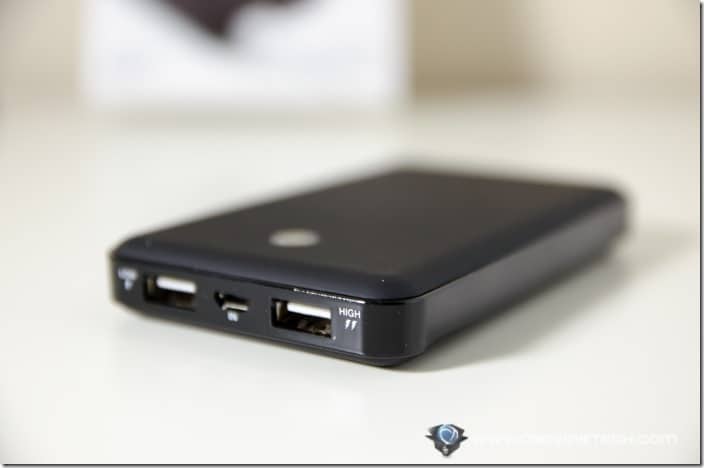 Proporta's bumper case for iPhone 6 impressed me so I was looking forward to using and reviewing their other product, the portable charger named TurboCharger 7000.
The TurboCharger 7000 is basically a portable charger to charge your devices and I'm sure you've seen plenty of them around. Proporta, however, offers 2 USB ports to charge 2 devices simultaneously on their charger. Also, one of the ports has an output of 2.1A for charging supported devices like iPads and iPhone 6 faster than the traditional 1A found on most portable chargers.
Packaging
Design & Features
Labeled as "Low" and "High", you can hook different gadgets on these different ports. Sure, not everyone would know which gadget should go to which port without reading the manual, but you shouldn't be worry of overcharging your devices anyway (the manual also points this out). Any port will be sufficient, though some devices will benefit getting a charge from the 2.1A port (like the iPad and iPhone 6 I mentioned earlier).
The TurboCharger 7000, as the name suggests, houses a huge 7,000mAh that comes in a nice, portable package. It only weighs around 175 grams and does not feel heavy at all, considering the capacity. The overall unit looks good too and is not made from cheap plastic materials. The carrying case material, however, feels cheap but the unit is rugged enough to be carried around without the case.
I haven't found any portable chargers with rubber feet before and I love how grippy the charger is on the desk. It doesn't slide around and I'm comfortable knowing that the bottom of the unit will be safe from harm.
Proporta includes their 2 interchangeable retractable cables with different head tips for different devices: microUSB, Apple 30-pin, Samsung Tab, miniUSB, and Apple's Lightning (though it no longer works in iOS 7 and iOS 8 because it's not MFi-certified).
I like how Proporta includes these retractable cables with the TurboCharger. The interchangeable tips also mean that you can mix and match these tips with the devices you are taking out today. What I dislike about portable chargers is the fact that you need to carry a lengthy cable to charge your devices with and it can get a bit messy. This way, it's easier to carry and charge your devices while you travel. It's a pity that the Lightning connector no longer works but you can grab MFi-certified Lightning retractable cables on eBay or somewhere else. Or alternatively you can just use Apple (or get from Proporta) Lightning cable, which works perfectly.
It charges my devices well (varied from microUSB devices to Apple's Lightning devices) and the large battery capacity helps in charging my iPhone 6 a few times. A simple, metallic, round button is used to start the charging process and also to check how much battery is left within the charger (with the help of the 4 LEDs). Another thing that I love is that the TurboCharger will stop charging automatically once your device is fully charged.
The LEDs will also auto-turn themselves off while it is charging your devices too, saving itself some power.
Proporta USB TurboCharger 7000 Emergency Charger Review – Conclusion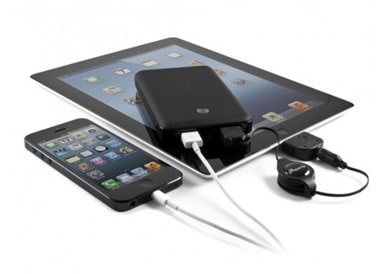 The TurboCharger 7000 from Proporta has the capacity to charge your devices multiple times, simultaneously before it runs out of juice. It only weighs around 175 grams with a stylish looking body. It also includes a 2.1A output, which charges your iPad and  iPhone 6 faster than the 1A output found in traditional portable chargers.
I like how the team at Proporta went for the little details that matter though, such as the rubber feet found at the bottom of the charger. The unit also turns the LEDs off while charging, which conserves some power meant to be used for charging your devices alone.
The included interchangeable, retractable cables means that you can start charging your devices without messy and tangled cables on the go the moment you open the packaging.
It's a great, complete package that is rarely found on portable chargers these days.
Disclosure: Sample was sponsored for the review but all opinions are 100% mine
[AMAZONPRODUCTS asin="B00AM4ODXY"]