Plantronics BackBeat FIT 505 Review – The Plantronics BackBeat FIT 505 is an all-rounder Bluetooth headset that is not only affordable, it's quality is reasonably comparable with others in the market (I'm comparing with those in the $80 – $200 range. Bose and Beats are not in this category, obviously.
If you are a gym goer, jogger, cyclist, or a person who loves to listen to music during any activity, Plantronics BackBeat FIT 505 is made for you.
Plantronics BackBeat FIT 505 – Packaging
The packaging comes with a pouch to carry the headset in – which I love since my gym bag can get a little bit dirty. I would like to keep my headset clean! It also comes with 3.5mm jack for occasions where you forget to charge the headset but you need that music to keep you going during your intense leg days.
Plantronics BackBeat FIT 505 – Design & Features
I have been searching for a wireless earphone/headset for a while now and BackBeat FIT 505 seems to be ticking all the boxes for me.
One of my favourite things about the BackBeat FIT 505 is that it fits my comparably small head fine. My biggest issue with headsets in the gym has always been the headsets falling off, which is why I was a bit hesitant to try out the BackBeat FIT 505 since I wasn't a headset user. If you are not a headset user, no fret – jump over to our review of the Plantronics BackBeat FIT 305 earphones.
The Plantronics BackBeat FIT 505 has 18 hours of listening time when fully charged and if you forget to charge it, just plug the 3.5mm jack in and continue your workout. I personally love the fact that once charged, you can use the headset for approx. 18 gym sessions.
The memory foam ear cushions is super comfortable, it doesn't cause abrasions when used for long periods of time and the headset is sweat and moisture resistant, which means you can use it during light drizzles (because why would you be jogging during heavy rain anyways) and you don't need to worry about sweating it out in the gym.
With a wireless range of 33 feet or 10 meters, combined with the on-ear controls, you are able to leave your phone in your bag and focus on your workout.  The audio quality is good for the price of the headset, the trebles are crisp and the audio is very clear even when the device is 5 meters away.
Plantronics BackBeat FIT 505 – Conclusion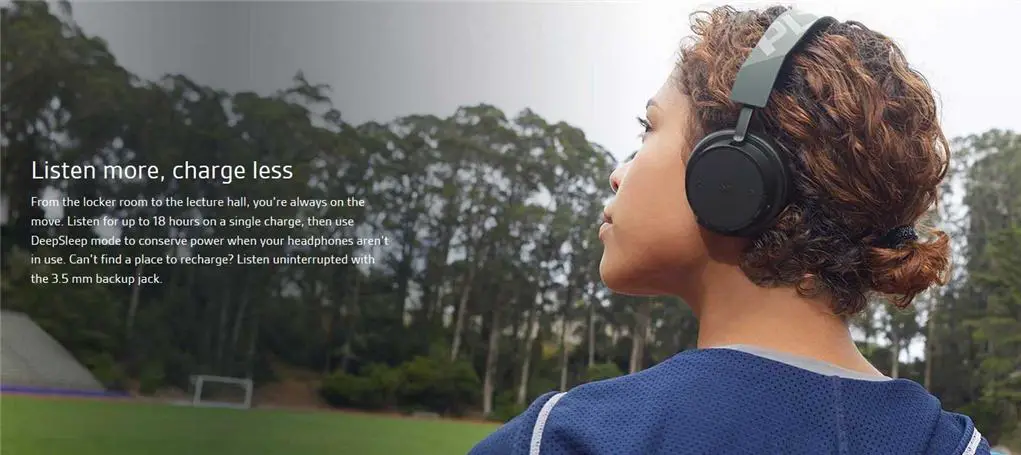 All in all, I would definitely recommend the Plantronics BackBeat FIT 505 for those of you who wants a wireless headset to use for walks and for workouts. It is very affordable at $119 at JB Hi-Fi Australia for the quality you are getting. It is very comfortable to use and fashionable to boot.
Disclosure: Plantronics BackBeat FIT 505 review sample was supplied for reviewing but all opinions are mine and not paid