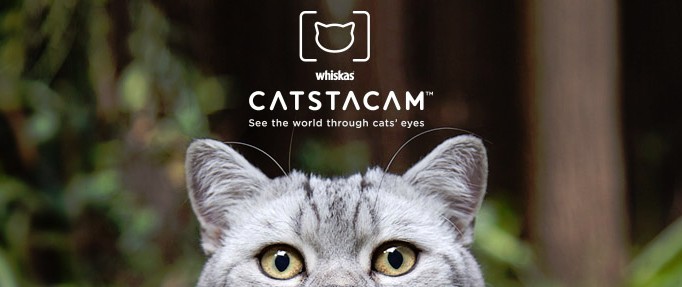 You can find lots of cats' photos and videos circulating around the net. Tons, even. Maybe you even watch hundreds of cats videos every week. With no shortage of cats' photos and videos, things may get… you know, a little boring.
How about when cats take photos from their point of view? Now we're talking. WHISKAS CATSTACAM, launched by Mars Petcare, is an innovative idea that snaps photos automatically using a cat's wearable device. It's basically a camera that takes photos automatically and uploads them to Instagram so you can follow a cat's point of view at all times.
This wireless, Instagram-enabled camera shoots a photo once every 20 second using motion-detection technology. If the cat is not moving, it will only snap once every 10 minutes. After all, things can get boring if you are looking at the same scene each time. It's all autonomous though I hope you can change the settings around.

The camera (a modified Android smart watch with a custom operating system) only weights 44 grams so it shouldn't make your cat grumpy at all.
Snapped photos will be sent through your Wi-Fi network, reviewed, and posted to the cat's Instagram profiles (yes, your cat can now have its own Instagram). You can even ask your cat behaviour through hashtag #AskWhiskas to get more information about what your cat was doing and why.
It's an interesting concept (and yes, this is real) and cat owners would definitely love this. Now you will not be left wondering what your cat's been up to.
Check out Whiskas Australia's Facebook Page for more info