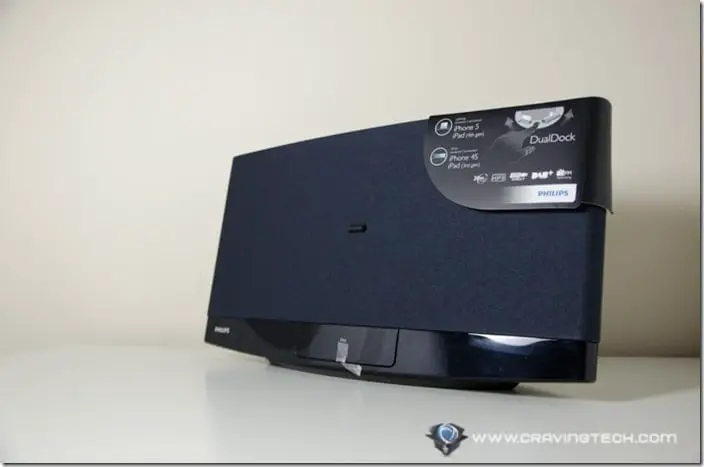 Philips Micro Music System DCB2270 Review – Here is a problem. You love listening to music (okay, who doesn't) but unfortunately, you have your favorite songs scattered around different media and devices. You probably have songs stored inside your iPhone 5s with Lightning connector, an old iPad or iPod Touch with the 30-pin connector, or inside a collection of audio CDs you bought a few years earlier. In the morning, you prefer to listen to your favorite radio station.
See the problems there? What if your CD player, radio, Lightning dock, 30-pin dock, and what have you – can all be combined into a single piece of equipment? Wouldn't it be like a dream comes true? With this Philips Micro Music System, dream does come true for music lovers!
Packaging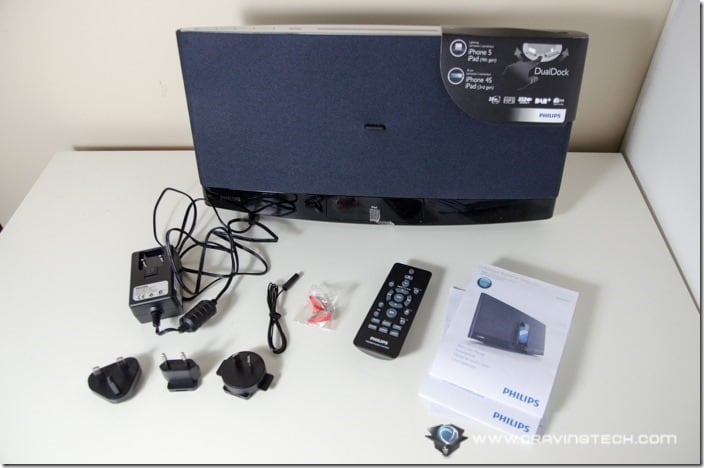 Design
The DCB2270 has a sleek looking design which contributes to increasing the aesthetic value of your living room, kitchen, bedroom, or any room you place this on. Though you may not think of it as a "micro" design, it is somewhat slim, considering what you get out of it. From the looks, you can tell that Philips want to focus on the sound and thanks to 2 built-in speakers with 2.75″ woofer plus a Digital Sound Control feature, you won't be disappointed in the sound department.
You can either place it on the desk or use the included wall mounting tools to mount it on the wall. On the desk, it's sturdy and blends well with the surroundings.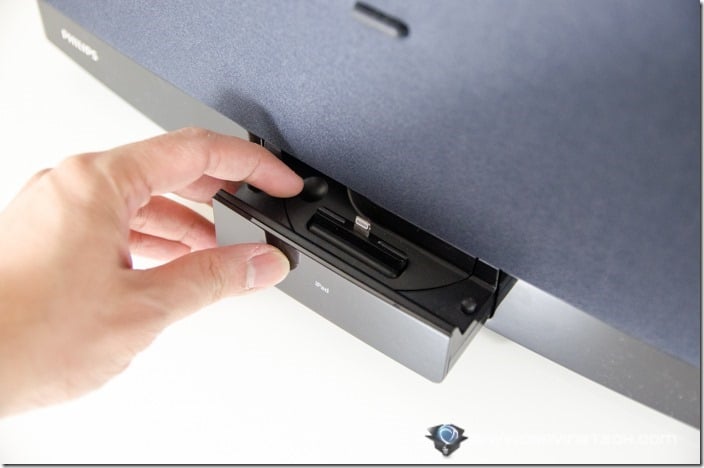 The DualDock system means you can use the DCB2270 to charge any iOS devices with a 30-pin or Lightning connector (no microUSB, unfortunately). Using a flick of the finger, the dock can be swapped from one to the other. Smart. Placing your iOS device on the connector also allows you to play your music collection through the DCB2270 powerful speaker while it's being charged.
What if you have Android or other non-Apple devices? Fret not, you can still go through the usual 3.5mm port, also available on the DCB2270. You can't do a dock-charge-and-play though.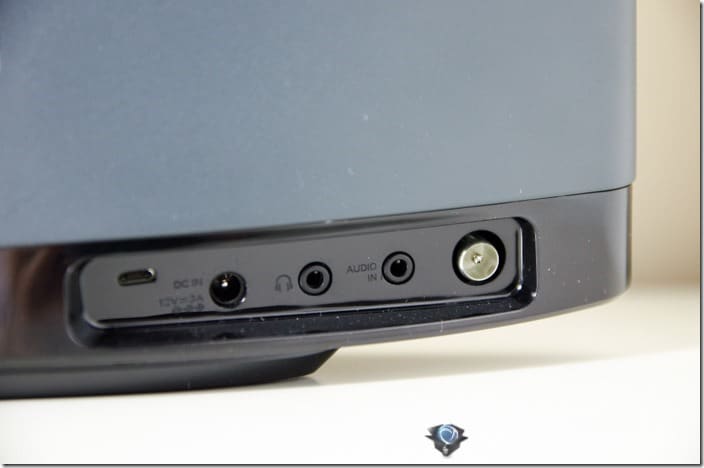 Through the top panel, you can insert an audio CD (or an MP3-CD) into the slot. This is a rare feature to find these days on any speaker systems or docks. Thanks to this Music Micro System, you can now throw your CD players away or save your time from having to convert all your Audio CD collections to MP3s.
A USB slot allows you to chuck in a USB flash drive with MP3 files in it, which is pretty handy because you can update your flash drive with new songs more frequently without the hassle of burning into a CD or syncing to your iOS device via iTunes.
On the top, there are buttons to control power, volume, and song playbacks (like Play/Pause, Stop, Fast Forward, and Rewind). You can also do a Repeat and Shuffle when playing music from a USB drive or a CD.
You can switch between sources by using the "Source" button – which includes digital radio (DAB+ – Digital Audio Broadcasting). You will find lots of digital channels available in Australia. You can browse through them by simply using the Rewind & Fast-Forward buttons.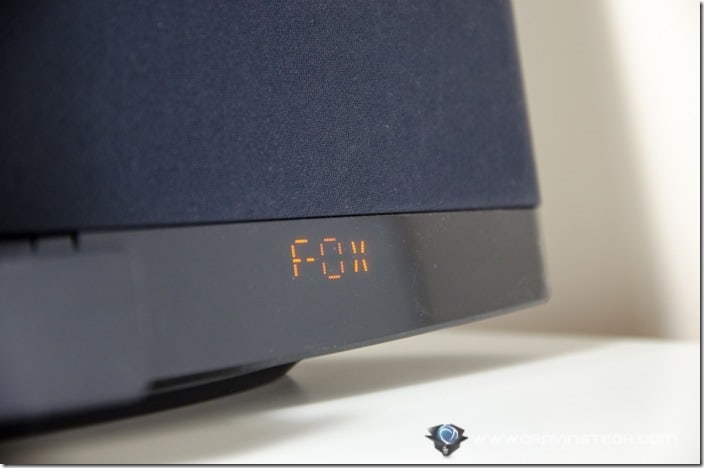 Sound is delivered crackle-free that we often experience with FM radios. Plus, you don't have to waste time scanning for those specific FM frequencies on top of your head. If you can't find your DAB digital stations, the DCB2270 also supports tuning into FM frequencies.
Experience
With all these different source options at your disposal, there should not be any music that you cannot play through the DCB2270. I wish there is a Bluetooth option, however, because it's the only thing that this micro system is lacking (or NFC, if you want to add that in as well). The reason is because if I need to reply a message while my iPhone 5s is docked, I don't want my music to stop. I guess this is a common problem for every docking system out there, so I know I shouldn't complain.
Whatever media device you throw at it, DCB2270 outputs high quality audio with clarity, even at higher volume level. The Bass Reflex Speaker System adds power to the low frequencies without being overwhelming and gives a fuller, richer experience overall.
Changing from a particular source to the other, like playing a CD, may take a while (so does turning it off and on) so you may be standing there for a few seconds, thinking whether it's doing something or processing your input. Once it's playing, however, the whole playback is smooth and painless.
Philips Micro Music System DCB2270 Review Conclusion
If you have been collecting music throughout the years from different media and you own iOS devices from different generations, you will love the DCB2270. Even if you only have a couple of devices, it still has a lot to offer.
Philips Micro Music System DCB2270 is much more than just a speaker dock. It offers a sleek and elegant solution to charge your iOS devices while playing music from any media you can think of. Its design, versatility, and sound quality work together to bring pleasure to both your eyes and ears.
Disclosure: Sample was sponsored for the review but all opinions are 100% mine