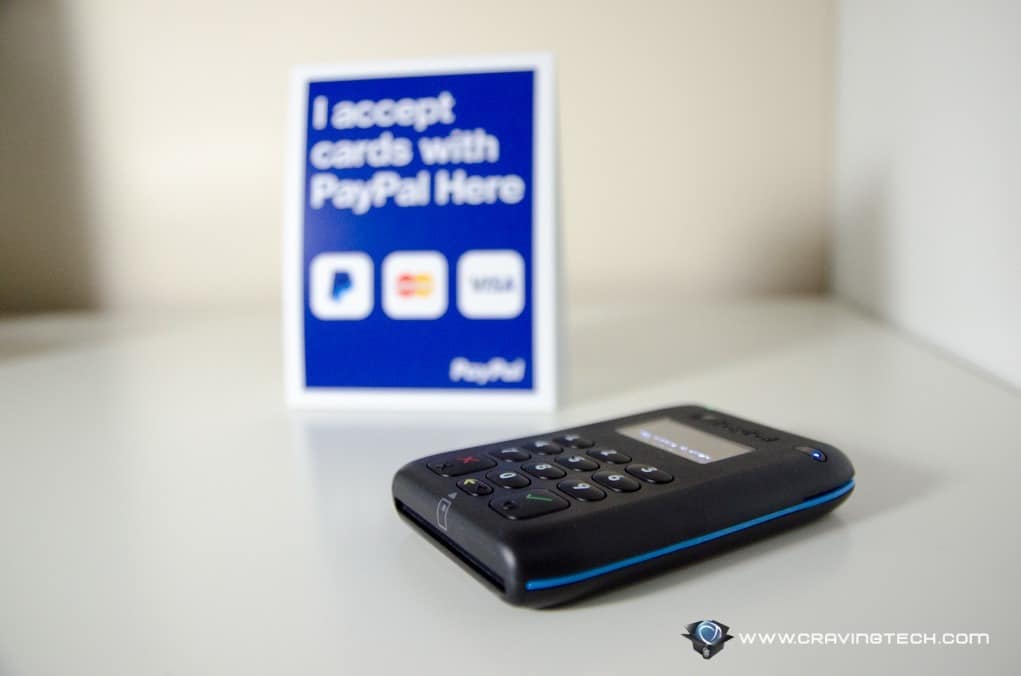 Accept mobile payment easily with PayPal Here – Do you own a small business? Have you ever wished you can accept credit card payments in store, or even in person? With PayPal Here, it's easy. All you need is a PayPal Here Credit Card Reader and a PayPal account.
We are also giving away a PayPal Tap & Go Card Reader here at Craving Tech! Details of the giveaway is at the bottom of this post.
There are times when customers don't have enough money in their wallets after a service has been concluded – which normally creates an awkward situation. For example, imagine you as a tech support or gardener providing a service in a client's property but they cannot pay you on the spot. If you own a small cafe or restaurant, accepting credit card payment is one of the good things to have on your POS (Point of Sale) system.
Thanks to PayPal Here, all you need is this portable Credit Card Reader to accept credit card payments from the customer and a mobile device.
PayPal Tap and Go Card Reader Review
This Tap and Go card reader supports MasterCard, Visa, and American Express cards. It supports both debit and credit cards. During my test, my Amex card was accepted but only by inserting/swiping the card (no Tap & Go). Apple Pay almost worked too, but sadly, since the reader doesn't seem to accept a Tap & Go Amex, I got an "unable to read card" error.
The reader is portable so you can bring it along with you, which is really handy. It doesn't have to be wired to a PC or even connected to a Wi-Fi point. The reader itself has a built-in rechargeable battery but have to be paired to your smartphone via Bluetooth.
You'll need the PayPal Here app installed too to be able to key in details and accept payments through the reader. There are other actions too available such as sending receipts, processing refunds, etc. Items and amount can be entered manually, but you can also add your sold items in a list so you can just select it for a quick sale. There is also an easy surcharge by typing, say, "4 + 2%" in case you want to charge the fee to your customers (more on the PayPal fees later).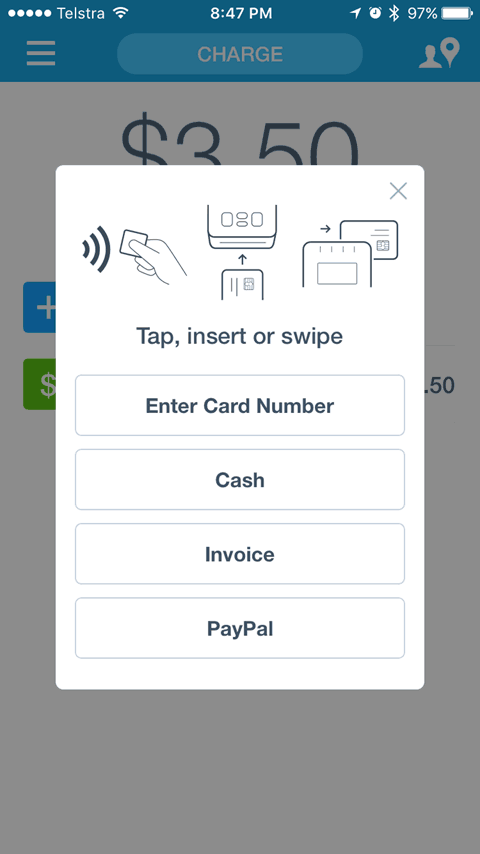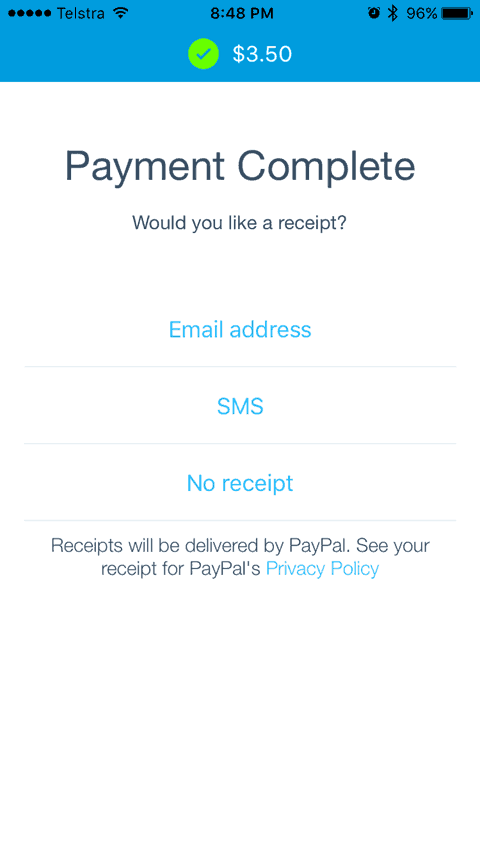 In order to use PayPal Here, you first need to have a PayPal Premier or Business account (you can upgrade your Personal account into one if you don't have one, or register for a new account). Then, apply to PayPal Here. After submitting some information such as your details and ABN, you will have to wait for up to a couple of days for the approval process. If all goes well, you can start receiving credit card payments with PayPal Here. Mine was actually approved within a couple of hours.
How about the fees? There are no on-going fees thankfully, because the service will charge per transaction. For every transaction made using the card reader, you will be charged 1.95% of the total transaction amount. If you can't use the card reader and have to enter the numbers manually on the app, the final fee will be 2.9% + $0.30. If you receive payments through other online services like online invoices, eBay, or Etsy, the fees are around 2.6% + $0.30. For a complete details of other fees, check the PayPal Merchant Fees page.
The good thing is, if you are not using PayPal Here for some time, that's okay because there is no monthly fee. You only pay to PayPal on each transaction which makes PayPal Here flexible and affordable.
From the app, you can also see all your PayPal transactions, including the sales you've made. As you can see, PayPal automatically deducted the fees out of my transaction tests (with a total of $4.50). And as you can see, there are no other hidden fees here.
PayPal Here Tap & Go Mobile Card Reader Giveaway

Thanks to PayPal Australia, Craving Tech is giving away one Tap & Go Mobile Card Reader. To win one, answer this question using the Giveaway widget below:
"What are you going to use PayPal Here for and how can Tap & Go Mobile Card Reader help you?"
Terms and Conditions:
Eligibility: Australia (if you can supply an Australian address to ship the prize to if you win)
Giveaway starts on Thursday 4 February 2016, 9PM AEST and ends on Thursday 18 February 2016, 9PM AEST.
The prize is one PayPal Here Tap & Go Mobile Card Reader – valued at $149 at Officeworks.
Prize cannot be exchanged or redeemed for cash.
One winner will be selected at the end of the competition.
The winner will be announced on this same post after the period is over and contacted by email. If you don't reply the email within 72 hours, a new winner will be picked instead.
This is a game of skill, not chance. The winner will be picked based upon the best answer to the question.
Giveaway Widget:
PayPal Here Tap & Go Card Reader