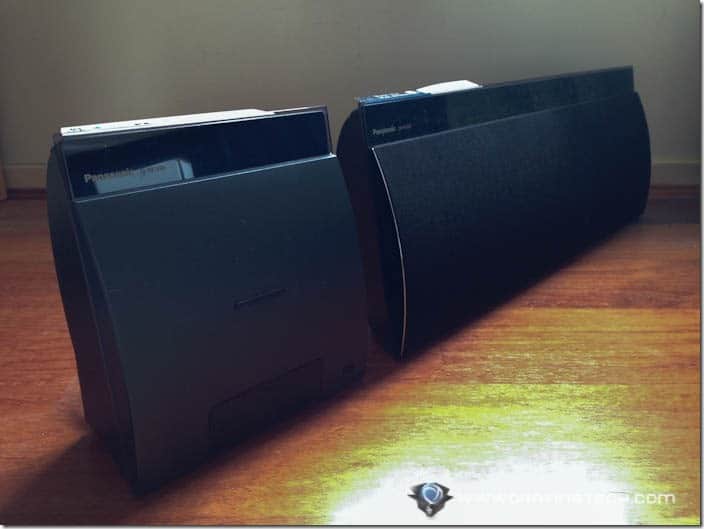 Panasonic Wireless Speaker System SC-NE5DB Review – Panasonic Wireless Speaker System SC-NE5DB is a wireless speaker system that allows you to enjoy music in different ways:
1. Stream wirelessly from compatible smartphones and other devices,
2. From your iPhone5/5s and iPods with Lightning connectivity using the available dock,
3. Play CD using wirelessly-connected CD player available, or
4. Digital radio using the DAB functionality.
Setting Up
Setting up SC-NE5DB is proven to be slightly more challenging than an easy walk in the park.
According to the manual, there are several ways to connect to the stereo system using Wi-Fi:
1. If your wireless router supports Wi-Fi Protected Setup (WPS), you can connect by pressing the WPS buttons on both devices. Unfortunately, my home router does not support this feature. My wireless mobile broadband, however, does have this.
2. If you are using the latest iPod touch / iPhone that uses Lightning connectivity, you can setup by connecting to the compatible iPod dock.
3. If you are using iPad or earlier versions of iPod touch / iPhone that still has the old connection, you can setup by connecting your device with the stereo system using your charger cable and then follow the instructions to let your device share the Wi-Fi settings with the stereo system. Please note that your device needs to be running iOS 5.0 or later.
4. Using the smartphone app called "Panasonic Stereo System Network Setup" that you can download from the App Store.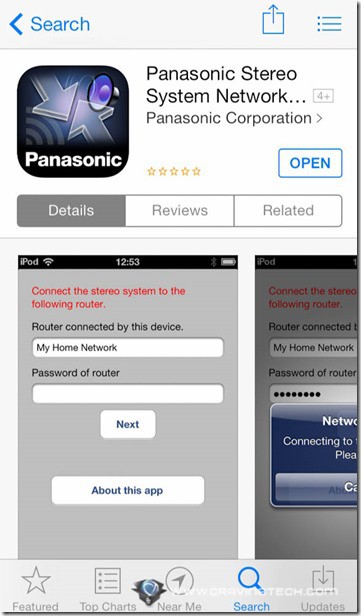 This app looks quite basic, but it does the job of connecting your device with the stereo system. You will only need to do this once, and once it is connected you can remove the app from your device.
There seems to be a lot of overlap between the above options so be prepared to play around a little bit before you get it properly connected.
You can also connect to the stereo system using Bluetooth. The advantage of using Bluetooth is that you do not require to have a Wi-Fi connection in the premise, and even if you do, you will not interrupt other traffics currently running on your wireless network (I do notice few pauses every now and then when connecting using Wi-Fi). On the downside, Bluetooth might not have as much range as your Wi-Fi.
AirPlay
Once you have setup the connection, the AirPlay option will then be available on your device.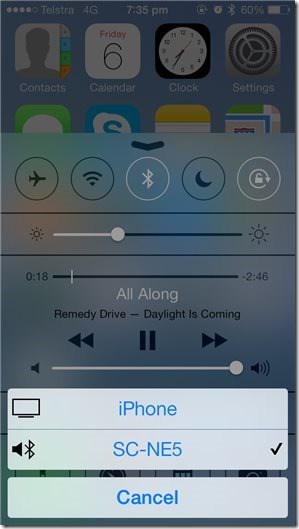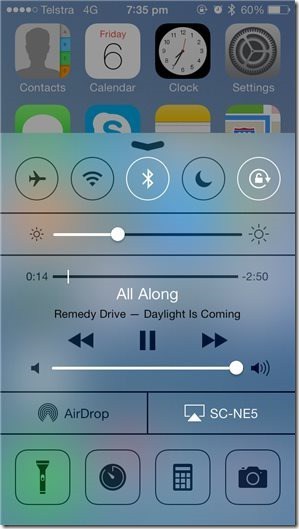 With AirPlay, you can then play any music on your device from practically any app: Music, YouTube, TuneIn Radio, Spotify.
DLNA
You can also share music stored in the DLNA Certified media server connected to your home wireless network and enjoy the contents with this system's speaker. File formats that are not supported by your DLNA server cannot be played.
Due to incompatibility issues, this feature was not tested for the review.
Digital Radio (DAB)
Occasionally I would like to listen to the radio stations whilst I am at home. However, I no longer have an old-school radio so I would have to listen to them on the internet which consumes my precious bandwidth and data allowance.
The DAB+ function in SC-NE5DB is like using a normal radio but with clearer sound and improved reception and without the need of internet connectivity.
During my testing, the DAB+ functionality requires the use of aerial cable provided and I had to run it up towards my window in order to get a reception.
Wireless CD Playback
The great thing about SC-NE5DB is that both the CD player and the iPhone/iPod dock are provided as a separate stand-alone console which automatically connects to the speaker system wirelessly without any additional connection setup.
The separation of the two is very beneficial for when you want to place your speaker in a strategic position for maximum sound coverage whilst you want to keep the CD player & iPhone/iPhone dock console near your CD collections or your bedside table. Or if you are not using the CD player and the iPhone/iPod dock, you can keep the console in the box to save you some space.
Performance
SC-NE5DB produces an exceptionally crisp sound and great bass no matter what the audio source is. It comes with a 2-Way Speaker System featuring 8 cm Long Stroke Woofer with Nanosised Bamboo Cone and a 2.5cm Tweeter which produce robust and deep bass sound that is quite powerful for a slim, compact unit like this.
The stereo system uses Aero Stream Port with a 3-dimensional structure to achieve rich bass reproduction with minimal distortion. The finer bamboo fibres enable the cone speaker to reproduce clear, fresh natural tones.
Navigating
The instructions manual would be the most helpful source to help you navigate through all the available options in the stereo system since the remote control provided has an old user interface that you might no longer get used to operating.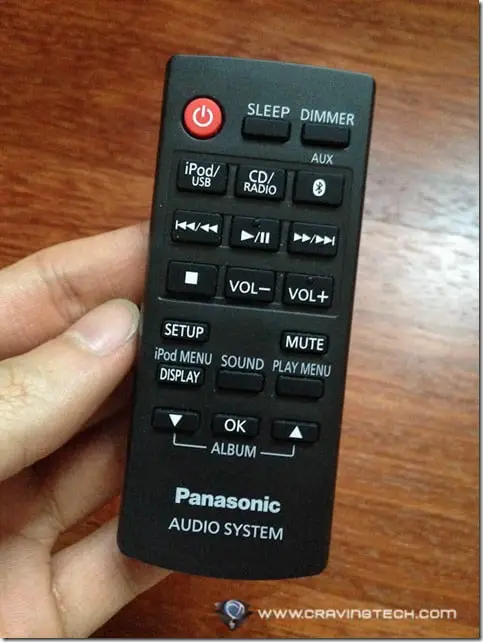 Software Update
SC-NE5DB allows you to update the software inside its system by downloading the updates using the Wi-Fi connection you previously setup. However, this only applies to the main unit only.
Updating the software in the CD unit is far more cumbersome. First, you need to download the latest firmware from the Panasonic website and then burn it to a CD-R before inserting it into the CD unit for the CD unit to read and update itself.
Summary
Panasonic Wireless Speaker System SC-NE5DB is definitely a slim and highly polished console that produces awesome sound quality. There might be bumps here and there in regards to setting up and software update procedures, but with the RRP of $549 it is certainly one big contender for others in its class.
For more information, visit Panasonic SC-NE5DB