Panasonic LUMIX GH5 Review – I've been shooting with Nikon for way too long. Early in 2016, I decided to sell all of my Nikon gears and made a switch to Canon ecosystem for still and motion picture works.
It's also been a year where I hear many positive remarks about the Panasonic LUMIX GH4. I didn't give the GH4 a thought at first before, because it has a smaller micro 4/3 sensor. But it's the year 2017 and when Panasonic LUMIX GH5 was launched, many YouTubers reviewed and used the LUMIX GH5 as their daily drivers for YouTube videos production. This piqued my interest and got me curious to give it a try.
Panasonic has sent me a Panasonic LUMIX GH5 loan camera with 12-60mm f2.8-4 lens kit for a couple of weeks to review and here are my thoughts and opinions.
Panasonic LUMIX GH5 Review – What I like about Panasonic LUMIX GH5?
The build. Panasonic LUMIX GH5 is built like a tank. Its magnesium alloy body frame construction feels rugged and solid and most importantly, the camera is weather sealed. It's splash proof, dust proof, and freeze proof up to -10 degrees. It can even withstand a rain.
Its lens kit shares the same ruggedness and weather sealing construction.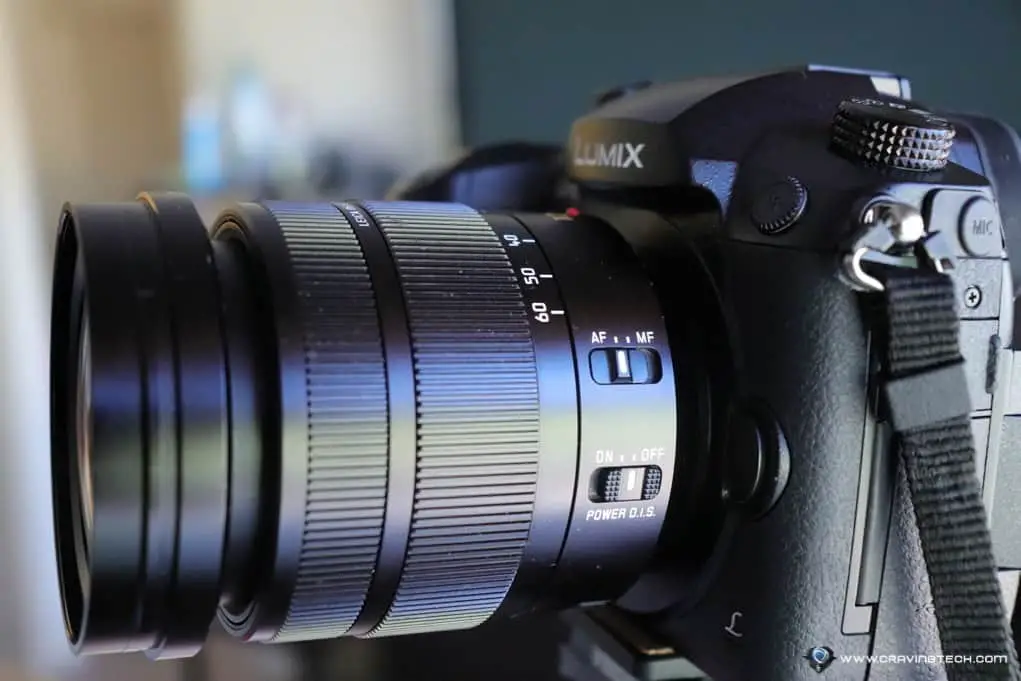 All these give me the confidence to bring the camera along to the beach. You can't submerge it completely under the water though.
The type of Camera. Panasonic LUMIX GH5 is a mirrorless camera. The absence of the mirror element should save you some weight, but not necessarily. The body has similar characteristics as a traditional DSLR weighing 725 grams (including the battery) – which is almost the same weight as a Canon EOS 80D (730 grams). It may not be the most lightweight camera out there, but Panasonic manages to put a lot of tech into the camera and brings a serious competition to Canon and Sony.
Great to snap still photos. Panasonic LUMIX GH5 is equipped with a 20.3 megapixel micro 4/3 image sensor with no low pass filter that produces sharper photos. It snaps better and cleaner photos than a smartphone definitely. The camera can do focus stacking on a still photo, which is perfect for landscape photography.
Here are some sample photos taken with Panasonic LUMIX G5: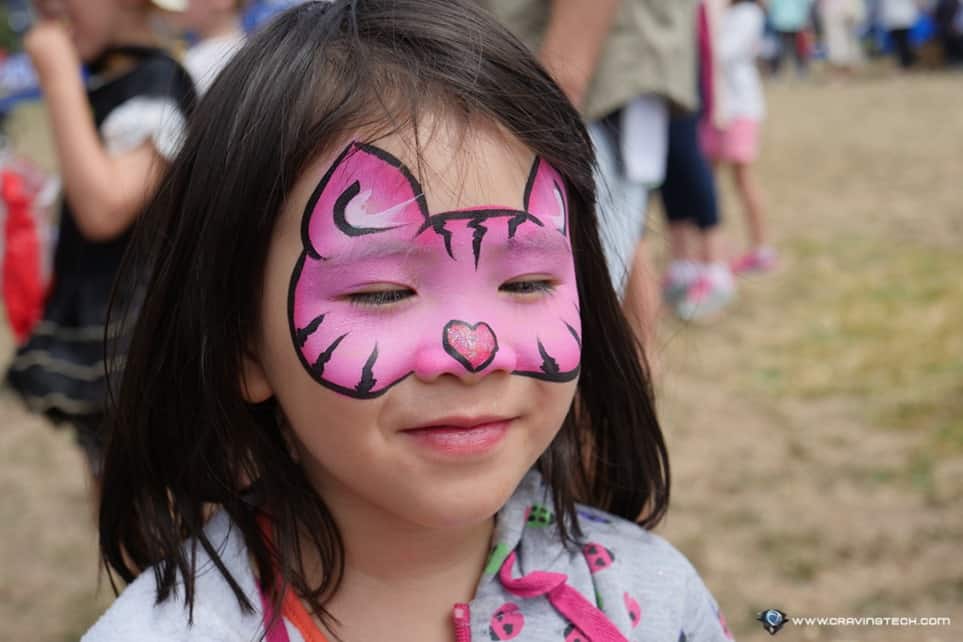 The 6K photo mode allows the camera to take a short burst of 18 megapixel stills and you can then select the best still photo.
4K and 10-bit 4:2:2. Panasonic LUMIX GH5 shots 4K both in 8-bit and 10-bit internally. Almost all consumer cameras, digital cameras, and smartphone record videos in 8-bit. A 10-bit 4:2:2 essentially means that the recorded video carries more colour information. This benefits people who like to do post-video editing and colour grading required for professional works such as wedding videos, music clips, and full-blown movies for a film festival, say. And have I told you that Panasonic LUMIX GH5 records 4K at 60 frames per second, supports Cinema 4K (4096 x 2160), timelapses, and 120fps for slow motion at 1080?
Dual image stabilization. In-Body Image Stabiliser (or IBIS, in short) inside the Panasonic LUMIX GH5 works together with the Image Stabiliser Panasonic lens to produce smooth, hand-held video footage. This minimizes the need to use a gimbal or other form of stabiliser.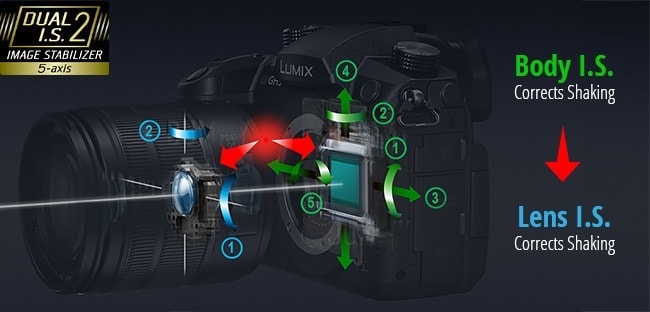 More video centric feature. Panasonic LUMIX GH5 comes with built-in monitoring tools such as waveform, histogram, zebra and focus peaking to help getting that perfect exposure on the fly. Headphone jack is included to monitor audio and the camera supports XLR audio input through a separate accessory. A clean HDMI output to an external recorder to record 4K 60fps and 10-bit is also made possible.
Adaptability with Canon lens. I love all my Canon lenses. I'm happy with the existence of third party adapter brands such a Metabones and Viltrox to allow Canon EF lens to be used on micro 4/3 cameras. Thankfully, this includes the Panasonic GH5 so you can also attach Canon cinema lens on this camera. Excellent.
The back screen and EVF. Panasonic LUMIX GH5 utilises an articulated screen that flips sideway which makes this camera a selfie-and-a-vlogger-friendly camera. The back screen is a 3.2″ and has 1620k dots for best viewing. Furthermore, its EVF (Electronic Viewfinder) is a very sharp and bright OLED screen.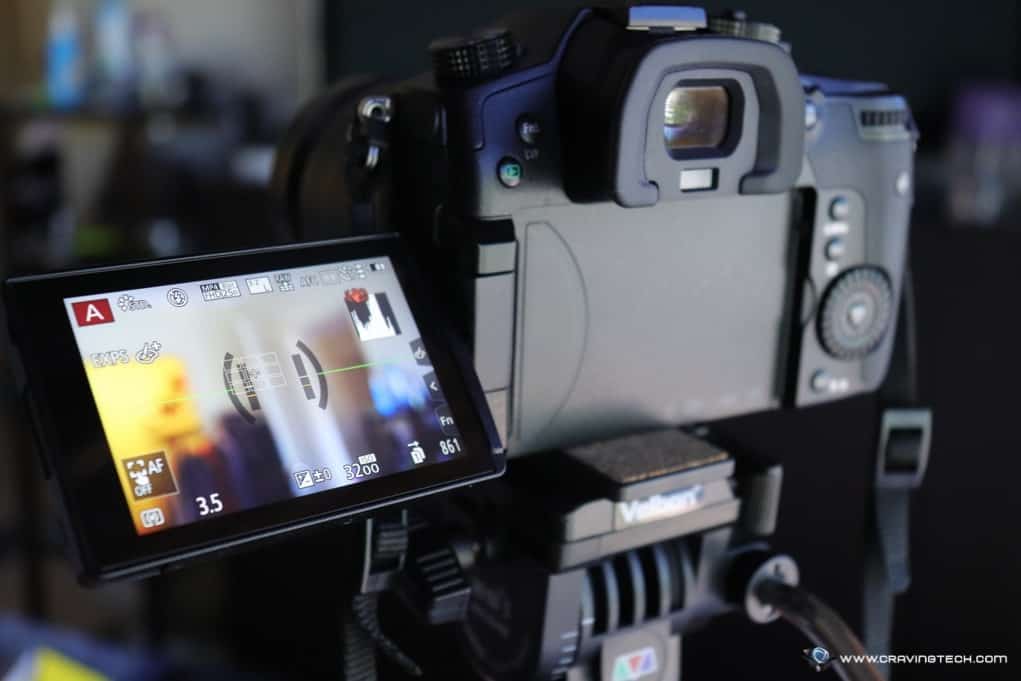 In general, I like EVF on mirrorless camera because with it, "what picture you see is what you get" once the shutter button is pressed.
The battery. It has a decent battery life for its class and lasts for 380 shots per charge. I didn't realise until the last day I had to return the camera that there was a 'Power save' mode to extend battery life by sacrificing EVF performance and the screen brightness. I'd still advise to buy an extra battery or two as a backup though. The GH5 battery uses the same type of battery that Panasonic LUMIX GH4 uses, which is nice. If you are upgrading from a GH4, this means you can still use your spare batteries on the GH5.
Dual card slots. Panasonic LUMIX GH5 comes with dual SD card slots that can be configured as a backup or additional storage. Both slots support the latest SD UHS II cards for faster read and write speed.
Panasonic LUMIX GH5 Review – Official Video
Panasonic LUMIX GH5 Review  – Things to consider before buying Panasonic LUMIX GH5
No internal flash. No big deal but sometimes it's handy to have in some circumstances.
Smaller sensor. It means low light performance is not as great compared to an APS-C or full frame sensor. At this time of writing, Panasonic LUMIX GH5s has been announced and delivered much better low light performance due to the redesigned sensor and dual native ISO.
Autofocus. I review many recent Canon cameras and in my opinion, Canon's autofocus performs better than Panasonic LUMIX GH5. Don't get me wrong though, Panasonic LUMIX GH5 autofocus is fast and gets the job done most the time. However, in some circumstances, the autofocus hunts more and sometimes fails to focus at the desired spot.
Menu and dials. Coming from Nikon/Canon systems, it took some time for me to get used to the Panasonic LUMIX GH5 menu system which has more customisable buttons & camera mode dials. It's definitely a camera with super-packed features so make sure to keep the camera manual nearby.
Editing. If you're using Davinci Resolve as video editor like myself, editing a 4K 10bit footage requires the paid version of Davinci Resolve.
Panasonic LUMIX GH5 Review Conclusion – Is Panasonic LUMIX GH5 for you?
If you're into general filmmaking and you seek 4K video recording on prosumer level, the Panasonic GH5 is the best choice on the market right now. Stabilisation, articulated screen, monitoring tools, and excellent video codec on considerably a small footprint body are strong points compared to Sony mirrorless cameras. Panasonic LUMIX GH5 definitely outplays Canon and Nikon consumer cameras on the 4K video recording front.
Panasonic LUMIX GH5 price starts from $AUD 2,988 at JB Hifi or $AUD 3,998 with 12-60mm lens kit.