Philips Hue Lightstrip Outdoor Review – Lightstrips can do wonders inside your house to boost a room's aesthetic value, apart from just lighting the room out. Hue Lightstrip Plus, for example, can even be used to enhance your movie and gaming experience to the next level using Philips Hue Sync. Make sure to check our article out on that one.
And if you've been itching to enhance the mood of your garden, the new Philips Hue Lightstrip Outdoor is designed just for that. Thanks to its water resistance, you can lay the lightstrip anywhere outside without worries.
Packaging
The review sample I have here is 5 meters long which retails for AU$235, but there is also a 2 meters version that retails for AU$145 – if you don't need it to be lengthy and save more bucks.
The packaging actually includes many attachment clips and screws if you are thinking to place the lightstrip high above the ground. You might install it on the ceiling of your alfresco for example, or run it alongside your hanging gardens. You don't have to use these clips though, as you can also lay the whole lighstrip on the grass or along the fence line just fine.
There is no adhesive like a traditional lightstrip because hey, being outside, the rain will definitely screw your masterpiece up.
Design & Features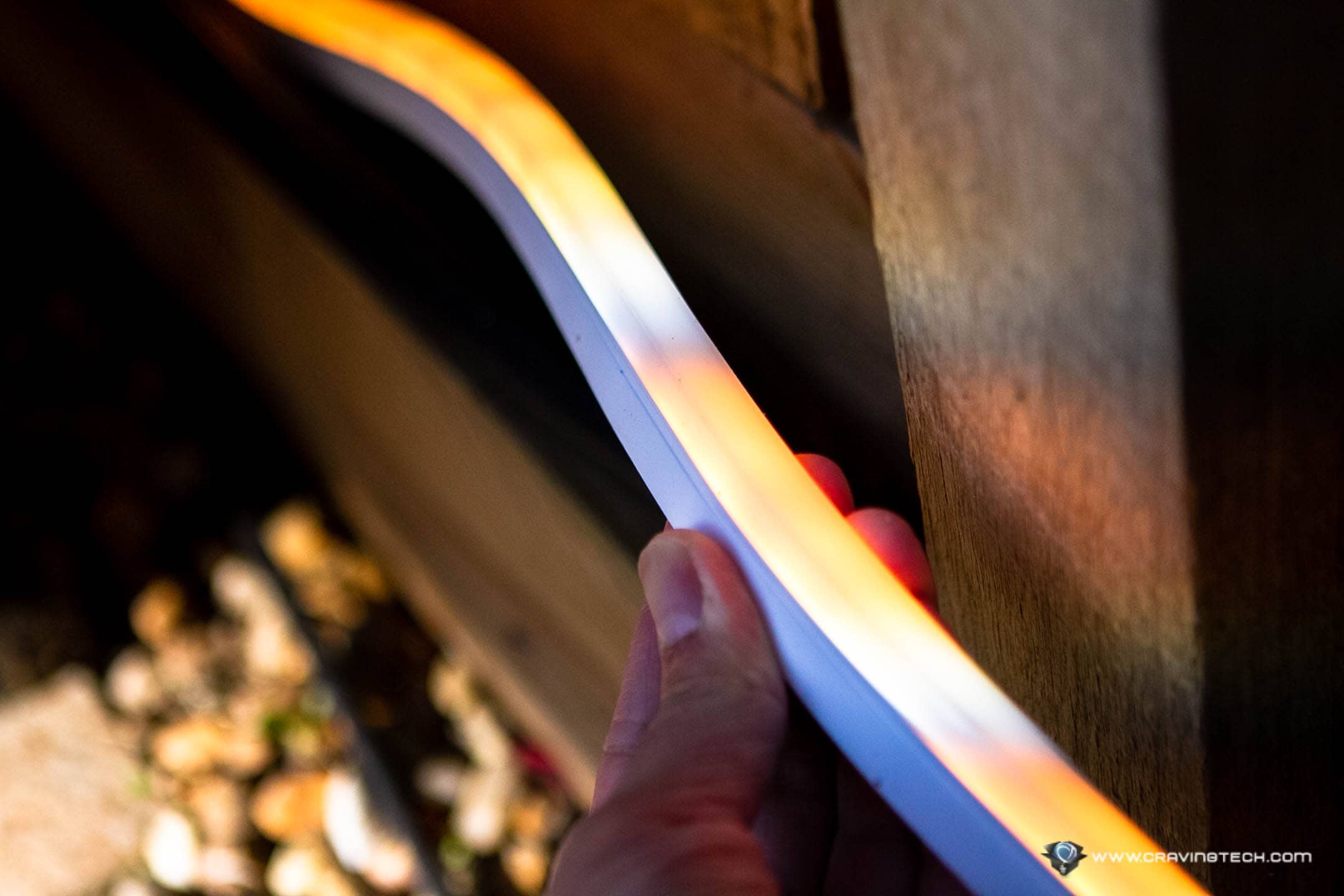 Philips Hue Lightstrip Outdoor is a, well, a lightstrip. It probably doesn't need a lot of explanations but it is thicker and heavier than the traditional indoor lightstrips I've used and reviewed. The lightstrip is flexible to shape and blend, so you can actually throw some creativity into the mix.
I wanted to use the strip on the backyard grass but our dog usually does his thing there, so I ended up running the lightstrip along the backyard fence.
With 16 million colors to choose from and variable shades of white, there is definitely more than enough for you to play around with. Thanks to the Apple HomeKit support (it also supports Amazon Alexa and Google Assistant), you can set its colour and brightness automatically.
You can even set the lights to go on and off during specific times. You can also change its colour to match the season, or during a special event like Halloween or Christmas.
The only problem I see is that you cannot cut the lightstrip and turning it on will also turn the whole lightstrip up. You've just got to make sure about the length and placement before you commit to buy. Plus, you have to make sure you have enough outdoor power points to plug this in, obviously. We only have 2 outdoor powerpoints so we are sort of juggling between having to use them for our Swann Outdoor Security Camera, Philips Hue Lily Outdoor spot lights, Philips Impress Outdoor Pedestal, or this Lightstrip Outdoor.
Philips Hue Lightstrip Outdoor Review Conclusion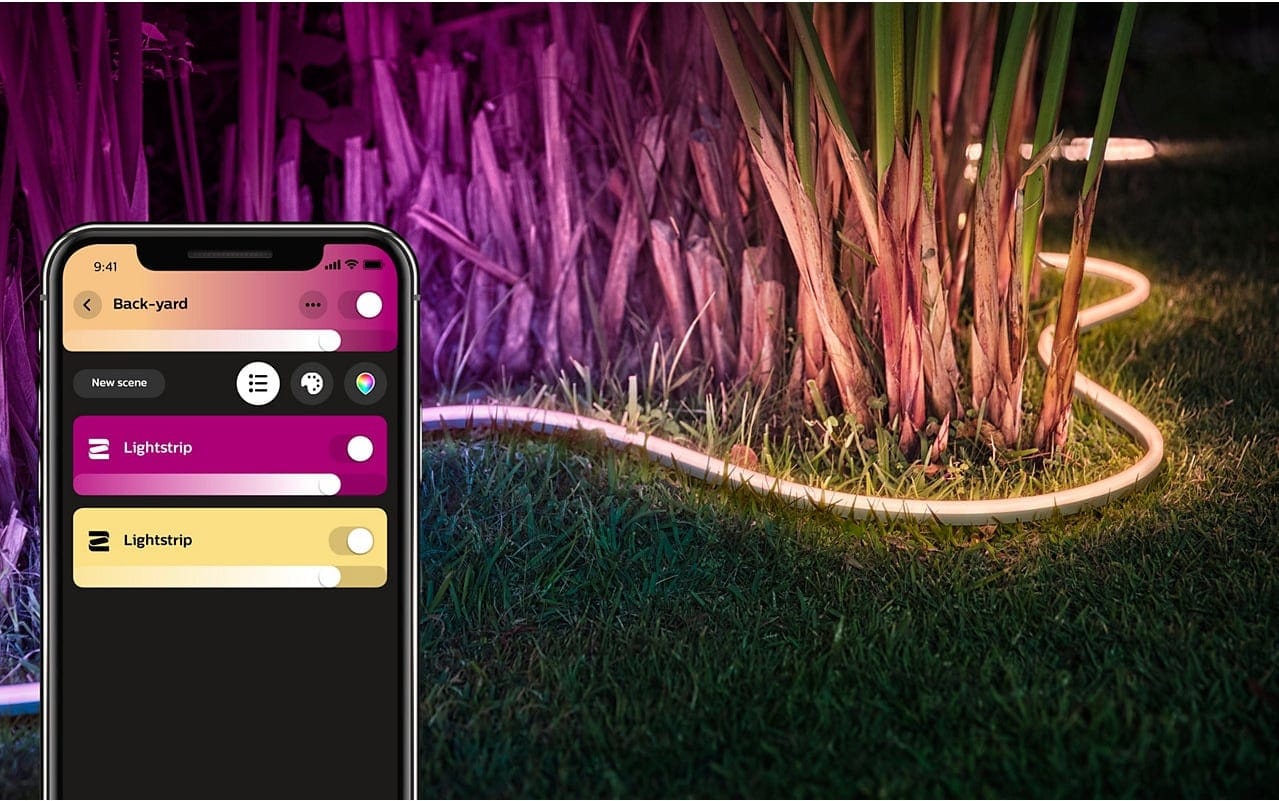 Philips Hue Lighstrip Outdoor is the lightstrip of choice if you already have the Philips Hue Bridge and are planning to spice your outdoor area up – whether it's your alfresco, backyard, or outdoor garden. Thanks to its water resistance, you do not need to worry when rain and thunderstorm comes your way.
The lightstrip is also flexible enough to be shaped and used on the ground, or to be hanged on a wall or ceiling using the included clips and screws.
Combined with your other smart lights at home, the Lightstrip Outdoor can be set and scheduled as you wish, thanks to its Apple HomeKit, Amazon Alexa, and Google Assistant support.
Philips Hue Lightstrip Outdoor 5 meters retails at AU$235 and the 2 meters version retails at AU$145. They are available at major retailers around Australia such as JB Hi-Fi and Harvey Norman.
Disclosure: Philips Hue Lightstrip Outdoor Review sample was supplied for reviewing but all opinions are mine and not paid
Philips Hue Lightstrip Outdoor Review
Summary
Smart outdoor lightstrip with Apple HomeKit, Amazon Alexa, and Google Assistant support
Pros
Supports Apple HomeKit, Amazon Alexa, and Google Assistant
Bright light, with up to 16 million colours
Great and easy to use app
Flexible shape, can be mounted with the included clips and screws
Waterproof
Cons
Can't be cut
Requires a Hue Bridge
Price