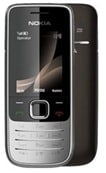 The all-new Nokia 2730 mobile handset is one of the newest introductions to the market and comes in the shape of an extremely light and compact design, weighing just 87g.
Despite its compact appearance this particular handset houses an array of innovative and highly sought after features.
Possibly the main feature of this sophisticated device is that it comes in the shape of a 3G handset and also features a quad-band. This means the phone can be literally used anywhere and also in any country, making it the ideal companion to those that travel a lot on business or for those that wish to stay in contact with friends, family and associates whilst away.
The 3G handset allows users to both access the Internet and transfer files and data at a very high speed. Downloading files and media is an extremely easy and hassle free task when using the Nokia 2730 Purple as well as being an extremely quick process.
The handset offers up to 2 GB of expandable memory, despite being priced at a very reasonable rate.
Other features include a 2-megapixel camera, an FM stereo radio and a multimedia player. You may think a phone offering all these applications would be bulky in design, this is not the case however and the Nokia 2730 Purple slips easily into a pocket or evening bag.
Other specifications include a 3.5mm audio jack, GPRS, Bluetooth, an organiser, Flash Lite 3.0, Java MIDP, a voice memo, a built in handsfree system and also voice dial.
This elegant and sophisticated phone is perfect for those who wish to opt for a device that is certainly on trend for this season. The handset offers a polished purple finish with an ergonomically designed keypad, making typing messages and accessing applications a simple process.