Note: This is a guest post written by Mary Kate Cochran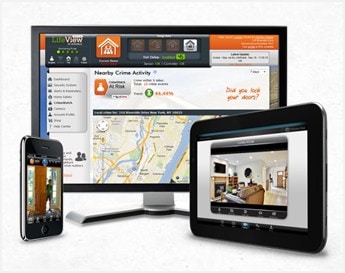 When you begin to plan a vacation, home security isn't always at the forefront of your mind. However, when you're away that's when your home is most vulnerable to crime. Did you know there are ways you can keep your home secure even when you can't be there?
If you have a home alarm from a wireless security company like LifeShield you can keep tabs on your home with mobile monitoring.
LifeShield's interactive LifeView application gives you the freedom of wireless security monitoring no matter where you are in the world. You can also use the application to access the most important features of your home security system. You can arm and disarm your system, see the status of your security sensors, and view system history to see what time visitors came and went.
With LifeView you can also check your home's safety score and most importantly, view crime alerts within a 5 mile radius of your home.
LifeShield believes you should know about crime before it happens. With LifeView's crime watch you'll have updated information for your neighborhood so you can protect your home and loved ones. You'll have the capability to make smarter security decisions before leaving your home. For example, you may decide to take an extra few minutes to make sure all doors and windows are properly secured because you know these entries have the highest rate of break-in. Or, you may decide to buy those solar-powered lights you've been meaning to for the last month because you know well-lit homes are less targeted for burglaries.
Not to mention, that home security sign you keep outside will do wonders for keeping criminals away.
LifeView isn't just for crime watch though, it has many other features that homeowners love. The alerts and reminders system is one feature that can help make home management easier than ever before.
You can set seasonal reminders for home maintenance tasks like cleaning the gutters and replacing air filters. You can also set reminders for birthdays, appointments, etc. With LifeView you can also view video and surveillance footage right from your mobile phone or computer.

You can check on family pets periodically and make sure your kids arrived home from school okay. Want to find out more? Watch video to see all the features and benefits of LifeView's interactive monitoring.
Note: This guest post was written by Mary Kate Cochran