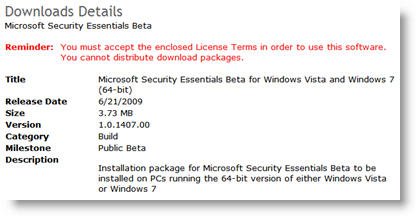 The ultimate antivirus (and anti spyware) solution from Microsoft called Microsoft Security Essentials is now available on Microsoft Connect. Of course, it is still in beta but if you are still using a free antivirus like Avast or AVG, you might want to give this a try, coming from the big giant.
There is also a 64-bit version of Microsoft Security Essentials available. I haven't installed this yet on my Windows 7 RC PC (which is currently protected with ESET Smart Security 4) but feel free if you want to apply for the beta and download it at Microsoft Connect. Although the page says:
This beta is available only to customers in the United States, United Kingdom, Israel (English only), People's Republic of China (Simplified Chinese only) and Brazil (Brazilian Portuguese only).
, it seems that it works for Australia (my Live profile). Judging from the filesize, Microsoft Security Essentials looks like it's using low resources but of course you shouldn't judge a book by its cover.