Note: This is a guest post written by Jeeva Shanmugam – Meta (previously Facebook) plans to release the Meta Quest 3 virtual reality headset in the fall of 2023. With a slimmer and more comfortable design than its predecessor, the Quest 2, this next-generation headset will be outfitted with a powerful Snapdragon processor, ensuring significant performance improvements.
The Meta Quest 3 will also lift the bar in terms of visual quality, with improved pixels per eye. Pursue further to get to know the in-depth details of the next-gen VR headset.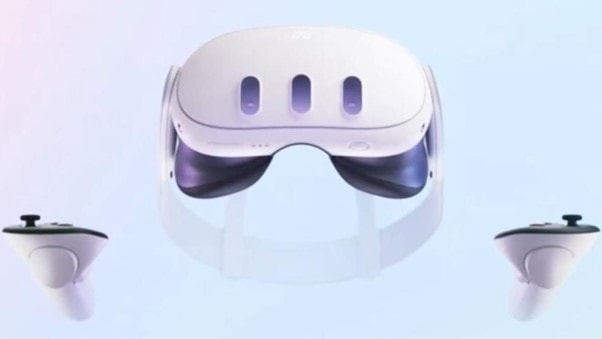 Meta Quest 3: Things We Know So Far
Meta CEO Mark Zuckerberg just revealed the Meta Quest 3, the latest iteration of the company's renowned VR gear. While Zuckerberg did not reveal many specifics regarding the headgear, he did give some crucial points. Here are some of the expected specs.
Meta Quest 3: Specifications and Features
The Quest 3 will include 128GB of storage as standard, with an extra storage option for users who want more capacity.
The headset will be powered by a Qualcomm Snapdragon CPU of the next generation, which will deliver twice the graphics performance of the Quest 2.
The Quest 3 will feature a resolution of 2160 × 2160 pixels per eye, which is a major improvement from the Quest 2's resolution of 1832 x 1920 pixels per eye.
The headset will also feature a refresh rate of 120Hz, which will make VR experiences more fluid and engaging.
The Quest 3 will have high-fidelity color Passthrough, allowing users to see the actual world in full color through the headset.
But it looks like the headset lacks eye-tracking technology, and it will be unable to employ foveated rendering to boost performance.
Overall, Meta Quest 3 appears to be a considerable improvement over Quest 2. It will provide a better performance, a higher-resolution display, and a smoother refresh rate. But what concerns me is, it will not however have eye-tracking technology, which is a crucial element of the impending PSVR 2.
Here are some further expected specs regarding Meta Quest 3 that have been speculated or leaked:
The headset might be thinner and lighter than the Quest 2.
It might contain an internal battery that lasts roughly 3 hours on a single charge.
Through Meta's Air Link capability, it may offer wireless PCVR gaming.
It could work with all existing Meta Quest games and applications.
Meta Quest 3: Design Renders
Internally and externally, the Meta Quest 3 has been completely redesigned. The headgear is now 40% thinner than its predecessor, the Quest 2, and has a striking new front-facing trio of pill-shaped cameras/sensors. The head strap is also composed of a more flexible material, making it more pleasant to wear for long periods of time.
Aside from the physical overhaul, the Quest 3 contains a number of additional features aimed at improving the user experience. For example, the bottom of the headset now contains a wheel that may be used to change the IPD (interpupillary distance), or the distance between the centers of your pupils. This makes finding the ideal viewing sweet spot easy and may assist to decrease eye strain.
The Quest 3 also looks to feature a new face shield, which may provide improved light-blocking capabilities. This is critical for VR headsets since even a tiny quantity of light can disrupt immersion and make it difficult to focus on the virtual environment.
Overall, Quest 3 appears to be a considerable improvement over Quest 2. It's thinner, more comfortable, and has a slew of new features aimed at improving the user experience. If you're searching for a high-end VR headset, the Quest 3 is a great option.
And, The Quest 3 controllers have been revamped to be more pleasant to grasp and operate. They also have TruTouch haptics, which might deliver a similar degree of immersion and feedback as the PSVR 2's Sense controllers. The Touch Plus controllers, on the other hand, will need throwaway AA batteries, which is a bit disappointing.
Meta Quest 3: Pricing and Availability
The Meta Quest 3's precise price in the United Kingdom and Australia has not been disclosed, however, it is believed to cost approximately £499 and AU$ 629-700, respectively. The 256GB Quest 2 was recently dropped from AU$789 to AU$719 in Australia, thus the Quest 3 is expected to be priced competitively in that market.
However, in the US the Meta Quest 3 will cost $499, a $100 premium above the $399/£399 pricing of the Quest 2. And it will be released this fall. The Quest 2 was initially priced at $299/£299, however, Meta has now upped it. It's unknown whether Meta will continue to boost the Quest headset's price in the future. We have to wait for other further details.
Wrapping It All
To sum it up, the Meta Quest 3 looks to be a big improvement over its predecessor, the Quest 2. It attempts to provide a more immersive VR experience with increased performance, a higher-resolution display, a smoother refresh rate, and high-fidelity color Passthrough.
While eye-tracking technology is not included, the Quest 3 has a revised and more comfortable design, as well as extra user-friendly features including an adjustable IPD wheel and an upgraded face shield.
The Quest 3 is positioned as a premium VR headset alternative, with a price tag of $499 in the United States. As more information becomes available, it will be fascinating to watch how Quest 3 does in the competitive VR industry.
Source | Meta