Have you been playing Mass Effect on PC? If you don't know what Mass Effect is, check out my personal review on Mass Effect's post.
If you have ended the game before (I'm sure some of you have ended it multiple times using different classes and dialogue trees), Bioware has released a "mini expansion" of Mass Effect called "Bring Down The Sky". It's a free downloadable content, previously available only for Xbox360 users!


Mass Effect "Bring Down The Sky" Story
A batarian extremist group has hijacked a mobile asteroid station in the Asgard system, setting it on a collision course with the nearby colony world of Terra Nova. Only you, and the hand-picked crew of the Normandy, can save the millions of innocent civilians before the asteroid completes its deadly descent.

This first downloadable content pack further expands the Mass Effect universe and continues the adventures of Commander Shepard and the Normandy crew.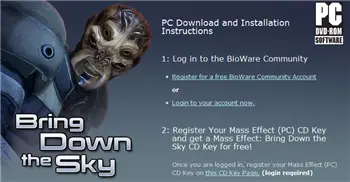 Bioware claims to add another 90 minutes. That means 90 more minutes of the best dialogue trees ever in RPG games, 90 more minutes of admiring your personalized character moving and talking, and definitely 90 more minutes of fun!
To download Mass Effect "Bring Down The Sky", go to its official page here.