Logitech MX ERGO Mouse Review – Logitech Wireless Trackball M570 was a very popular, wireless, trackball mouse for many years. It's been praised by many, even those who are new to using a trackball mouse.
Fast forward to 2017, Logitech has proven its loyalty to trackball mouse users by releasing a new, better trackball mouse named the Logitech MX ERGO Mouse.
To be honest, I'm not a trackball mouse user and have never been using one. I mean, why would you want to go back to the 90s? Even the idea of using one is somewhat alien but I was quite surprised reading how many trackball users swear by it. Not to mention that it would reduce wrist pain, if you have one. Your arm is basically static – you move the mouse cursor using your thumb and the mouse sits still on your desk. For those with no space on the desk to do a mouse swipe movement, a trackball mouse is perfect.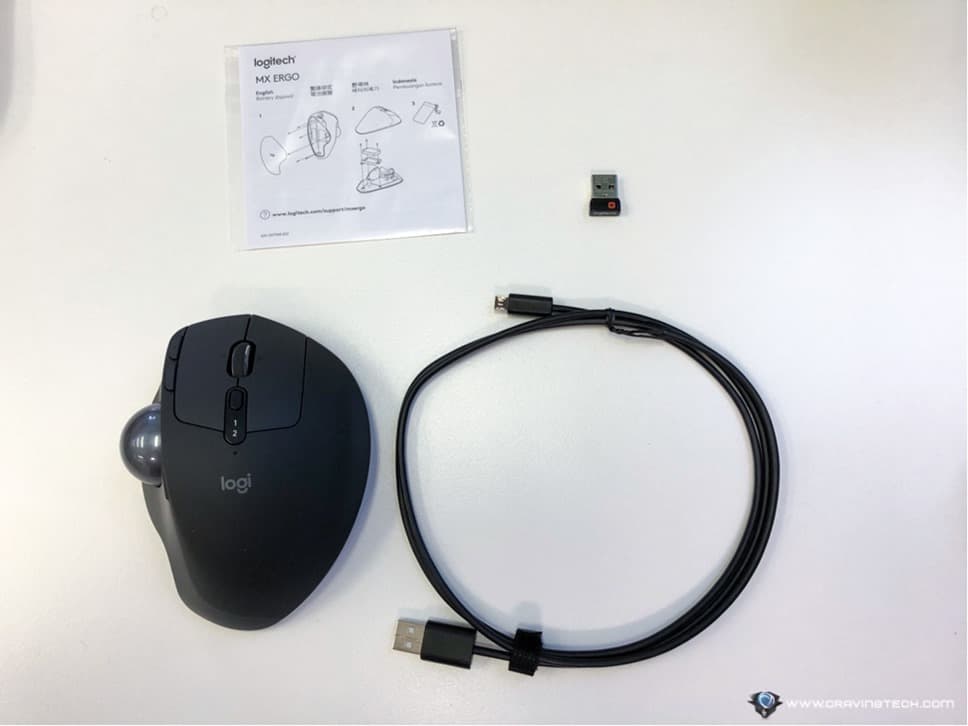 So, biting the bullet, I gave the Logitech MX ERGO Mouse a try. It takes quite a learning curve to get used to using a trackball mouse. My brain and muscles rejected the idea at first but within a couple of days, I have mastered pointing the cursor with the trackball and have now managed to get the ball rolling flawlessly (pun intended). I'm liking it.
The MX ERGO is built for comfort and it shows within its curve and design. The hinge can be adjusted so that your hand holds it in a comfortable, ergonomic position (like shaking someone's hand). This overall design should reduce muscular strain by 20%, according to Logitech. I don't have a wrist pain but I have a golfer's elbow due to repetitive clicking of the mouse over number of years. The sore does not go away while using the MX ERGO because obviously, I still have to click with the mouse. And, trying to move the mouse cursor slowly with the trackball seems to use the same particular muscle, but can be made more comfortable with the Precision Mode button.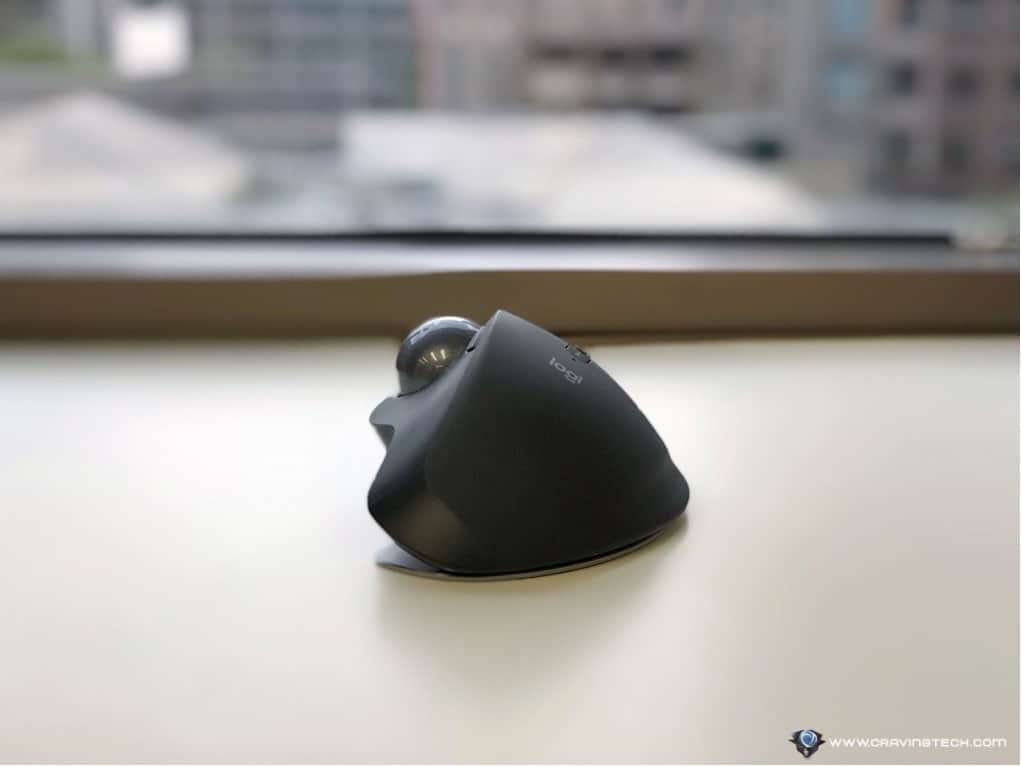 Using the Precision Mode lowers the mouse sensitivity considerably so you can point to that little pixel easier (such as when selecting a text or clicking on a small button) and seems to reduce the tension on my arm muscles. Switching between the sensitivities requires more time to master for first trackball mouse users but worth mastering on.
And there are lots of other things to love here. The bounciness (tactile feedback) and softness of the clicks are nice and even with the mouse hinge fully tilted, it feels very comfortable to hold.
The mouse has up to 4 months of battery life on a full charge, and you can get a whole day use with just a 1-minute charge through microUSB. If you've ever run out of battery while you work, just plug it to charge, take a toilet break, and the mouse will be ready to use again for the rest of the day. That's really awesome.
Logitech MX ERGO also supports Logitech FLOW which allows you to connect and switch between two devices. Perfect if you are using a desktop and a laptop and like to switch between the two.
Logitech MX ERGO Review Conclusion
Logitech MX ERGO is definitely an awesome, wireless trackball mouse. It's designed to reduce muscular strain while using a mouse on a daily basis. Thanks to the responsive and smooth trackball, adjustable hinge, Precision Mode, and mouse contour that even has a resting area for the pinky, the MX ERGO is very comfortable to use for all day long.
If you are looking for a trackball mouse with amazing performance and comfort, the MX ERGO is definitely the one!
But if you don't have any wrist pain and happy with using a standard mouse, you shouldn't get a trackball mouse just for the sake of trying out. Obviously, the MX ERGO is also not made for gaming (especially FPS or First Person Shooter games), so don't bother asking me how well it performs in games. If you want a gaming mouse, go for the Logitech G G903 instead.
Disclosure: Logitech MX ERGO review sample was supplied for reviewing but all opinions are mine and not paid