LASER V-Fitness Smart Activity Watch Review – Our smart devices are getting smarter as our technology progresses, which includes our smartwatches. Not only that our "digital" watches show time, but they have also evolved to track our steps, heart rate, show our messages and notifications, and even pay with them.
Unfortunately, with all those features, comes a hefty price tag (Apple Watch Series 5 starts from AU$649.00 and Samsung Galaxy Watch 46 mm starts from AU$499).
What if we are looking for a simple smartwatch/activity tracker at an affordable price? Could LASER V-Fitness Smart Activity Watch be the ultimate choice?
UNBOXING
LASER V-Fitness Smart Activity Watch comes with the watch unit, a strap (one size), a USB charger, and the user manual.
LASER V-Fitness Smart Activity Watch is an activity tracker that doubles up as a "smart" watch. The watch is equipped with a heart-rate monitor and sleeping monitor, capable of recording 14 sporting activities (including swimming thanks to its IPX8 water resistance rating) and automatic count of steps, calories, and daily walking distance.
All this function can be used for up to 15 days just in one full charge!
FIRST LOOK AND TOUCH
Right off the bat, the V-Fitness Smart Activity Watch actual unit does not feel cheap at all. The upper side of the watch is built with stainless steel frame and 2.5D Gorilla Glass 3 to cover the 1.3″ LCD, which looks great and feels solid.
The bottom side is made with plastic that contrasted the upper, keeping it lightweight. The aesthetic remains simple with only 2 buttons on the watch, one on each side.

The straps are light, but stiff and slightly bulky. I expected the latch to be made with metal but unfortunately it's made with plastic. The charger is a simple dock with a 4-pin mechanism.
I do think that the chord could be longer, but you might not use the charge due to the incredible 15 days battery life and it is easier to carry while you travel, I guess.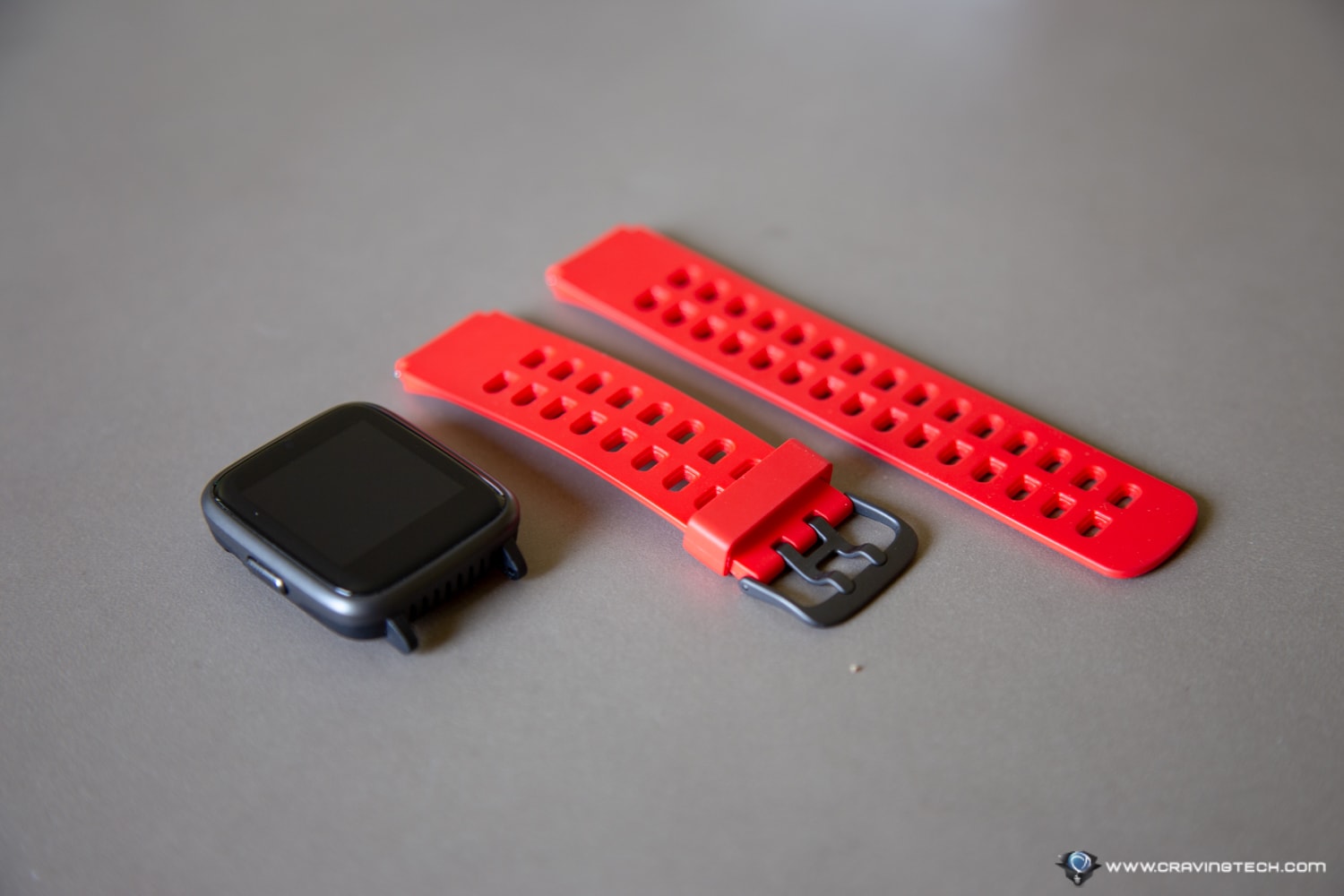 The overall design itself is quite simplistic and to be honest, above my expectations for this price point. Square smartwatches may look dull and dated, but V-Fitness Smart Activity Watch is designed with slightly curved glass and rounded edges, giving a touch of modern aesthetic. The straps made it too sporty though for an everyday smartwatch, especially the red coloured bands.

Wearing the smartwatch throughout the day does feel comfortable. Its lightweight and breathable straps do not hinder your daily activities as you can barely feel the watch on your wrist. However, the watch does feel a bit too wide for my narrow and tiny wrist.

V-Fitness Smartwatch's interface and graphic design are simple and neat; all the icons are straightforward. However, you do have to dig into manuals to uncover some functions including the swiping around for other interfaces.
The home panel displays time, day/date, battery life, and also your steps, calories, and distance walked counts which you can scroll through with a single click. By swiping up, down, left, or right, you can navigate to the notification, step counter detail, status bar, and function list.
The display is bright and visible in various light conditions, even though the animation is not so smooth.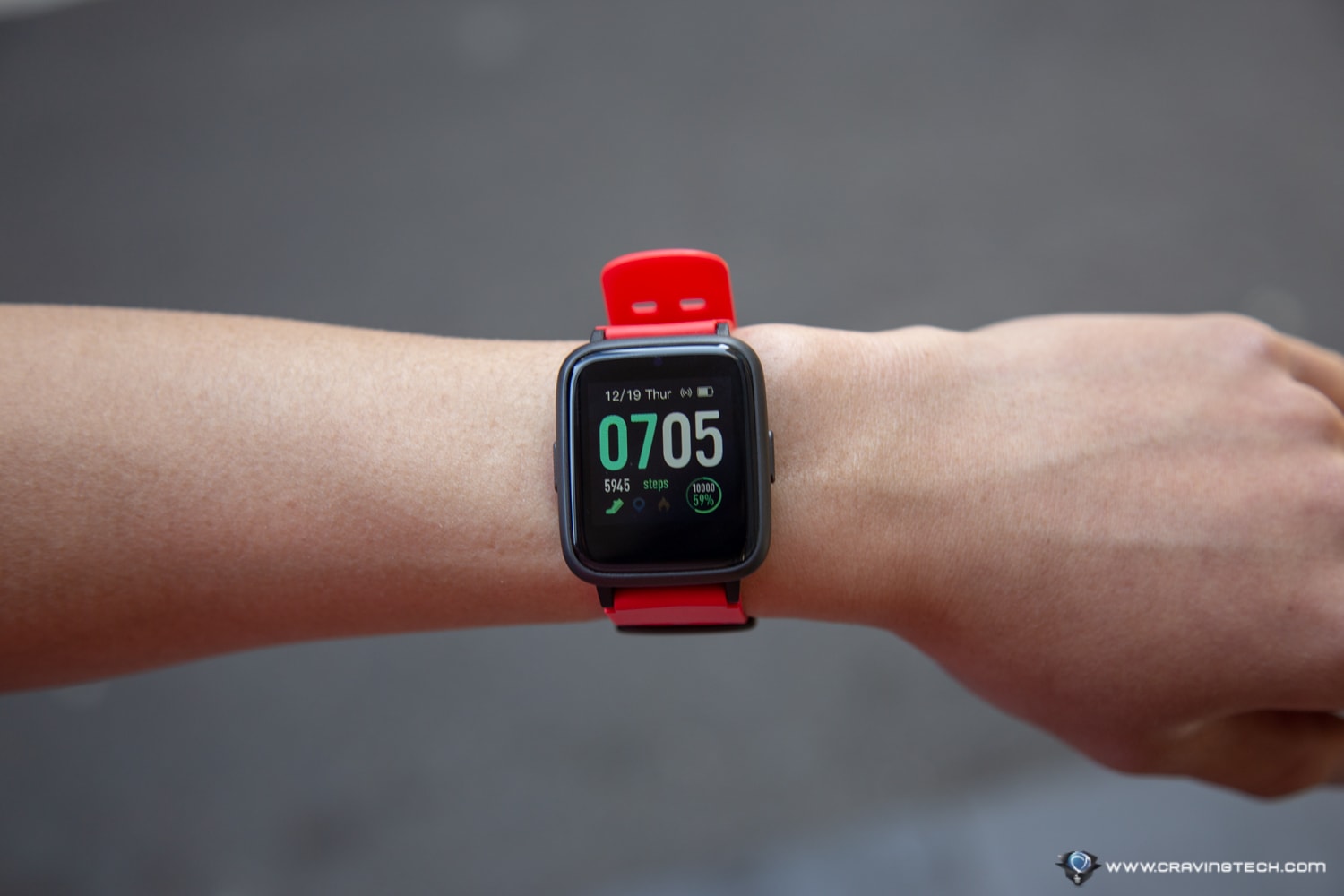 FEATURES
V-Fitness Smart Activity Watch has the most basic function that you expect from an activity tracker. You can always know whether you have been active throughout the day by steps and distance. The smartwatch also has a feature that will remind you to move if you have been idle for a certain duration. It celebrates your accomplished daily goals (e.g 10,000 steps) with a fun, celebratory message.

I was keen to try the sleep and also the "automatic" heart rate tracker but was disappointed to discover that the tracker does not record your heart rate constantly, but rather sporadically.
You can also prompt your smartwatch to manually record your heart rate. On the flip side, the sleep tracker performs well. Within the app, I can see the quality of my sleep, even when I abruptly wake up to walk to the toilet.

To connect your smartwatch to your phone, you will need VeryFitPro app, and the process itself is quick and easy. From the app, you can set up multiple, additional smartwatch features such as find my phone, message/call notification, music controller, and built-in alarm. You can also view the details of your exercises and activities through the application.
I took the watch for a run to see how comfortable it is and it impressed me. My wrist did not feel baked during the exercise even though it was scorching hot thanks to the holes on the straps. I did not feel a pool of sweat around my wrist but underneath the watch itself, which is expected. The textured buttons also helped in pausing the workout. Sweat does not interfere with the screen navigation.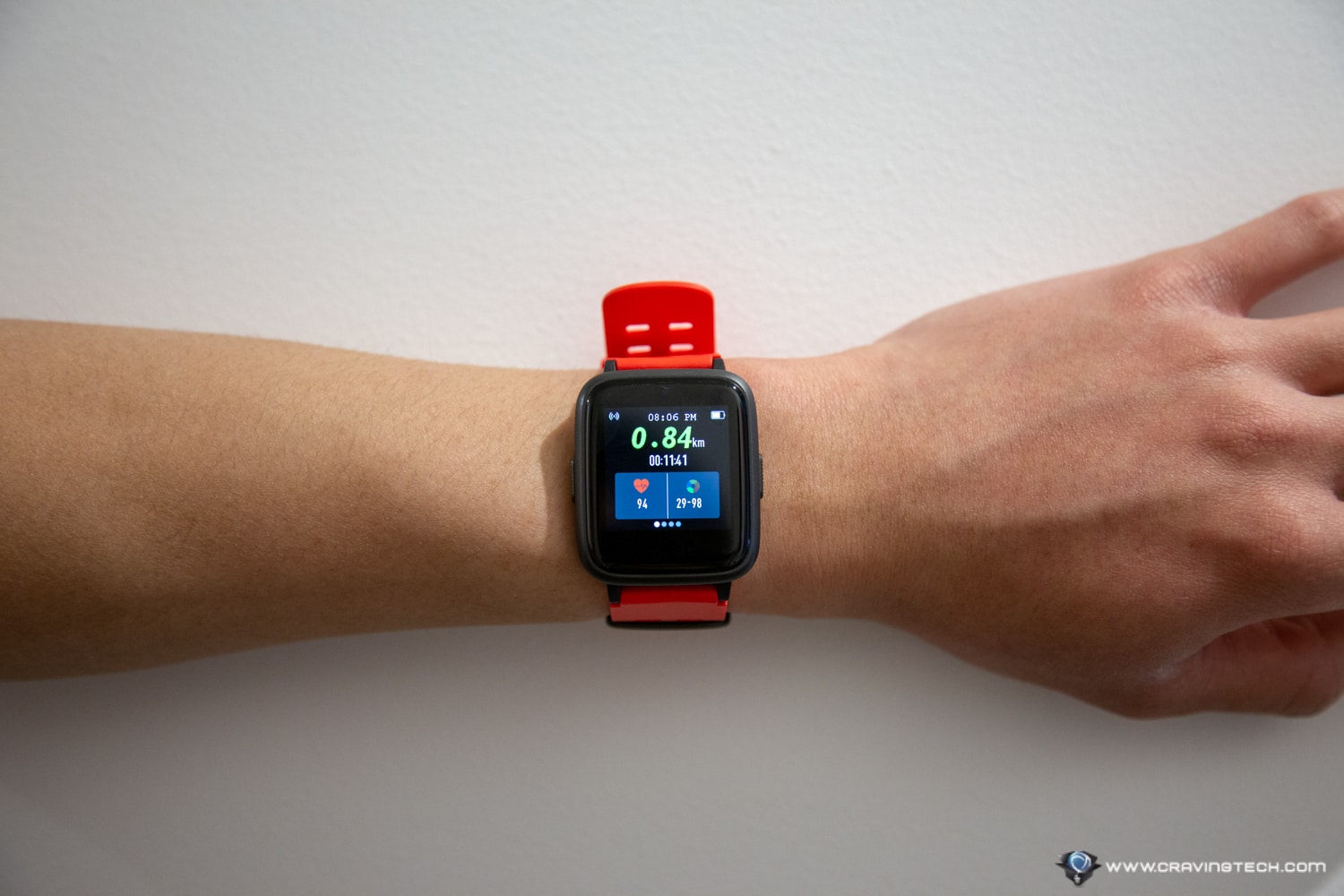 I find that the watch face during exercising is easy to understand – which is helpful as it will not interrupt your run for too long. The watch displays the distance that I have covered, the time elapsed, my current heart rate, calories burned, steps taken, and my speed.
The data shown on the watch are quite limited and swiping the screen to access other information is not really practical. During my running session, I had a few moments of annoyance as my phone notifications popped up on the watch and needed to be closed to return to my run's data. I ended up turning off the notifications altogether when running.
THE LITTLE THINGS I DISLIKE
I found a few areas of improvement for this watch:
The message notification is difficult to read and bothersome as it takes over the whole face of the watch. You also have to close it manually to resume your smartwatch usage.
The left button does not have any other use besides acting as a shortcut to start an exercise and even so, you still have to long-press it first to trigger it.
The "lift wrist sense" function to turn the display on lags which is prominently felt during my run.
COMPARING WITH THE OTHERS
I wore my Samsung Galaxy Active alongside LASER V-Fitness Smart Activity Watch to compare the daily activity tracked. I found that LASER V-Fitness smartwatch records way fewer steps than my Galaxy Active. I did several heart rate record tests as well (with the addition of Galaxy S8+) and they seem to be similar (around 6 bpm variance). Calories counts are different too but I did not consider this data to compare as smartwatches are not known to calculate burned calories well anyway.
Here are the comparison screenshots (VeryFitPro vs Galaxy Active vs Samsung Galaxy S8):

I also compared the run data (distance, heart rate, and pace) with my Samsung Galaxy Active Watch and Samsung Galaxy S8+ and the result is disappointing. The biggest difference is distance. My Galaxy Active and Galaxy S8+ recorded 5.08 km and 5.48 km respectively while the V-Fitness Watch recorded 3.71 km.
The pace difference is also quite big with over 2 minutes of difference compared to the other two. The average heart rates exercising, however, are quite similar (8 bpm difference compared to my Galaxy Active).

LASER V-Fitness Smart Activity Watch Review – My Verdict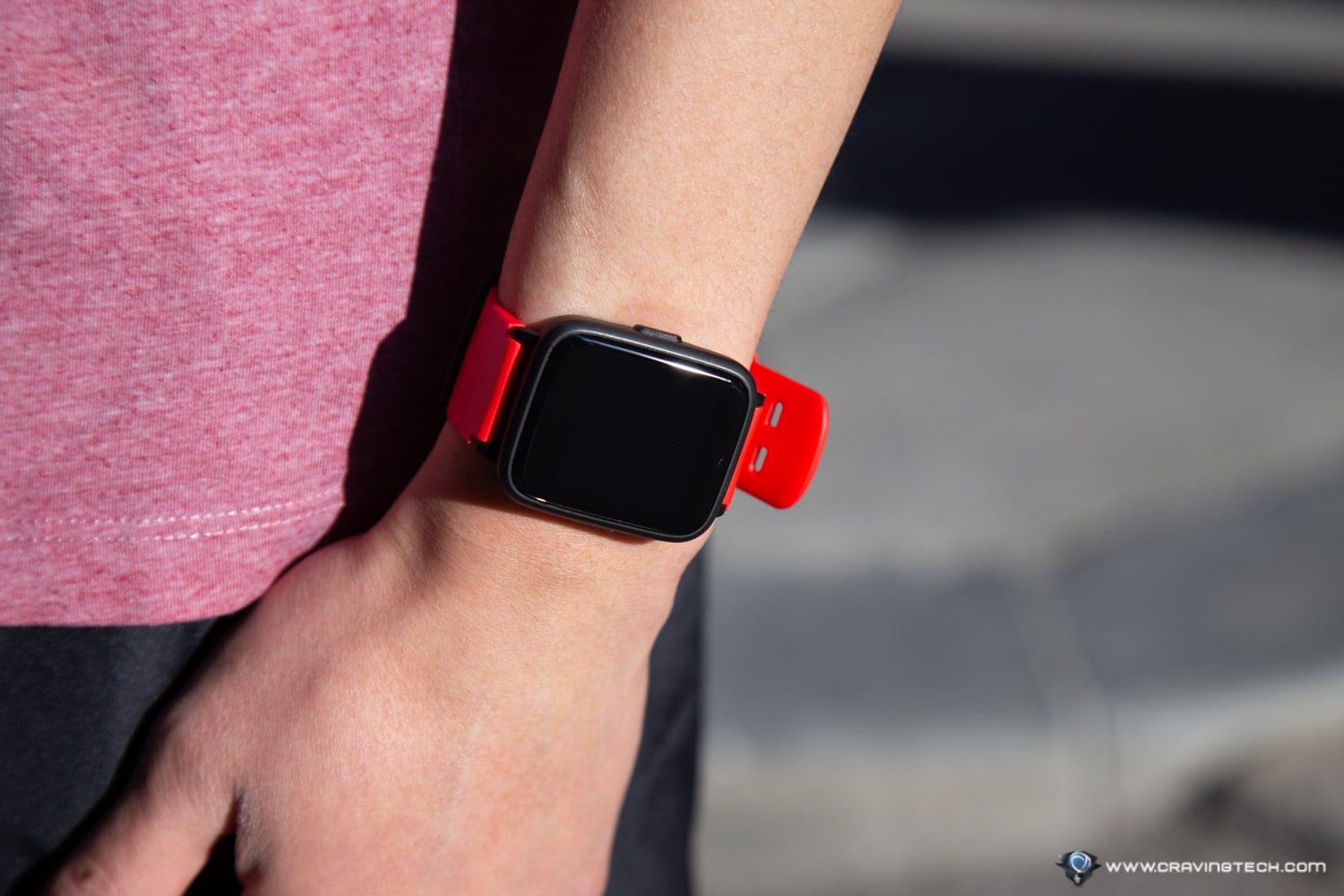 LASER V-Fitness Smart Activity Watch is not a bad looking, sporty watch. The feel is quite comfortable but could be better with a more convenient strap. The weight and breathability of the smartwatch make a perfect exercising companion, even on the hottest of days.
The simple user interface works well with the stripped-down functions that this smartwatch has to offer (besides the notification window). However, I am disappointed that the heart rate monitor does not record my heart rate constantly.
I do feel that all this pleasant simplicity is not paired with a good performance. Yes, for A$99, the variety of functions that LASER V-Fitness Smart Activity Watch has to offer is decent and it does what it says it can but it seems like most of the function is not well designed (and the sensors aren't accurate). Even my step count seems off. I do like the sleep tracker though.
For this price, I do think that other activity tracking bracelets might be a better value than this not-so smartwatch if you really concern about the accuracy of the data, and want to get a continuous heart-rate monitoring.
Disclosure: LASER V-Fitness Smart Activity Watch review sample was supplied for reviewing but all opinions are mine and not paid
LASER V-Fitness Smart Activity Watch
Summary
Not a bad looking, sporty watch with very affordable price, but performance and accuracy are not the best