BlueAnt XT100 Review – There are many soundbars in the market at the moment and they all come with different sets of features: big sound, dedicated subwoofer, multi-connectivity, and more. Some are more affordable than the others and of course, depending on how big your room is, you may or may not need all the bells and whistles.
The Australian company, BlueAnt, has just released their first soundbar, the XT100 to deliver premium sound at an affordable price to Australian homes. With all the awesome TV series and movies you can watch on your television, BlueAnt is offering their latest audio product at A$349. What you get, is quite a good soundbar for the price as it comes with premium features like Dolby Atmos support and HDMI eARC connectivity.
The lack of having a dedicated subwoofer may leave one wondering whether the soundbar can deliver enough oomph to the movie watching experience. Thankfully, the soundbar itself can deliver a good, subtle punch when watching action movies with loud explosions or shake the room a bit when listening to music.
The XT100 is 2.0CH with Dolby Atmos 1.7 and is compatible with Dolby Vision, providing an immersive 3D listening experience. If you've already experienced Dolby Atmos in the cinema or with your gaming headset at home, you probably know what to expect. But this is a 2.0 soundbar after all so while you will hear a wider soundstage when playing movies, it can never give you that ultimate Dolby Atmos experience unless you spend more for a proper multi-speaker system. To most average watchers like myself, this is more than enough considering the space it requires and how much you are spending.
Considering many online streaming services like Netflix are supporting Dolby Atmos in most of their movies, it's certainly a great time to own the XT100. When you are watching a movie supporting Dolby Atmos, the soundbar display will display "Dolby Atmos" so you know that it's running properly. The soundbar will also display "Dolby Audio" or "PCM Audio" when it detects the played audio format.

As for the soundbar setup in our house, I install it in our Master Bedroom, connecting it to our TCL 55″ TV, Philips Hue Play HDMI Sync Box, and the Apple TV. I plug the included HDMI cable from the XT100 HDMIT OUT (Tv eARC/ARC) port to my TV's HDMI ARC, plus another HDMI cable from the XT100 to the Hue Play HDMI Sync Box. If you don't have the Hue Play HDMI Sync Box, the installation is even simpler with just a single connection straight from the soundbar to the TV.
Thanks to HDMI eARC and CEC, the soundbar will automatically turn itself on and off too so I've never had to touch the power button once it's completely set up.
There is an extra HDMI port on the soundbar, along with AUX and Optical so you have a few other options if you have other audio devices at home (or if you have an older TV that doesn't have an HDMI ARC port). There is also a USB port to insert a USB device (up to 32GB with mp3 files) to play music. And don't forget that the XT100 also supports Bluetooth 5.1 for wireless audio.

Four hard buttons are located on the right side of the soundbar: Power, Source (to switch between the audio source), and Volume Controls. A remote control is also included and you have more accessible options using the remote such as adjusting the Bass and Treble levels, the display brightness, EQ Preset (Voice, Sport, Movie, and Music), and more.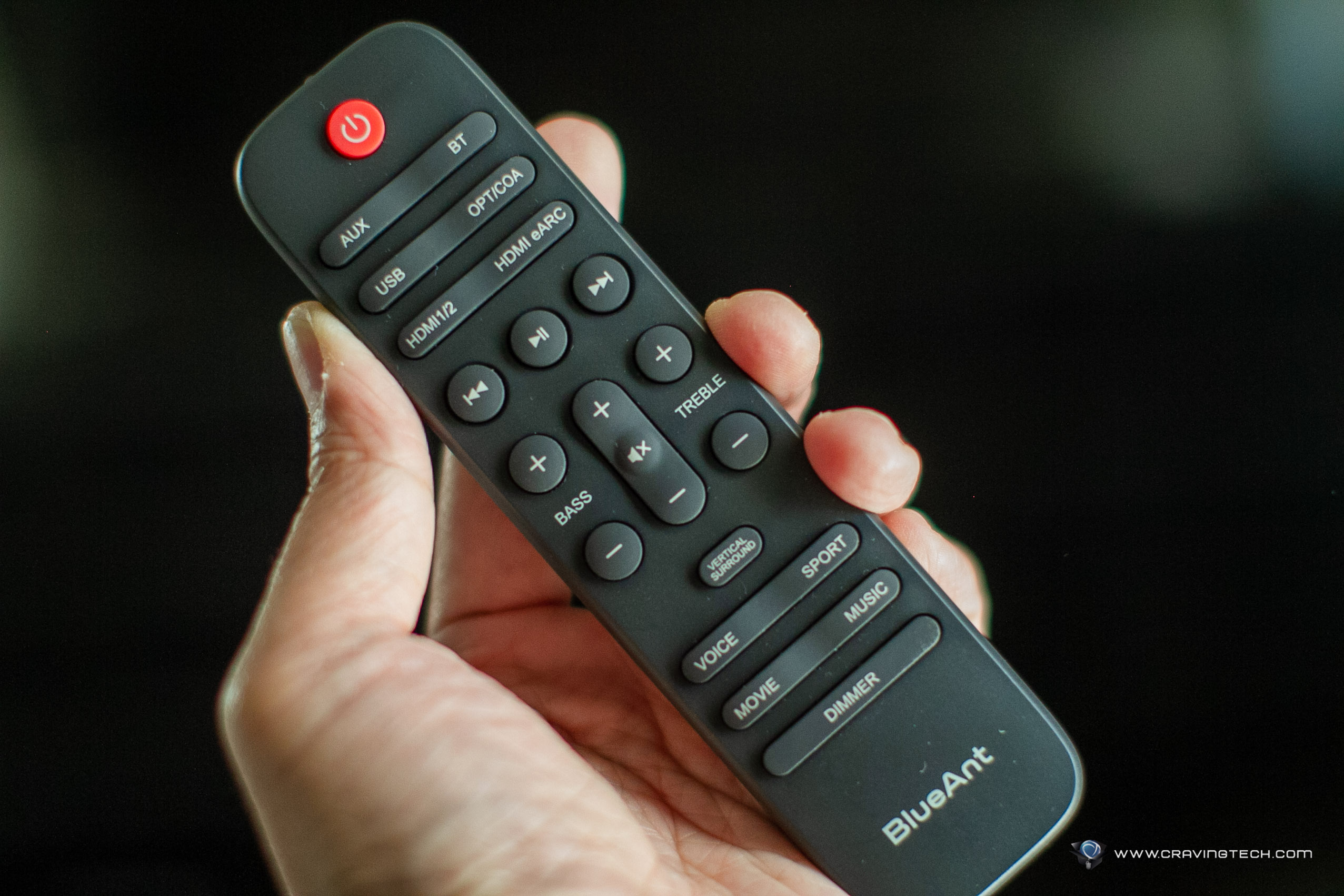 BlueAnt XT100 has an output power of 50W (with 2x 50W built-in amplifiers) and I find that more than adequate to fill our Master Bedroom. Those who are planning to put this in their living room should still be able to enjoy its power. When compared to the TV speaker, the difference is definitely night and day. The XT100 outputs louder and clearer sound. I was kind of surprised to see that it has a good punchy, yet subtle Bass. Watching Netflix's newest movie, All Quiet on the Western Front felt good with the explosions and the bullets whizzing through during the battle scenes. Sure, it won't be as punchy as those with a dedicated subwoofer setup but if you want something more compact, the XT100 is good enough for your casual, movie experience needs at home.
BlueAnt XT100 Review Conclusion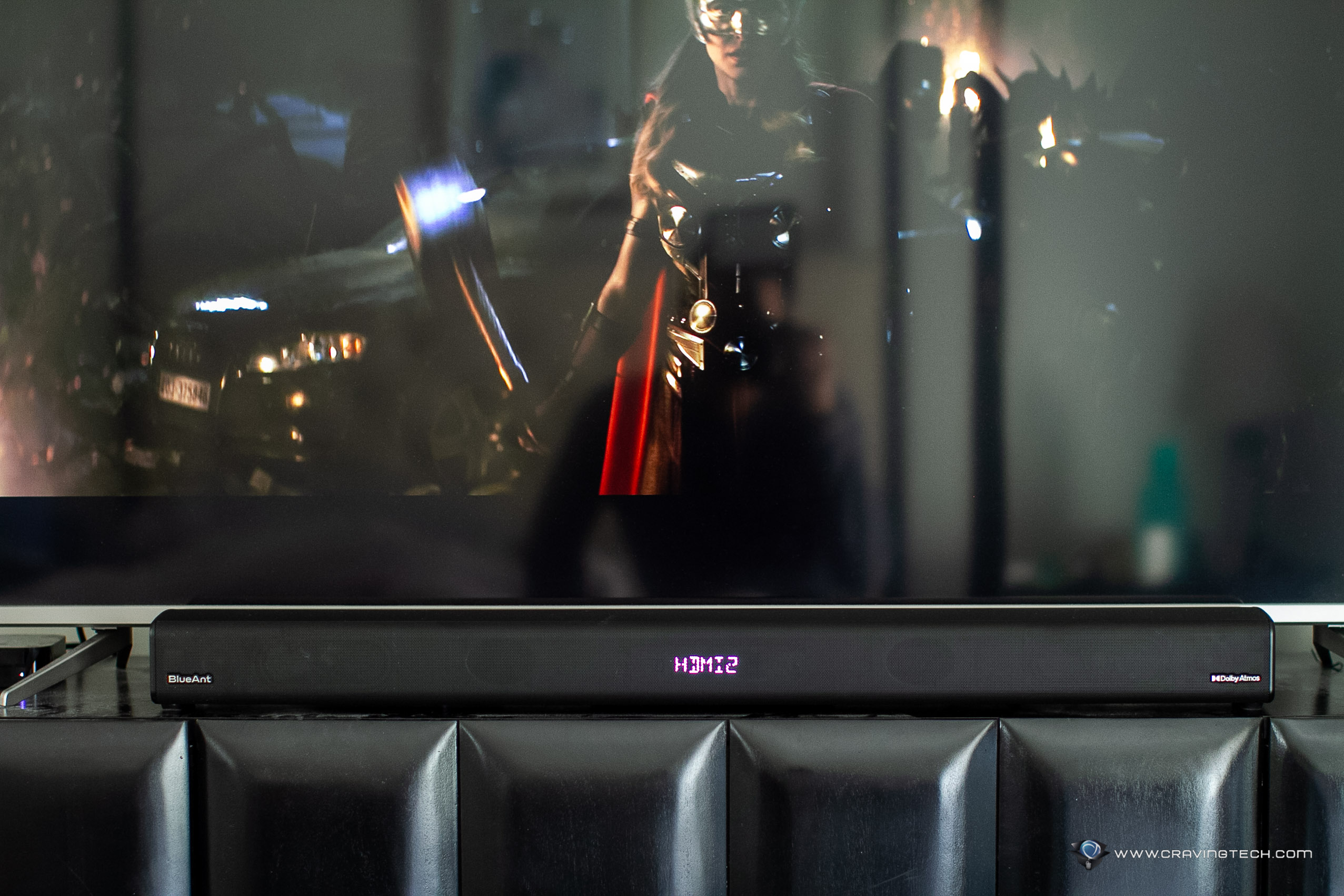 Those who are looking for an upgrade from watching movies with their TV speakers should really be looking at the BlueAnt XT100. It's a compact soundbar with easy installation, multiple connectivity options, good power output, and most importantly, supports Dolby Atmos. The packaging comes with everything you need (apart from an optical cable) to set the soundbar up which includes an HDMI 2.0 cable, an AUX/3.5mm cable, a remote, and even the mounting brackets with screws if you are planning to install this on the wall.
BlueAnt XT100 is affordable too, which retails for A$349 and available now for purchase.
Disclosure: BlueAnt XT100 review sample was supplied for reviewing
BlueAnt XT100 Soundbar Review
Summary
A good value soundbar with Dolby Atmos support
Pros
Compact design
Multiple connectivity options, HDMI eARC/ARC with CEC
Good sound, clear and subtle yet punchy enough bass
Dolby Atmos and Dolby Vision compatible
Included remote with advanced adjustment options
HDMI 2.0 and AUX cable included
Cons
Dolby Atmos is good, but doesn't really position sound in vertical space that clearly
Not for the big living room