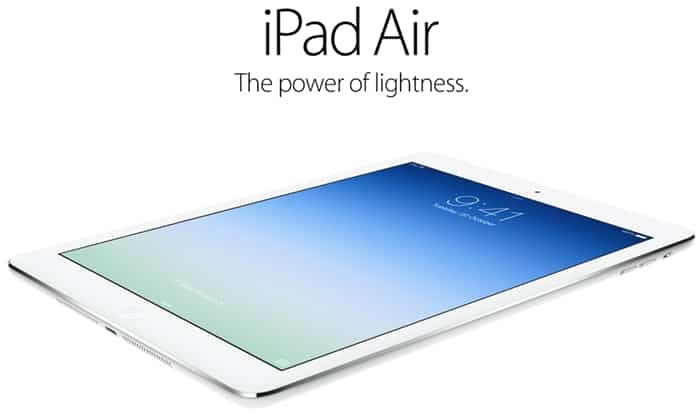 As expected, Apple unveiled the new iPad 5 (a.k.a iPad Air) and an updated iPad mini with Retina Display (which was under an online constant debate whether Retina Display would make it to this release).
No one was, strangely, able to guess the naming of the new iPad. iPad Air? What does it do?
iPad Air
The iPad Air (or iPad 5th Generation) is pretty much an iteration of the previous iPad, without any notable new features.
It still has 9.7″ Retina Display, although they change the design a little bit by making the bezel around the iPad thinner by 43%, while maintaining the same resolution.
The  iPad Air is 1.9mm thinner compared to iPad 4 and iPad 3 (20% thinner) and about 181 grams lighter. At 1 pound (453 grams-ish), iPad Air is the lightest full-size tablet in the world at the moment. I'm sure the naming is taken from MacBook Air, which is light and thin.
Powered by the A7 chip (like the one in iPhone 5s) with 64-bit architecture, this will blow all the other competitions away. At the moment, iPhone 5s benchmark is the fastest among the other current smartphones in the market.
There is also an upgraded front facing camera and dual-microphones for that great FaceTime or video calls with your loved ones.
Battery Life? Still the same – 10 hours. Comes in Silver/White and Space Grey/Black.
iPad mini with Retina display
The original iPad mini is great in size and has the same experience like the full blown iPad. The only thing missing is a Retina Display. Once you get used to reading texts on the new iPhones and iPad 3 above, texts look blurry on an iPad mini.
As of today, Apple upgrades the iPad mini with Retina display (2048 x 1536 resolution – the same number of pixels as the iPad Air).
Surprisingly, the new iPad mini (iPad mini 2) is also powered by the A7 chip with 64-bit architecture and all the other things that the iPad Air has.
—
It just gets and gets confusing now to choose which to get (First world problems?) – iPad Air or iPad mini? Which color? It gets harder to choose because now the iPad mini has all the things that the iPad Air has, except in a smaller size.
I'm definitely will be upgrading my old iPad 3 to either the iPad Air or iPad mini 2., though it's a bit disappointing that there is not much new.
But then again, not many tablets out there have something new as well, more like an upgrade to specs here and there. At least for iPad/iPad mini users, the newer is better.