Note: This is a guest post by Mikel Costa
Q: "Hi, I forgot my phone's unlock code due to the fact that I used an alphanumeric passcode. The device is an iPhone 14, how do I unlock my iPhone 14 without a passcode?"
Passcodes are effective in preventing unauthorized users from accessing electronic devices. Apple being a great tech company is equally great in protecting the privacy and security of its users. If you forget the passcode of your iPhone, then you won't be able to get into the iPhone and access its data unless you set up other biometrics like Face ID and Touch ID.
How to unlock iPhone 14 without a passcode or face ID? In this article, we are going to share the complete solutions. It should be noted that these solutions involve data loss if you don't have a backup. In fact, they are available not only for newer models like iPhone 12, iPhone 13, and iPhone 14, but also for iPhone 11, iPhone XR, iPhone 8, and below, but the procedure will be a little different.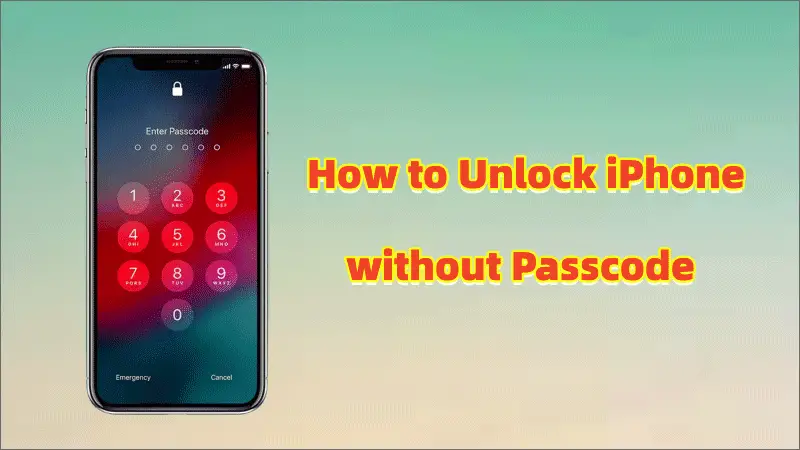 Way 1: How to Unlock iPhone without Passcode via Dedicated Tools
If you have a locked iPhone device and have forgotten its passcode or Apple ID, you can use a special tool to unlock it. iSunshare iPhone Passcode Genius is one of the best iOS unlockers that can erase passcode from devices, remove Apple ID/MDM, and bypass screen time passcode without losing data with the highest success rate. It is compatible with almost all iOS devices, including iPhone, iPad or iPod.
Step 1: First download and install iSunshare iPhone Passcode Genius on your computer, launch the program, and select the "Unlock Lock Screen" option.
Step 2: Connect your unavailable or disabled iPhone to your computer via a USB cable and click "Next". The software will automatically detect your iPhone information.
Step 3: Detect whether the device information is correct or not, and then click "Download", the software will immediately start downloading the firmware package to the default storage path on your computer.
Step 4: Click "Unlock", then the passcode on your iPhone will be removed. Now you can activate your iPhone and set a new screen lock passcode for it.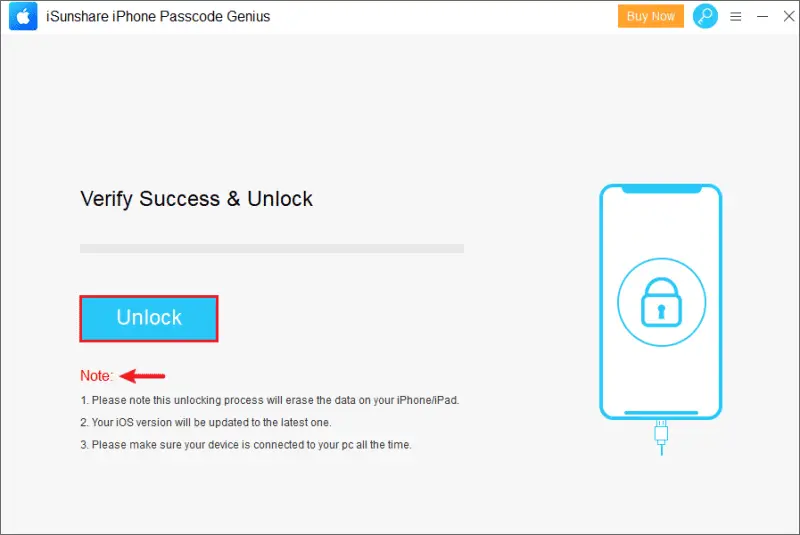 Way 2: How to Unlock iPhone 12/13/14 without Passcode via iCloud
If you just forgot your iPhone's lock screen passcode, but still remember its Apple ID and password, then you can try to use "iCloud" to unlock your iPhone. This option works only if "Find My" is not disabled on your iPhone.
Step 1: Visit iCloud.com on any browser and enter your Apple ID and password to sign in to "Find My iPhone".
Step 2: Select the locked iPhone on the device list and click "Erase iPhone" to wipe all information, files, and personal settings on the device, including the screen passcode.
Step 3: Next, your iPhone will be unlocked.
Or if you have another iOS device, you can complete the task of unlocking your iPhone remotely on the "Find My" app.
Way 3: How to Unlock iPhone 12/13/14 without Passcode via iTunes
How to unlock iPhone without Apple ID? iTunes is the perfect tool to unlock your iPhone if you've forgotten your Apple ID. It requires you to put your iPhone in recovery mode and then do the following to hard reset iPhone.
Step 1: Upgrade iTunes on your computer to the latest version and run it, then connect your iPhone to the computer with a Lightning cable.
Step 2: If your iPhone has successfully entered recovery mode, iTunes will pop up a window asking for the "Update" or "Restore". Click the "Restore" option, your computer will start downloading the latest iPhone software and begin the recovery process.
Step 3: Wait for your iPhone to restart and then you can access it without a passcode. If you want to set up and sync this iPhone, click the "Continue" button.
Way 4: How to Unlock iPhone 12/13/14 without Passcode and PC
I'm guessing you probably don't have an available computer nearby. How to unlock iPhone 14 without a passcode or computer? If your iPhone is running iOS 12.5 or above, then you can unlock it without a passcode by removing its passcode via the built-in If your iPhone is running iOS 12.5 or above, then you can unlock it without a passcode by using the built-in "Erase iPhone" option to remove its passcode.
Tip: This method requires the iPhone to have an internet connection.
Step 1: Enter the incorrect unlock code multiple times on the iPhone "Security Lockout" or "iPhone Unavailable" screen until the "Erase iPhone" button is displayed in the lower right corner of the device, tap the button.
Step 2: Tap the "Erase iPhone" button again and enter the Apple ID password required to erase this iPhone to log out.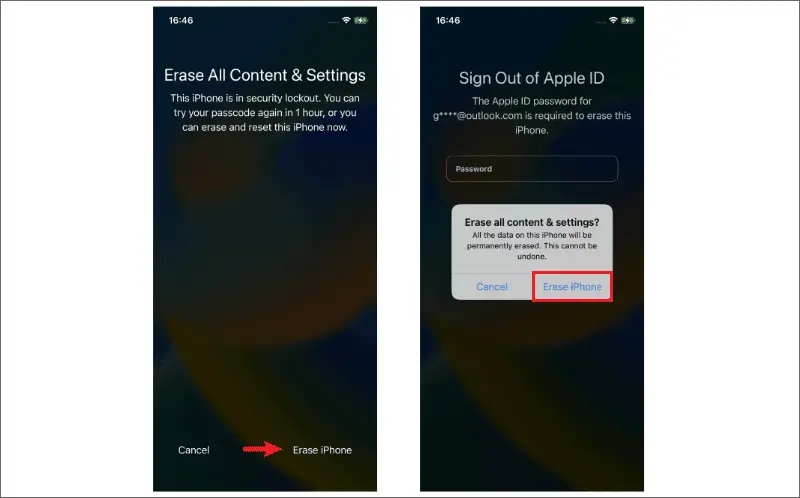 Step 3: Wait for the erase process to complete and then you can unlock your iPhone without a password.
Extra Tip:  How to Unlock iPhone without Passcode using Calculator
The video on TikTok about unlocking an iPhone without a passcode using a calculator has gotten millions of views, but is it really an effective solution? We remain skeptical and have tested it on different device models, all of which have failed.
If your iPhone is equipped with Face ID for unlocking, the camera will automatically detect your face when you lift the device and thus use Face ID to unlock the screen when you access the calculator app or the camera. This is not a credit to the calculator, so we don't judge this to be a viable option.
Video Tutorial: How to Unlock iPhone without Passcode or Face ID
Conclusion
In the information age, people are always surrounded by all kinds of passwords and sometimes we forget our iPhone passcode. This guide summarizes four solutions to unlock iPhone without passcode, among which using a dedicated unlocking tool is the quickest, easiest and most successful solution. iSunshare iPhone Passcode Genius is worth your try.