How to enable hreview microformat – Notice something different on the Google search result screenshot above? Yup, that's the hreview microformat, a microformat recognised by Google for publishing reviews of books, movies, gadgets, and basically anything "review-able". It's a standardised format which includes the product being reviewed, the reviewer name, rating of the reviewed product, and so on.
Though having this format on your blog posts does not guarantee an increased traffic automatically, it does make your post shine among the others on the Google Search Engine Results page.
If you don't believe me, simply look at another screenshot below. Let's say you are searching for the "Sennheiser PC 333D Review" on Google. Now, if you see these results below, which one attracts your attention the most?
Easy, right? I'd probably look at the one which catches my eyes in an instant (and not because it's my own blog, of course!). I already did this a couple of years ago but I couldn't see any results after the change. Back in the old days, apparently it's up to Google when (and whether you are "approved") to have these special hreview format being displayed when your posts came up.
Therefore I was quite surprised when I realised that Google had somewhat "approved" my blog a couple of months ago. Happiness aside, I found out at Yoast that apparently Google has made this format available for everyone, so that means you can have this too, assuming you have put the correct format and hreview tags correctly. Though you can do it manually (thanks to Yoast' guide to add hreview tags), you can use a simple WordPress plug-in to do all the dirty work.
This solution is much better especially if you don't want to twiddle with WordPress codes, PHP, and all that.
How to enable hReview on WordPress blogs easily: Use hreview WordPress plugin!
1. Download hreview WordPress plugin (or use the plug-in search on your WordPress Administration).
2. Install and activate.
3. You should then see a new button on your post editor (the "Rating Star" button):
4. Press it and a pop-up will appear where you can enter the description of the product you are reviewing, among other info:
The crucial ones are the Name of Item being reviewed, Description, and the Rating (I find that the others don't seem to make a difference and you don't really need them anyway. If you know more about this, feel free to post it in the comment below).
5. Once you are happy, press the Insert button and the plug-in will add these nicely on your post.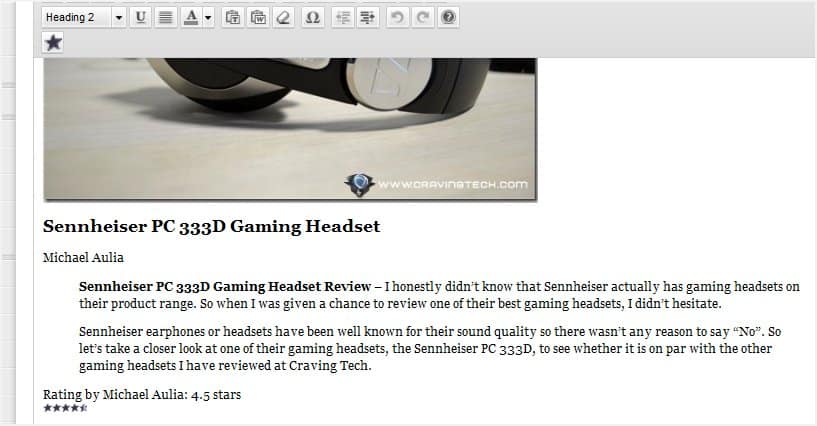 6. Done! Publish it and wait til Google indexes your post to see the result.
7. Note that you can edit your current posts to add these hreview tags in (I did this to some of my old review posts). Once Google re-index your old post with the updated hreview tags, you will see the change on Google SERPs.
8. If you want to test whether your changes work (either by using the plug-in or doing some manual work by adding HTML/CSS tags) without having to wait for Google to index your posts, use Google Rich Snippets Testing Tool.
9) Notice that the Google result knows me (it has a link to my Google profile and picks up my picture/avatar)? This is because I have also done the work on implementing the "rel=author" earlier (linking your blog posts' author to your Google profile). Check my post on how to implement rel=author on your WordPress blog.
Do these two things (yes, it will take your time to set-up) and you will reap the benefits. So what are you waiting for? Update your old review posts now ;) and please feel free to share this tutorial to your blogging friends!