Razer Enki Review – Razer Enki is Razer's gaming chair designed for all-day comfort, but is this statement true or just marketing hype? Well, I sit pretty much about 10-12 hours a day in front of the computer, and so far, my butt's liking this chair after using it for three weeks since I got it.
All this is thanks to the cushion density – it is very thick and well-padded. Sitting on a sagging seat is a no-no for comfort and posture, and Razer Enki is doing great to make sure you have both while gaming (or working).
Razer Enki Review – Packaging and Installation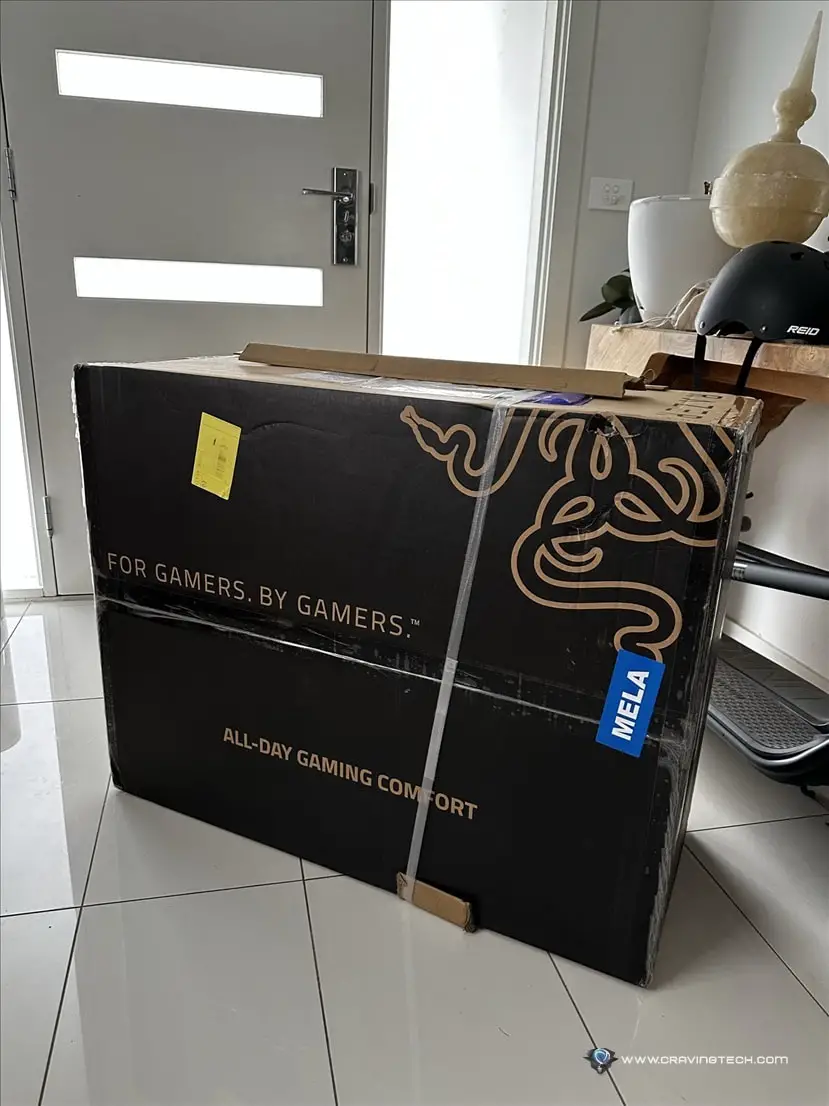 All the things you need are included in the packaging, including screws and instructions. Note that as a consumer, you'll also be getting the premium plus head cushion. What I have here is a review unit that doesn't come with it, but I've confirmed with Razer that you'll get a head cushion if you order your own Razer Enki.
Setting the chair up is pretty easy, and I did everything myself. You can check my short, quick video of Enki unboxing and packaging contents over at YouTube.
Razer Enki Review – Design and Features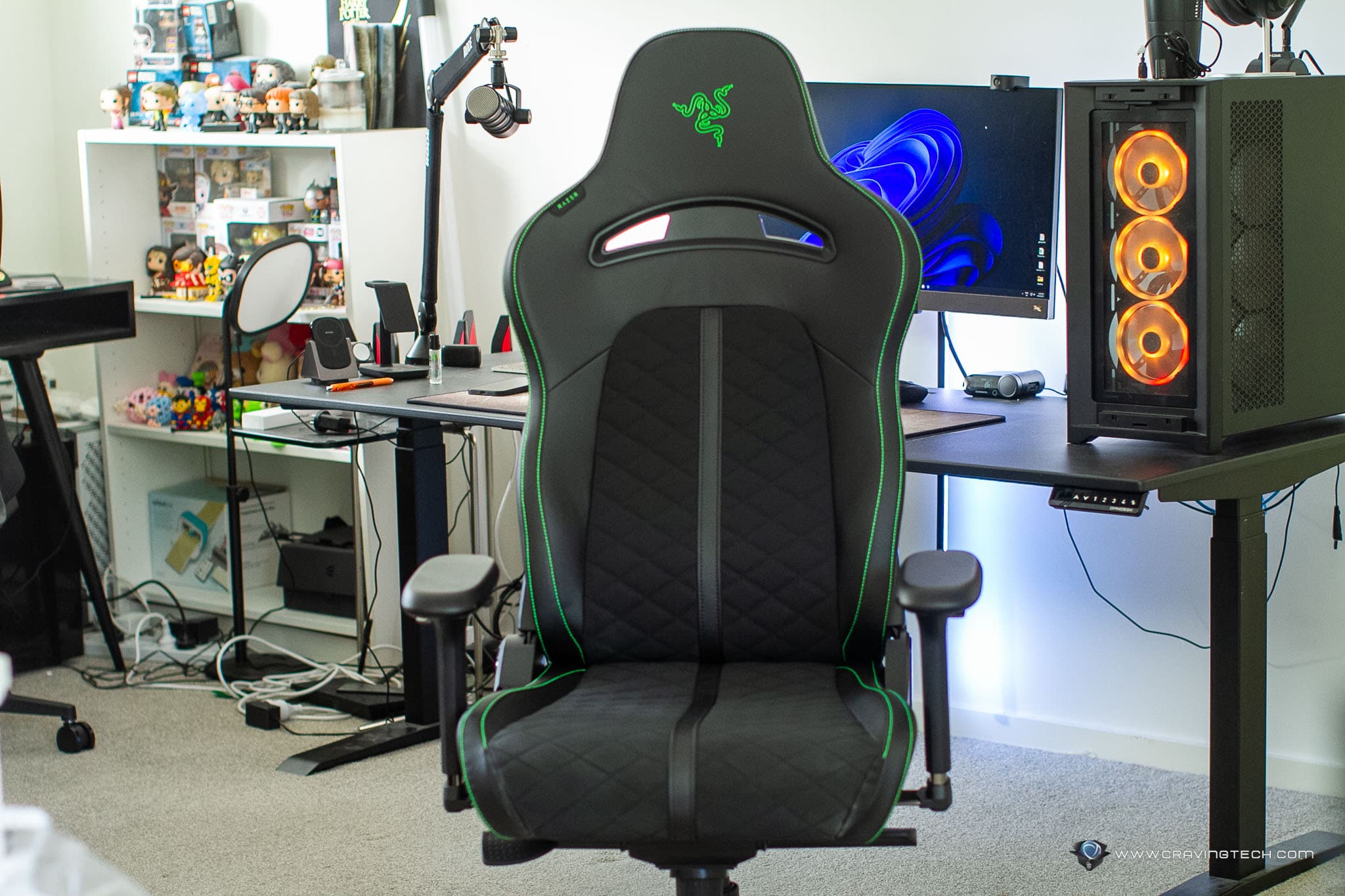 I was honestly a bit sceptical about Razer Enki being comfortable, despite the fact that Razer Iskur looks to be a better one in the department. You may want to search for articles that discuss Razer Enki vs Razer Iskur around the web yourself, as I don't have a Razer Iskur to compare it with. But from what I gather, the Iskur has a better and more customisable lumbar system, but the Enki has a wider seat dimension which is great for large people or butts (around 21 inches or 53cm) and shoulders. Those alone can be a deciding factor to get the Enki instead. Plus, it's cheaper.
Note that even if you have a small frame (like myself), it doesn't mean that the seat will be too wide for you. You do get more space, but you won't get that snug fit of a narrower chair, which some people may like as it feels like the chair is hugging you. The Enki doesn't feel that way for me, and I actually like it better as my body has more space to wiggle around, or if I need an arm stretch exercise.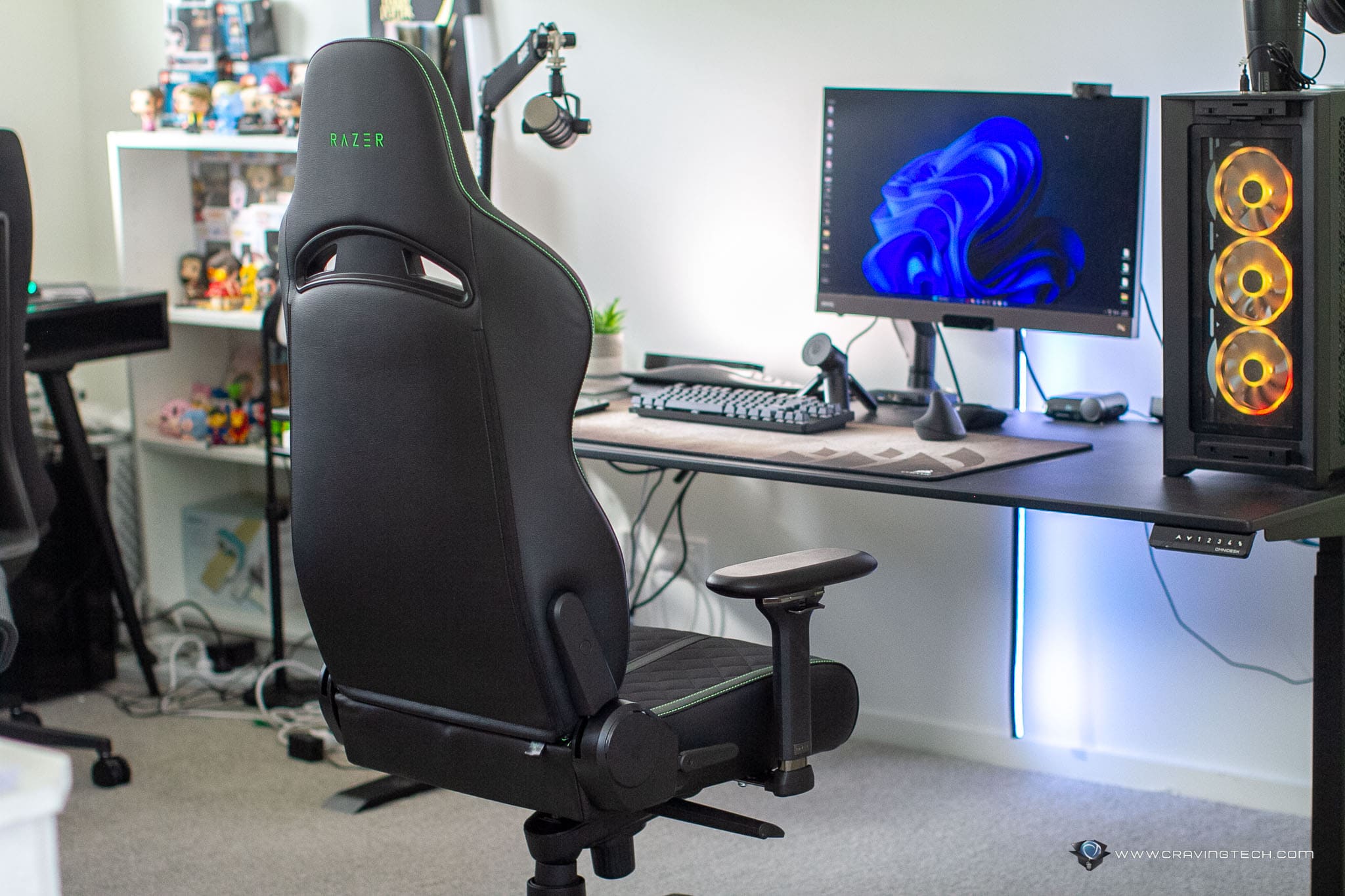 If you have problems with your back, though, you may want to consider going for the Razer Iskur. I don't have one, but I'm almost 50 years old, so a good chair with lumbar support is a must-have. So far, the Enki satisfies me in this department as it also has a built-in lumbar arch. The chair itself encourages me to sit straight with the right posture, and I never experienced any back pain while sitting on the chair for around 10-12 hours a day for the past 3 weeks.
Razer Enki has thick cushioning everywhere else, which feels really good. While sitting on the chair, it feels sturdy, and you can really feel the padding from your back all the way down to your butt. It's definitely a mixture of comfort and durability.
As for the design, Razer Enki looks really good with the combination of plush textured fabric, smooth leather, and Razer's green stitches and logo.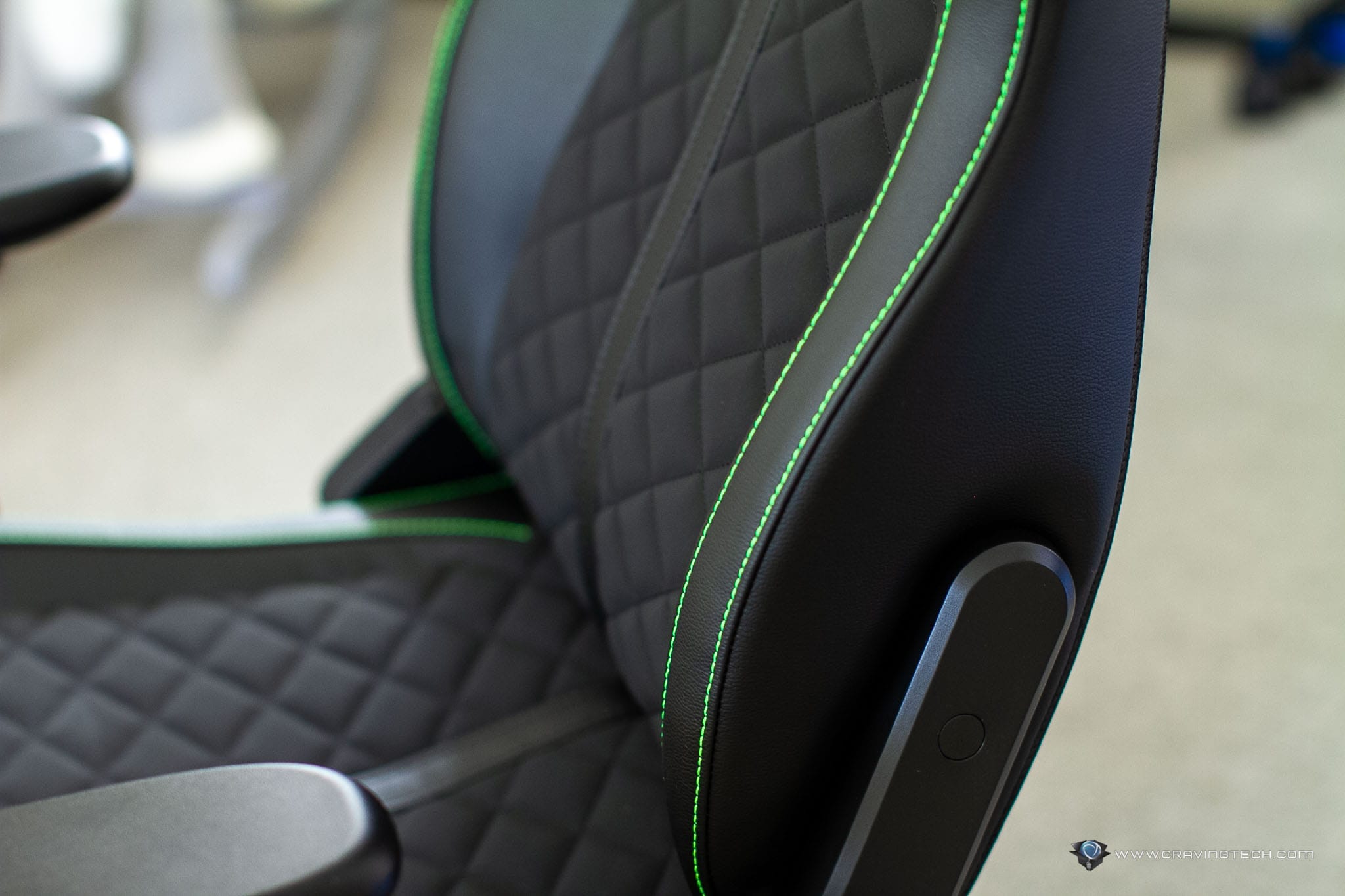 You can adjust the 4D armrests (height, depth, angle, and width) and incline your seat up to 152 degrees. You can lay back as low as you want for playing handheld consoles or rest your legs on your desk while watching a movie on your monitor. "It's also great for taking a quick nap if you plan to use the chair in the office, but make sure to use the head cushion if you'll be doing this frequently. Without the head cushion, the back of your head will rest on the hard plastic part of the chair, which can be uncomfortable.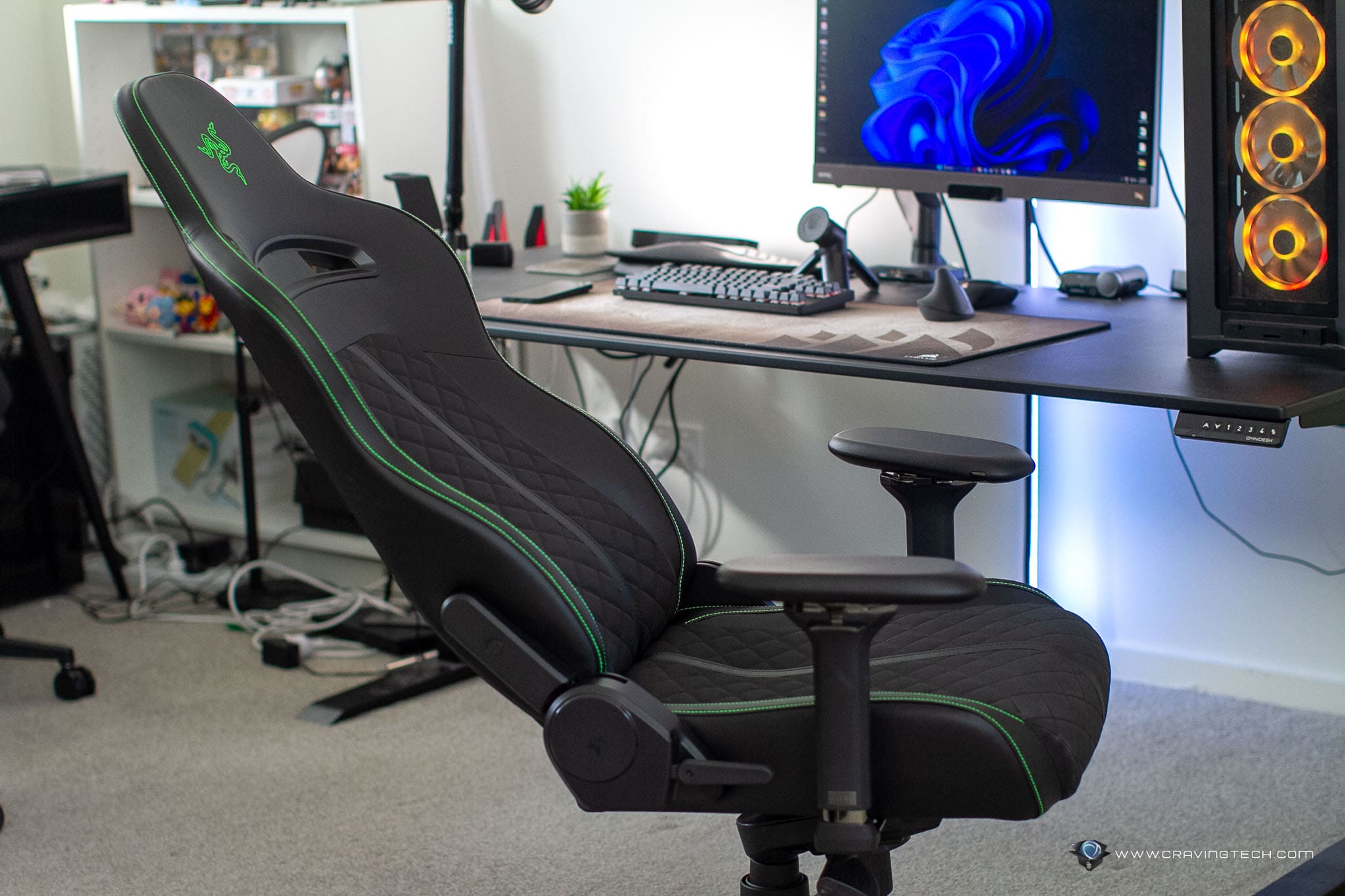 Razer Enki Review Conclusion
Razer Enki has a nice aesthetic look, but more importantly, generous foam around the back and seat for comfort. Its wide shoulder arch and seat dimension give a better feel and posture while sitting on the chair. And if you like, you can even sit with your legs crossed (which I do every now and then, like right now while typing this article).
Sitting on the chair for 10-12 hours for the past 3 weeks without any back or shoulder pain should be solid proof of how comfortable the Razer Enki is. It retails for A$674.95 at the moment and can be purchased at Razer AU website or Amazon.com if you don't live in Australia.
Disclosure: Razer Enki review unit was supplied for reviewing
Razer Enki Review
Summary
Razer Enki is a great combination of sleek design, comfort, and durability
Pros
Sleek, stylish design (and even more if you are a Razer fan)
Generous foam and padding from the butt all the way to the back
Good, firm lumbar support, even if it's not adjustable
4D arm rests, seat inclination
Have lots of wiggle room, can even sit with your legs crossed (might depend on body size or frame)
Cons
Won't give you that hug feel (unless you have a body with large frame possibly)
Adjusting arms height are in steps (though like most chairs)
Lumbar support not adjustable