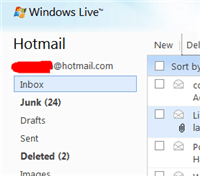 If you have been using Hotmail as your main email account, this is the news that you've been waiting for for years. Hotmail account is now available to your phone and PC via POP3. In the past, you can't simply retrieve your emails from your Hotmail account to your email client (whether it's on your PC or on your phone).
At this time, however, the POP3 access is only available to Hotmail users in United Kingdom, Canada, Australia, France, Japan, Spain, Germany, Italy, and the Netherlands.
Here are the Hotmail POP3 settings that you need to enter to set it up.
Hotmail POP3 Settings
POP server: pop3.live.com
POP SSL required? Yes
User name: Your Windows Live ID, for example [email protected]
Password: The password you usually use to sign in to Hotmail or Windows Live
SMTP server: smtp.live.com
Authentication required? Yes (this matches your POP username and password)
TLS/SSL required? Yes
This means that you can now have Hotmail on your Microsoft Outlook, Mozilla Thunderbird, or any other email client that you are using in your computer. If you are using Microsoft Outlook, however, I'd recommend you to install Outlook Connector to make your life easier (it'll also grab & mange your contacts).
This official news can be read further on Windows Live Blog