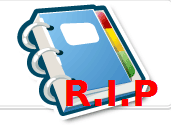 A couple of days ago, there was an announcement at Google Notebook official blog that they are discontinuing any further development on Google Notebook. You can still use your Google Notebook and everything, but there won't be any further support and development on it.
The news sucks because I love using Google Notebook and it's the plain simplicity that attracted me most.
The Google Notebook team also suggested to use other Google services that provide the same (and even better) functionalities as Google Notebook: Search Wiki, Google Docs, Tasks in Gmail, and Google Bookmarks.
So I guess it's time to migrate all my notebooks from Google Notebook to somewhere else. Who knows when Google suddenly decides to cease the service altogether in the future.
So far though, the good alternatives available are migrating to Google Docs or Zoho Notebook. I also have Office Live Workspace, but it's kinda clunky and it takes a while to load and do things in there. Zoho Notebook features look like the winner here but I have used a lot of Google services that I'd rather keep the eggs in one basket (Wait – that sounds wrong somehow).
What's your favorite "notebook" kind of web service?