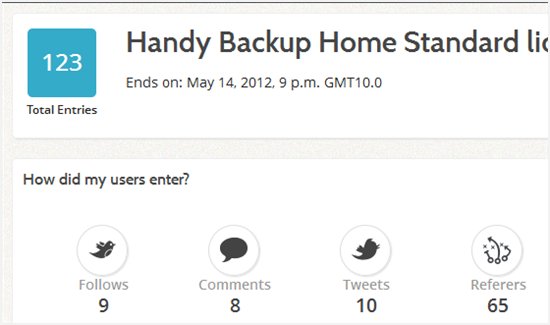 Thank you to everyone who participated in 10 x Handy Backup Home Standard Giveaway licenses. Also thank you for those who have helped in answering the survey questions!
Without further ado, the 10 winners are…….
Naser Baig
Panayot Panayotov
Tracy Boulter
Venkateshmurthy Ayachit
Mohammad Wasiullah
Erik Soeryadji
Shakil Bd
Muhammad Sumon Selim
Akshat Mittal
Vic Limbo
Congratulations, all! Licenses will be sent to you tomorrow morning. Now, many of you are using your Facebook account to enter so I haven't got your email addresses yet. Some commented often in this blog so I could do a search but if you've never left any comment before (and drop your email address), it would be great if you can leave your comment + email address below.
This way, I can send the licenses all in one go to all of your inboxes. As of now, I have to contact some of you via Facebook or other means to get your email addresses to send the keys over.
Thank you! At this stage, there is no more giveaway running but do not worry, I'm sure we'll have one in no time!